Pallet racks are material handling warehouse aid system that is used to store goods on pallets. Any delivery, storing, or material handling activity should include pallet rack systems. Pallet racks make it easy to reach goods that are stored.  
Pallet rack solutions make the most of available space while streamlining inventory needs.
Pallet rack is also widely known by names such as "Warehouse racks," and "Pallet shelves".
Pallet racks are used in warehouse environments all over the world because they can increase storage capacity and improve warehouse space utilization.
Pallet racks are a crucial part of warehousing as they offer a reliable system for classifying and locating goods. Pallets are kept in horizontal lines at various levels in a racking system that has been carefully planned out. Pallet racks make use of otherwise unused vertical space.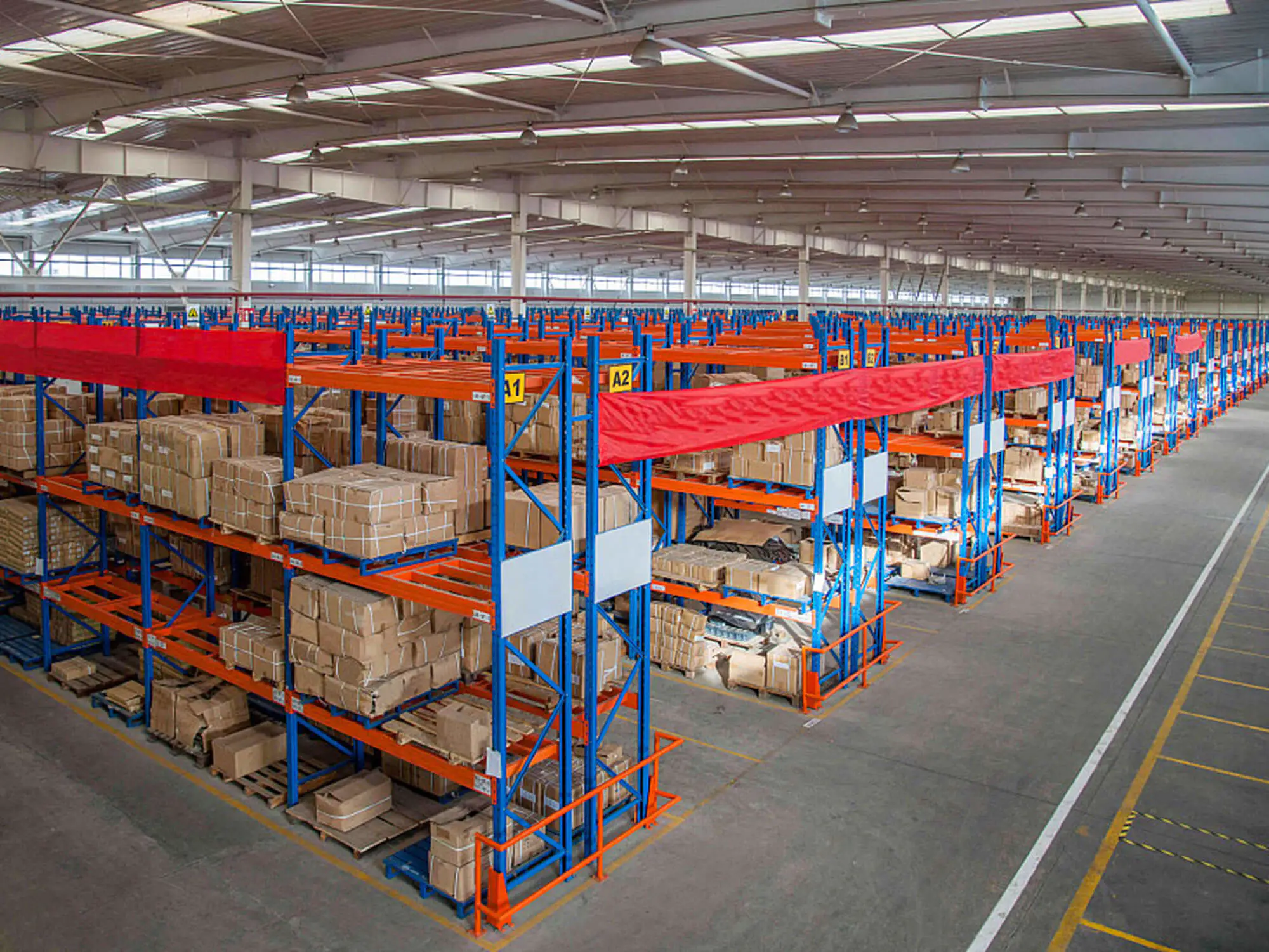 In today's "What is Pallet Racking" article, we will discuss:
This article will be especially helpful for the following group of people:
People who want to expand their business and want to store items in a warehouse.
People who already have a warehouse.
People who want to know about what type of pallet racks will be ideal for their warehouse.
Academicians and researchers who want to know more about the pallet racking system.
Introduction To The Parts Of The Pallet Racks.
If you want to understand the pallet racking system, you need to know about its parts. If you know about the various parts of the pallet racks, you will understand how it works. Now, we will give a brief introduction to some of the main parts of a pallet rack:
Beams
A shelf is made up of two pallet rack beams, each having a connector on one end.
Baseplates
Pallet racks are anchored to the floor by an upright frame that contains a minimum of two baseplates. To ensure that the right baseplate is provided for the pallet racking, engineers should review the design.
Crossbeam
Pallets are supported between the beams by crossbars. Under each pallet load, two crossbeam are often placed.
Shims
On concrete warehouse floors, shims are utilized to balance the rack within plumb tolerance. It must be the same size as the upright baseplate.
Row Spacers
To create a flue distance between back-to-back rows, row spacers are used. It also provides the pallet racks with more durability and strength.
Anchor Bolts
The floor must be anchored for pallet racking. Regional building laws or seismic engineering designs define the size, kind, and depth of the bolt's embedment.
Wire Mesh Decking
Wire mesh decking works as sturdy pallet support to protect pallets or goods from falling off.
Upright Protectors
Bolt-on accessories include:
Post protectors.
Straddle protectors.
These bolt-on accessories can aid in protecting the upright from forklift impact damage.
End-of-Aisle Guard
End-of-Aisle Guards are attached to the racking with bolts or secured to the floor with anchors.
Plywood Decking
Plywood decking is of two types, which include:
Close-boarded decking gives a layer of racking a sturdy "ground". Slatted serves as a solid pallet and is made out of rows of timber.
To learn more about the types of pallet racking decking, please read pallet racking boards.
Wall Ties
When the uprights are positioned in a row with a wall, wall ties can provide additional support.
Guard Rails
To protect upright columns, guard rails are placed. When platforms are joined to pallet racks, guard rails are also installed for workers' safety.
Besides these parts, there are many other parts of a pallet rack, which include,
Beam connector.
Horizontal bracing.
Diagonal bracing.
These parts are used to install a pallet system. Depending on the type of pallet racks, some other parts may be added to the pallet racking system. For all pallet rack parts, please read "Pallet Rack Parts".
Advantages Of Using Pallet Racks In The Warehouse.
Compared to stacking products on top of one another, a pallet racking system has lots of advantages. It uses the vertical space appropriately, improves efficiency in the warehouse, etc. Now we will explain some of the advantages of using pallet racks in the warehouse:
Pallet Racks Are Very Easy To Install And Operate
The environment in a warehouse moves quickly, particularly during a busy time. You might need to increase the number of pallet racking levels in your warehouse sometimes. You can easily do that in the pallet racking systems.
Pallet racks are very easy to install. You need the proper knowledge, skills, and tools to install a rack. Once a rack is properly installed, you can securely keep goods in the pallet racks. In addition, setting up pallet racks doesn't take much time and it saves you time too.
Besides installing, pallet racks are also very easy to operate. Using the forklift, the loading and unloading of goods are done in a pallet racking system. Warehouse managers may number the racks to easily identify racks in a warehouse. Read the warehouse racking numbering system to create a correct warehouse racking number.
If you want to know how a pallet rack is installed, read pallet racking installation. This article is a complete guideline about the "warehouse pallet racking installation"
Makes The Better Use Of The Warehouse Space
Forklift access and safe passage through aisles require a sizeable portion of the floor space in traditional warehouses. The installation of a racking system might make the most of this vacant floor space. With pallets stored vertically, it provides the most square footage possible.
Fewer aisles are required in a warehouse because racking solutions enhance cubic space use. The modular design of these racks allows you to install levels as many as you want. High-density pallet racks can be used to store pallets next to one another.
You can hold more inventory at once because of the warehouse racking system. The length of aisle space needed to load and unload pallet racks is reduced as a result.
So, warehouse owners can keep a lot of goods in a small space using a pallet racking system. As a result, the pallet racking system also cut down the storage costs of the warehouse.
Using a Pallet Racking System Increases The Safety Of The Warehouse Workers And The Goods
The safety of employees is the responsibility of the owner of the warehouse. Pallet racks may hold items securely and safely while increasing the capacity of heavy stock. To protect objects from dropping off a pallet, you may add netting.
Additionally, your warehouse must be a secure location for your goods. You may protect the goods from inadvertent harm by installing pallet racks. Using pallet racking assures the safety of goods while transporting.
Click pallet racking safety to know in detail about the safety of pallet racks in a warehouse. This article is a complete guideline about how can you increase the safety of pallet racks.
Increases Productivity And Flexibility
Using a pallet racking system increases the efficiency of a warehouse. The workers can work faster if there is a pallet racking system in the warehouse.
The pallet racks in a warehouse are very flexible to use. It can be replaced or repaired if it gets damaged. With a travel rack, you can do the following things:
Can minimize the travel time of the products as well as faster loading and unloading of the products.
Maximize aisle distance.
Racks can be carefully positioned throughout the usable space of the warehouse to make inventory retrieval easier.
The pallet rack is flexible in terms of cost too. We know that businesses are of different sizes. A small business may not need an expensive pallet racking system. On the other hand, a large business may need an expensive pallet-racking system to manage its inventory.
Pallet racking systems are of different prices. For instance, you can get a selective pallet racking system for $46-60 each. There are also pallet racking systems like the "Mobile pallet racking systems" that cost $700-$800 for each pallet.
If you want to know more about the price of different types of pallet racks, read pallet racking cost. In that article, besides its cost, we have explained the advantages of the particular pallet racking system.
So, warehouse owners have the option to choose the pallet racking system according to their needs and budget.
Different types of pallet racks and which one should you choose?
In the years immediately following and throughout World War II, pallet racking became commonly utilized. The demand for pallet racking increased after World War II to fulfill the need for higher storage density.
Before the war, warehouse shelving was inadequate to handle the volume of the industry. Since then, companies have utilized pallet racking as a crucial component of their warehouse inventory operations.
The use of pallet racks kept expanding day by day after World War II. A big warehouse without a pallet racking system is unthinkable nowadays anywhere in the world.
It is currently a standard using pallet racks in almost all companies that have a lot of physical inventory. It can also be utilized outside of warehouses for various storage requirements.
Pallet racks are available in a wide range of designs and sizes to meet a warehouse's demands. Some different types of pallet racks are as follows:
Mobile Pallet Racking System. It is the most expensive pallet racking system. This system is extremely useful when the movement of pallets is limited.
The automated Storage and Revival System is also known as the "ASRS" system. It is an automated system and this system works very precisely, and quickly.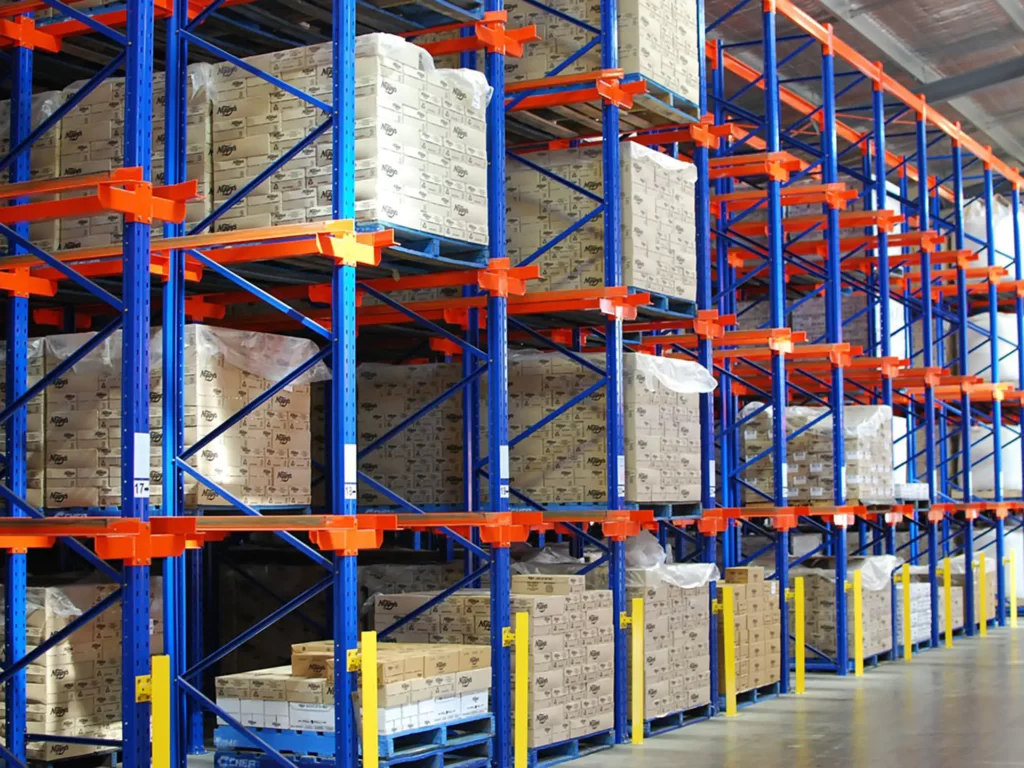 To know about these different types of pallet racking in detail, pallet racking types will be very helpful. You can know about the advantages, costs, and use of different types of pallet racks here.
Warehouse owners sometimes fall into confusion about which type of pallet racks will be suitable for their warehouse. Now, we will discuss the things that warehouse owners should take into consideration before choosing pallet racking type:
Budget
First, warehouse owners should find out their budget for the pallet racking system. There are different types of pallet racks available in similar budgets. After finding out their budget, they should know about the different types of pallet racks available in that budget.
Find Out Your Specific Needs For The Racking System
To find out the specific needs of the warehouse owners, they can ask themselves the following questions:
What type of product do they want to store in the pallet racking system? For instance, if they want to store beverage products, drive-in pallet racking is a great option.
What are the size and weights of the products that will be stored in the warehouse?
What is the desired storage density?
Some Other Things To Be Kept In Mind While Choosing The Pallet Racking System
The floor area and the height of the building should be considered while choosing the pallet racking system. The accessibility of inventory should also be taken into consideration.
The inventory rotation and placement of the building columns and the doors should be taken into account too.
So, these are the things warehouse owners should keep in mind while choosing a pallet racking system.
Warehouse Racking Depreciation Life.
If properly maintained, a pallet rack can last for a lifetime, However, no one can say with certainty how long will the pallet racking will last. There are several things that determine the depreciation life of the pallet racks.
Now, we will explain some factors upon which the pallet racking depreciation life depends:
Maintenance Of The Pallet Racks
Maintenance is an important factor upon which the pallet racking depreciation life depends. It's crucial to regularly evaluate your pallet racking setup. Its endurance and lifetime can be drastically decreased by even minimal damage.
Regular rack inspections should be done by trained and skilled staff. If the staff finds any problem while checking the racks, they should immediately address the issue. They should especially check the following things about the pallet racks:
Upright frames.
Pallet racking beams.
Overloading.
Corrosion.
Environment
A pallet rack's lifespan might be increased or decreased depending on the environment that it is installed. Depending on the atmosphere, various types of steel are used in different racking systems.
Because of this, it's crucial to think about the location where you'll be installing the racking system. Before you buy a racking system, you need to make sure that it is appropriate for the atmosphere.
Quality Of The Steel
Your rack's steel grade will undoubtedly have an impact on lifespan of the pallet racks. Engineers generally advise that the least yield strength of steel being used pallet racks be 50,000 psi.
Operation Of Forklifts
A forklift accident is a common way that a pallet rack may be harmed or even collapse. If the forklift operators are properly trained, forklift collisions can be prevented. That will increase the lifespan of the pallet racks in the warehouse.
Placing safety mirrors at the end of every aisle and on the forklift itself will help to avoid accidents.
Installation Of The Pallet Racks
If racks aren't properly installed, they will have a short lifespan. That's why it's very important to install pallet racks properly in a warehouse. If you have any questions about pallet rack installation, please contact mracking for pallet rack installation support.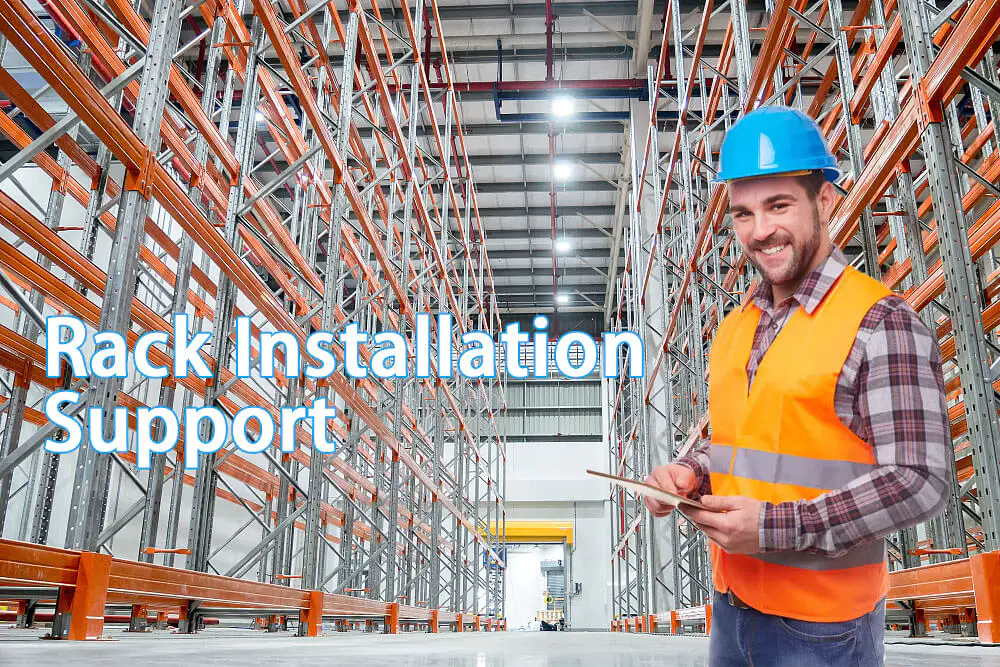 Using The Pallet Racking Protection Accessories
Unfortunate accidents can happen in a warehouse despite taking all the precautions. If pallet racking protection gears are properly used, a pallet rack remain safe. Some of the pallet racking protection gears that can protect in case of a collision are as follows:
Rack bollards.
Corner post protectors.
Frame end guards.
Angle post protectors.
These racking gears are intended to deflect or lessen the force of a forklift accident.
Visibility
The clearer a forklift driver sees, the safer they can operate. Drivers can better view their surroundings when they have good lighting and wide-angle convex mirrors. So, if drivers can see clearly, it will ultimately increase the lifespan of racks as it'll prevent collisions.
In this article, we have tried to give a detailed explanation of the question, "What is pallet racking?" Let us know if you have any questions related to the pallet rackings. You can read the other blogs on our website to find out more about the pallet racks.