A pallet rack is the most popular warehouse storage solution. Warehouse owners often prefer the pallet racking system as it is cheaper, easy to install, and repairable. Today, we will dive deep into the topic, "What pallet racking boards are right?"
So, what exactly are pallet racking boards? It is a material that is used on rack load beams and pallet racks to sustain loads of various shapes and weights. There are various pallet racking boards, including plywood, wire mesh decking, steel plate, etc.
Many warehouse managers and owners think they can have a pallet rack without pallet racking boards. Because adding pallet racking boards with a pallet racking system ultimately increases the cost of the business.
But on the Mracking companies blog, we suggest what is best for your business. Especially on the safety-related issue, our policy is solid.
Large pallets can be placed directly on pallet rack beams; however, doing so raises safety concerns. The pallets may fall through the racking if not correctly positioned on the beams.
As a result, the product may sustain damage underneath or, worse yet, harm surrounding individuals. Keeping in mind the safety of goods stored in the warehouse, we recommend you have pallet racking boards.
This article will describe various types of pallet racking boards, their advantages, disadvantages, and more. The content of this article is as follows:
How Many Options Are Available For Pallet Racking Boards?
Pallet racking boards are an excellent choice if you're seeking a practical solution to store your products. Pallet racking boards employ shelves to hold merchandise on pallets.
Because it enables you to store more products in a smaller space, this technique is incredibly effective. Pallet racking boards are adaptable and may be utilized in various contexts.
Many different types of pallet racking boards are available on the market. Three of the most popular options are as follows:
Plywood Decking: Plywood decking is an excellent option if warehouse management wants more accessibility to stored items. But the plywood decking is very much prone to damage.
Wire Mesh Decking: This is a popular choice for many businesses because it is affordable and easy to install. Wire mesh decking is versatile and can be used in various applications.
Steel Plate Decking: This is the most expensive and durable option. Steel plate decking is perfect for businesses that need a heavy-duty solution. However, steel plate decking might be too expensive for some warehouses.
Plywood Decking
Plywood decking is made by gluing together thin layers of wood veneer. Plywood is strong and stable, making it ideal for many applications.
One of the most crucial components of any organization is its warehouse. They serve as the locations for processing and storing goods, so they must operate as effectively as possible to meet demand.
Plywood pallet racking boards can support heavy loads, too, though less than steel plate decking. Here's a closer look at how plywood decking can benefit your business:
One of the most significant advantages of plywood decking is that it can help you keep your inventory more organized. By clearly labeling each storage unit, you can quickly and easily find the items you need when you need them.
Using plywood decking to organize your storage is another advantage. Utilizing every square inch of your building allows you to store more products without expanding. This is also a low-cost strategy.
Plywood decking is a great way to increase warehouse safety. They also make the warehouse more orderly and effective, helping to prevent worker injuries from falling pallets.
Advantages and Disadvantages of Plywood Decking
Advantages:
Plywood decking is more cost-effective than other types of pallet racking boards. This is because they require less material and labor to install.
They are also lightweight, which makes them easier to move and reposition as needed.
Plywood decking is also highly durable. So they can withstand a lot of wear and tear without compromising the safety of stored items.
The open design of plywood decking also allows easy access to stored items.
Disadvantages
Plywood decking can be prone to damage from moisture, insects, and rodents.
They are not as strong as other pallet racking boards and may sometimes be unsuitable for heavy-duty applications.
Plywood decking can also be challenging to assemble, requiring extra time and effort.
Overall, using plywood pallet racking boards in warehouses is a terrific approach to maximize productivity and save floor space. They are simple to install and readily reconfigurable to meet your company's demands.
Wire Mesh Decking
A type of decking called wire mesh decking employs wire mesh to provide a grid-like surface. Wire mesh decking pallet racks are a great option if you want a versatile storage solution.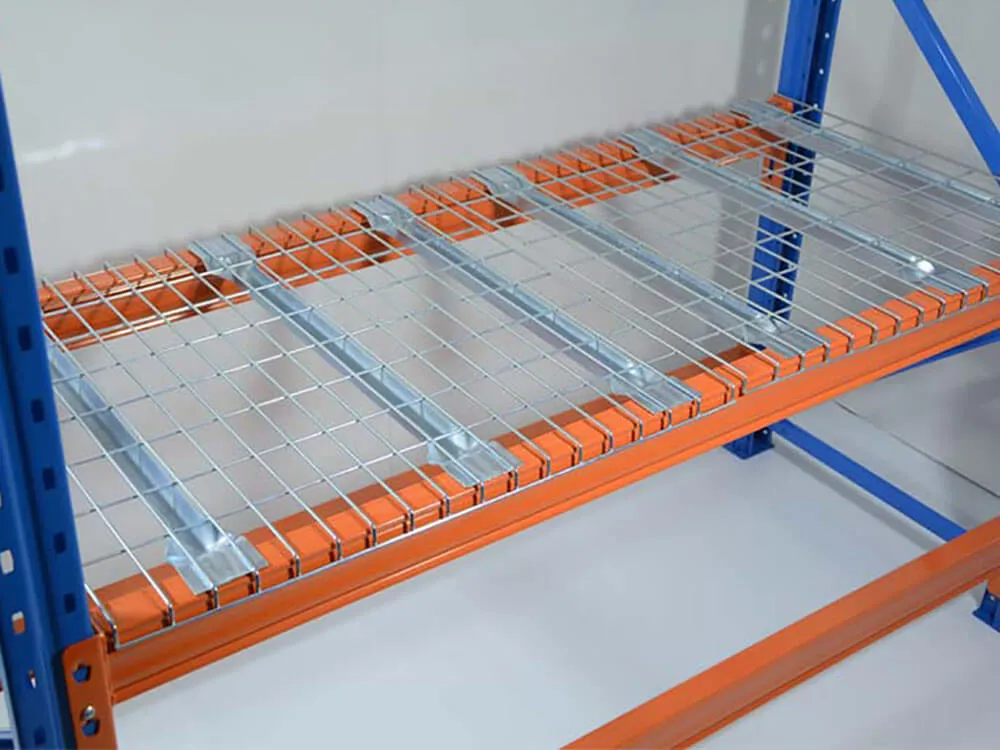 In addition to giving your pallets a stable surface, wire mesh decking allows light and air to pass through. It also allows you to keep the stored goods visible and well-ventilated.
Additionally, this extra support, used as decks, can provide more space between the pallet racking beams.
Wire mesh decking is a versatile storage option for various items and is solid and long-lasting. Additionally, it can support a variety of weight loads too. In our next section, we will discuss wire mesh decking separately.
Steel Plate Decking
Steel plate decking is solid and durable, and perfect for storing heavy items. Steel plate decking is easier to clean and maintain too.
Steel plate decking is much stronger and more durable than traditional plywood decking. They are also much easier to clean and maintain. In addition, steel plate decking is much less likely to warp or dent, and it won't absorb moisture like wood can.
These racks are robust steel and can support massive weight. They are perfect for storing big objects no matter what your demands. They'll provide you with many years of trouble-free service since they are robust, long-lasting, and simple to maintain.
If you're looking for the most durable storage solution, steel plate pallet racking is a great option. However, the cost of steel plate decking is too high.
As steel plate decking is a costly pallet racking board, here are a few tips to help you save money on your purchase:
Before making a purchase, compare pricing from multiple merchants.
Many retailers offer discounts on pallet rack steel plate decking.
You can find better deals on steel plate decking online. However, if you buy steel plate decking online, inspect them thoroughly.
When purchasing steel plate decking in large quantities, you may save money.
If you're buying multiple steel plate decking, try negotiating a better price with the retailer. Negotiation can help you reduce the cost of the products you buy.
You can spend less on steel plate decking for pallet racks by heeding this advice.
You may be wondering why the cost is so high. After all, steel is one of the most expensive materials available.
The main reason steel plate decking costs more than other materials of pallet racking boards is its durability. Pallet racking boards made from steel can last for a lifetime; in contrast, those made from other materials might only last a few years.
If the warehouse owner has a reasonable budget, he can buy steel plate decking. However, warehouse owners who don't have a high budget for pallet racking boards better not buy steel plate decking. Wire mesh decking would be a better choice for them.
Advantage And Disadvantage Of Steel Plate Decking
Advantage:
Highly durable and can withstand a lot of weight.
Easy to assemble and install.
It can be customized to fit any space.
Cost-effective and long-lasting.
It can be used to store a variety of items.
Disadvantage:
Heavy and difficult to move.
It is expensive compared to other shelving systems and can become rusty.
If you want to increase the space in your warehouses, pallet racking boards are the cheapest solution. Once you have used your pallet racking boards, you'll be able to use the extra storage space and keep things more organized simultaneously.
Selective pallet racking is an incredible way to use warehouse space best. Read warehouse storage solutions to find out which storage solutions are best for your warehouse.
Wire Mesh Decking – The Most Commonly Used Pallet Racking Board.
Wire mesh decking is a durable but affordable pallet racking solution. The bottom of the mesh surface is welded with support channels to provide load-bearing capacity and rigidity.
Step channels support up to 2500 lbs. This type of pallet racking board is generally used for non-palletized products, cases, and cartons. Companies that lack time to maintain wooden decks normally use this decking solution.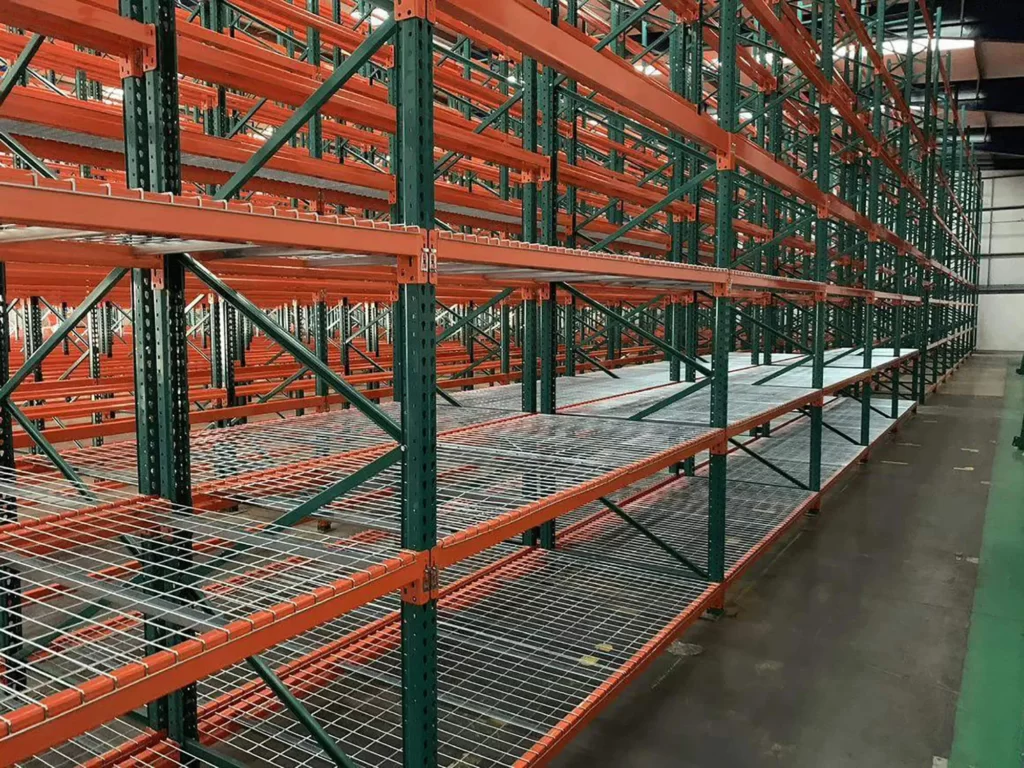 Advantages And Disadvantages Of Wire Mesh Decking.
Let's discuss some advantages of wire mesh decking.
Zero Risk Of Collapsing
These pallet racking boards are made of cold-reduced, deformed steel and usually have multiple supports underneath.
It fits into the pallet deck tightly to ensure the racks remain intact. This prevents the deck from collapsing with inventories. Using clip-on dividers and stops prevents boxes from sliding off the rack.
Versatility
You can look for different shapes and sizes that fit standard pallet deck models. Multiple designs that comply with FDA regulations are available, and these designs fit step beams and make handloading easier.
Easy to install
Wire mesh decks are easy to install as they usually drop into place without serious effort, and it fits into the pallet racking beams tightly. Installation requires few to zero tools.
High Visibility
Wire mesh decking provides high visibility through all levels of pallet racking. It allows lighting to flow through the workspace freely and helps workers under the deck to see clearly. It reduces workplace accidents and minimizes tripping hazards.
Ease of Use
This type of decking is excellent for air circulation, and it also prevents dust build-up. This feature is often critical for successfully storing temperature and moisture-sensitive products.
Wire mesh decking collects less dust and needs less frequent cleaning. Its modular nature allows for adding more storage without completely disassembling.
Safety Of The Employees
The security and safety of the workers should be the primary concern of any warehouse facility. Falling objects are a very concerning situation in a warehouse, and it can question the safety standards of a facility.
This type of situation can be prevented using wire mesh decking. Because due to their non-slippery characteristic, the chance of products slipping through them significantly decreases.
To ensure the safety of the workers, wire mesh pallet racking boards are an excellent solution.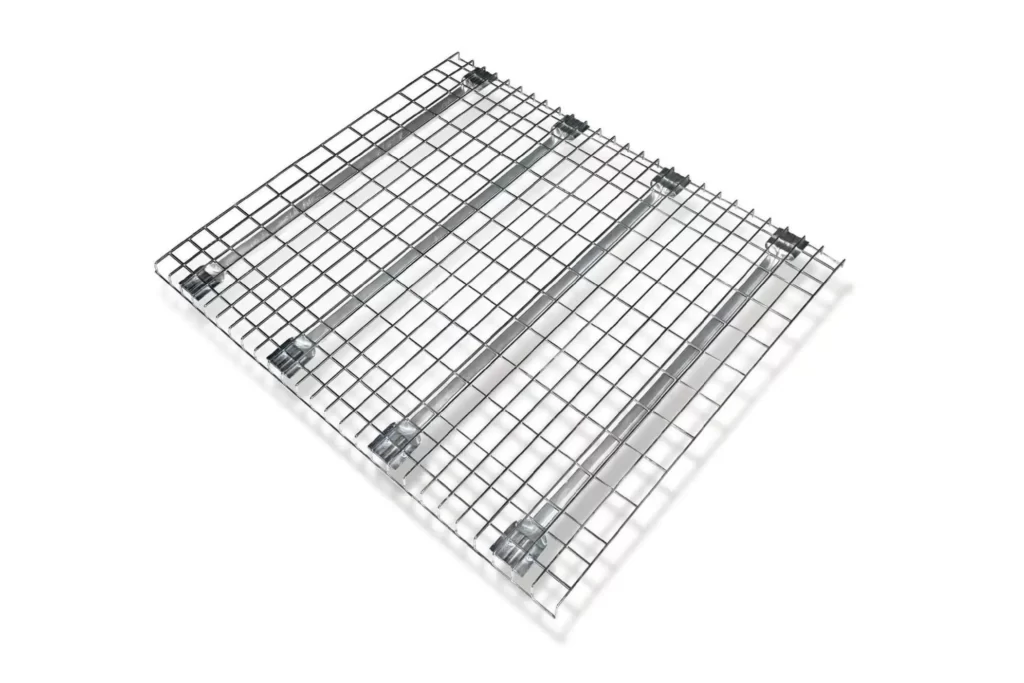 Fire Safety
As these are made with metals of higher melting points, wire mesh decking resists fire. Some designs allow for water to flow if a fire alarm system triggers.
Wire mesh decks increase overhead sprinkler effectiveness. Many local fire codes even require wire mesh racking decking of steel plate decking or plywood decking.
The risk of fire spread is minimized if the pallet racking system is supported with wire mesh pallet racking boards.
You can choose wire mesh pallet racking boards to support your pallet racking system due to their non-flammable nature.
Durability
Wire mesh decking holds more weight, but its strong support doesn't let it become weaker over time. The coatings resist rubbing off even when in contact with the most abrasive products. Wire mesh decking is made of solid wired steel, which will last as long as your pallet racks.
The heavy-duty steel mesh is durable, ultra-strong, and has met state health and safety regulations. Many wire mesh manufacturers construct wire mesh decking following the ANSIM H26.2.2017 standards.
Affordability
Installing or replacing other complex materials requires more labor and time. Wire mesh decking is easy to install and requires zero maintenance across its whole life.
Wire mesh racking is only partially flawless. You better have it in mind before you proceed to install it. The disadvantages of Wire mesh deckings are as follows:
Unable To Carry A Heavy Narrow Load
If the load is not distributed instead, the pressure is on a narrow surface, and Wire mesh decking has less chance to hold it up.
One-Time Higher Cost
Wire mesh decking is more costly than a wooden deck, but only if you think of the material. It may require you to spend a bit more when installing it. But it helps you save even more in the long run.
If you are considering installing wire mesh decking for your warehouse, you can look at the Mracking wire mesh decking.
The dimensions and the material's thickness impact the cost of wire mesh decking. According to the experience Mracking, wire mesh decking costs range from $10 to $18. Contact Mracking to get an instant quotation price.
Wire Mesh Decking Or Plywood Decking: Which One Is Better?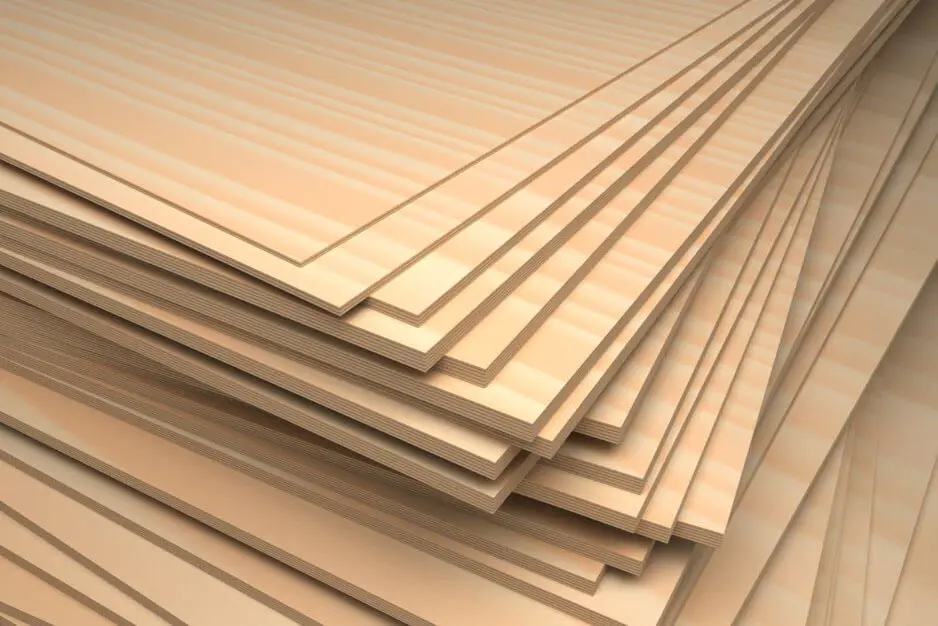 Looking at all the above aspects, we can say that wire mesh decking is better than plywood decking. Why? Let's break it down for you.
If you consider the safety measures, wire mesh decking provides more safety to your products. Wire mesh decking will allow the heat and smoke to rise in the event of a fire outbreak.
This will trigger the safety alarm, and wire mesh decking will allow water to fall into the storage areas. Also, many professional warehouse designers encourage having wire mesh decking.
If you consider the cost, plywood might save you while purchasing it the first time. But, plywood deck is prone to mold, warp, split or bend. On the other hand, you don't need to break a sweat for such things if you install wire mesh decking.
The weight of stacked products will be equally distributed across the beam due to wire mesh decking. This will provide sturdiness to your racking structure. Moreover, helping you to utilize the full potential of your capacity and using it to its fullest extent.
So, to answer the question, "What pallet racking boards are right?"
We can say after the discussion of this article,

"For the vast majority of warehouse owners, wire mesh decking are better pallet racking boards."
It should be noted that Mracking is an experienced pallet racking board manufacturer. Contact Mracking to get the ideal pallet racking boards for your warehouse.