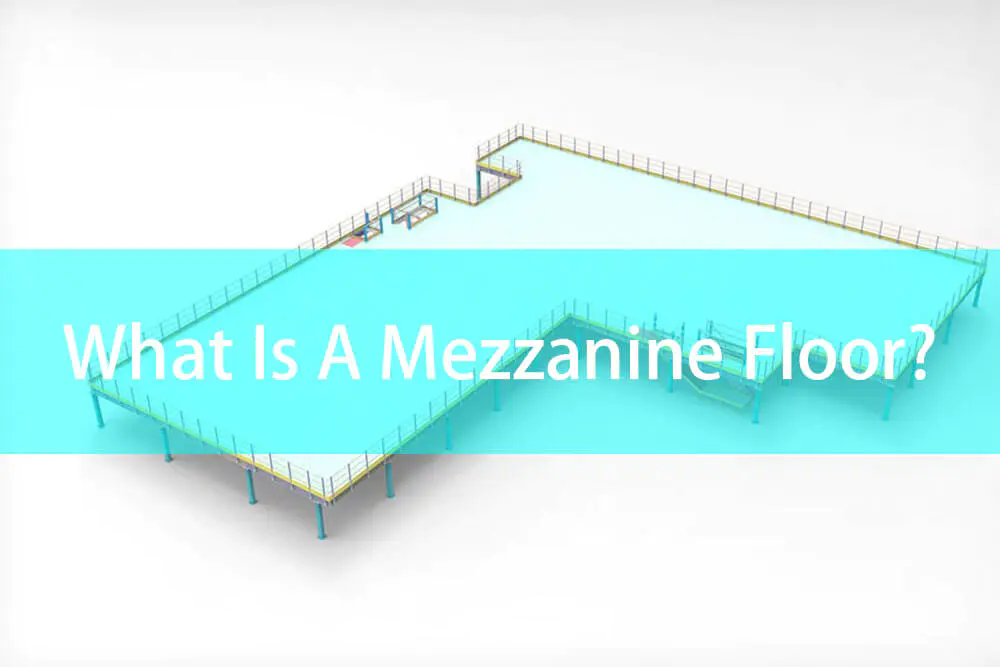 An elevated floor or platform constructed between the ground and the ceiling is known as a mezzanine floor. The Italian term Mezza, which means "middle" or "half," is the source of the English word "mezzanine."
In most warehouses, there is practically little usable ground floor area. Mezzanine flooring is a practical method to utilize any vacant vertical space in your warehouse. The site below the mezzanine is also accessible after it is built.
Mezzanines can be used in offices, homes, warehouses, etc for various purposes, For more information, read about the uses and benefits of mezzanine storage systems. In this article, we will be confined to the mezzanines used in the warehouse. Based on the difference of their loading capacity and application scenarios, a mezzanine floor can be of the following types:
Mezzanine floor.
Structural steel mezzanine.
Mezzanine rack.
A mezzanine floor can be constructed of different types of materials, such as wood, steel, concrete, hard plastic, etc. Generally, in a warehouse mezzanine floors are made of steel. The mezzanine floor used in a warehouse must be sturdy and durable.
This article will discuss various things about a mezzanine floor. In this article, we will explain the following things:
This article will be especially beneficial for the following group of people:
Warehouse owners who are thinking of installing mezzanine floors for their warehouses.
People who are confused about which company they should buy the mezzanine floors from.
Academics and researchers who want to know about mezzanine floors.
The Components Of Which The Mezzanine Floor Are Made.
The most typical style of mezzanine construction is made of steel and concrete. Materials resistant to corrosion, such as stainless steel, may be required for some applications.
The majority of industrial mezzanines are constructed using pre-engineered, modular steel modules. These steel modules are simple to install in a warehouse. Mezzanines made of steel are designed to storage heavy weights.
Warehouse mezzanine floors have to storage heavy weights year after year. That's why steel is used in most cases for building warehouse mezzanine floors. A mezzanine floor has many components, which include,
Joists or Purlins
This element serves as the connection point for decking and fits each of the main beams.
Primary Beams
The main source of support for the mezzanine is provided by these beams. They are a component of every column that supports the flooring.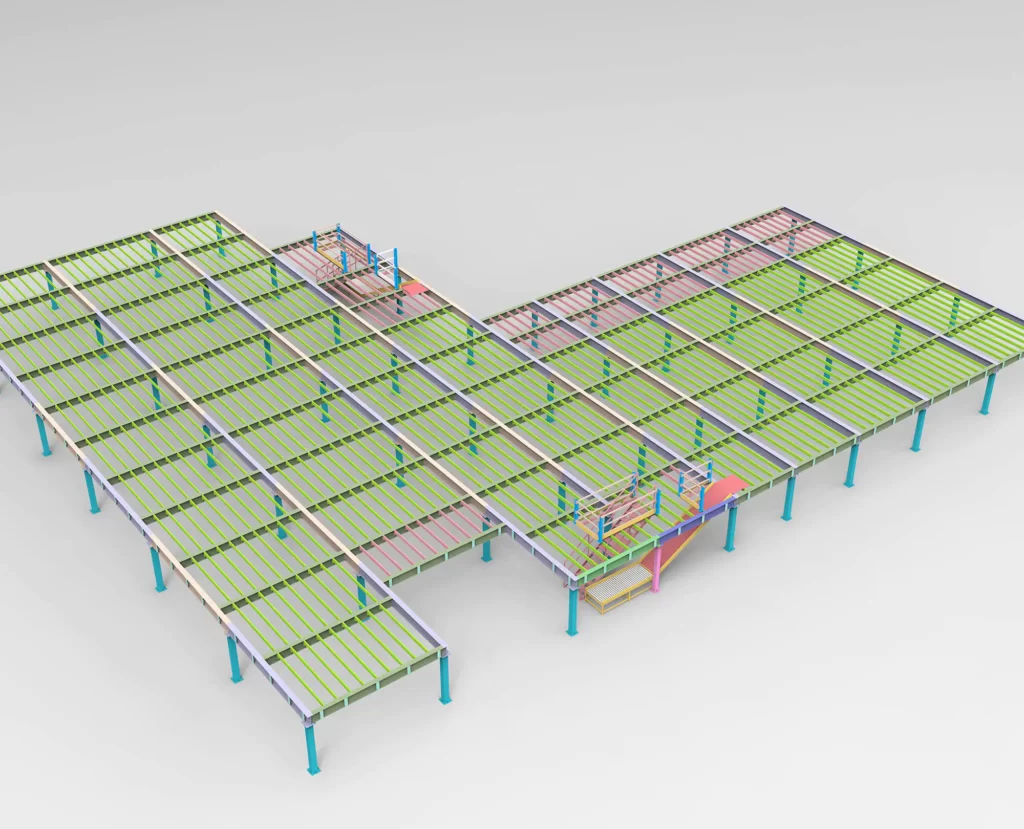 Guardrails
Guardrails for fall safety should be installed on all mezzanines. If the warehouse is located in the USA, the guardrails of the mezzanine should meet the requirements of "OSHA."
Decking
There are numerous decking options available for you to select from. The best option will rely on your desired design and the needs of your company.
Alternating Tread Stairs
Alternating tread stairs can be permitted for mezzanine access under specific circumstances. Some areas have limitations of space. In these areas, a supplementary exit for larger mezzanine structures can be made using alternating tread steps.
Columns
These serve to support the main beams. It enables the load capacity to be distributed over each column supporting the weight of the mezzanine.
Stairs
You need mezzanine stairs for every mezzanine. Mezzanines must have a means of egress because they are regarded as stories within the building structure.
These are some of the components that made up a mezzanine floor.
Different Types Of Mezzanine Systems.
There are different types of mezzanine systems available. A brief introduction to different types of mezzanine system are as follows:
Racking Supported Mezzanines
These mezzanines are warehouse floors that are built with storage racks as the major structural support.
The multi-floor layer mezzanine design can be included by the system's manufacturers in the rack system. These facilitate the storage area's operation and improve inventory and equipment accessibility.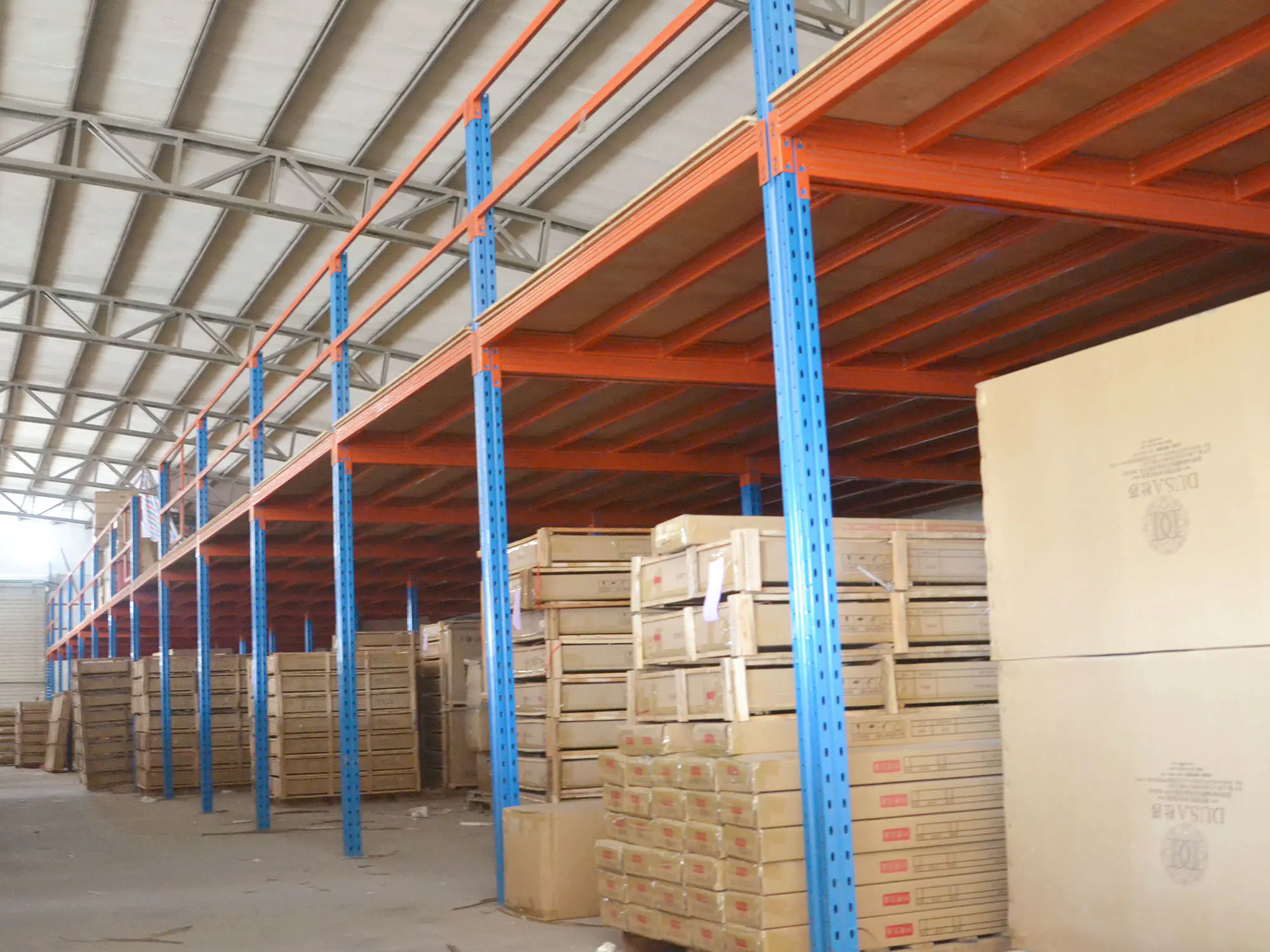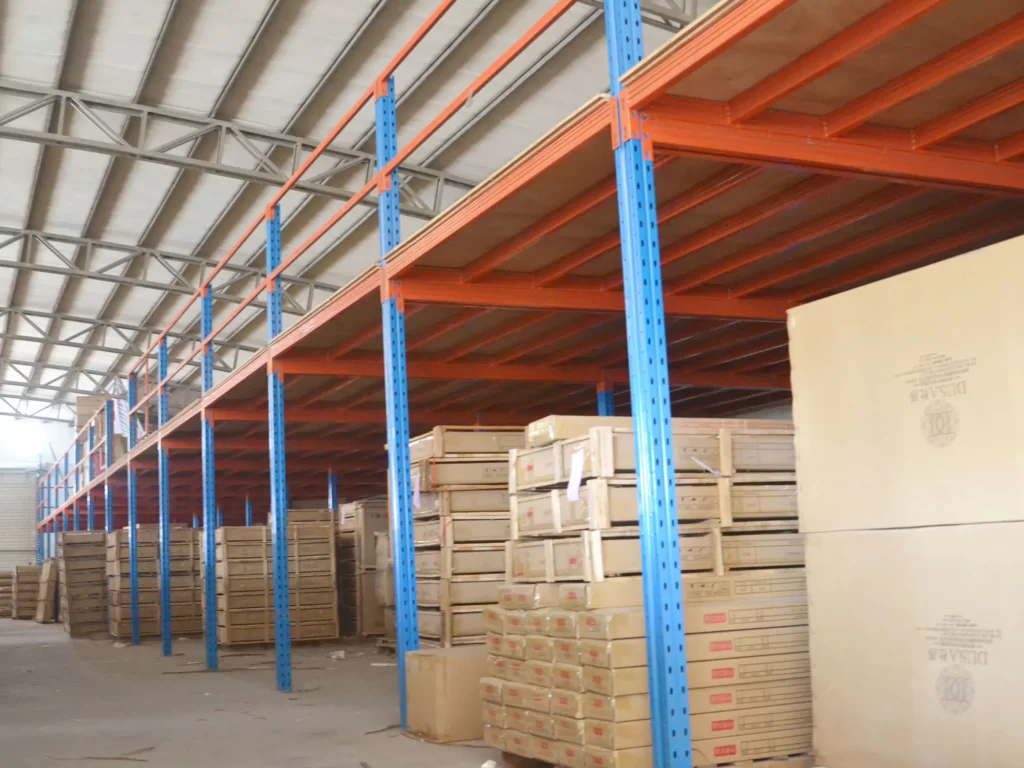 Free Standing Mezzanines
Columns are used to support free-standing mezzanines rather than pre-existing structures or racks.
Concrete Mezzanines
The decking on mezzanine floors is frequently made of concrete. It is the mezzanine that is the most resilient. It has a low noise transmission and high point load floor decking system. For industrial applications requiring strong structural endurance, concrete decking works best.
Full Mat Mezzanines
These mezzanines are normally held up by already-existing racks or shelving that don't stretch well above the platform. The advantages of both catwalks and free-standing mezzanines are combined in full mat mezzanines.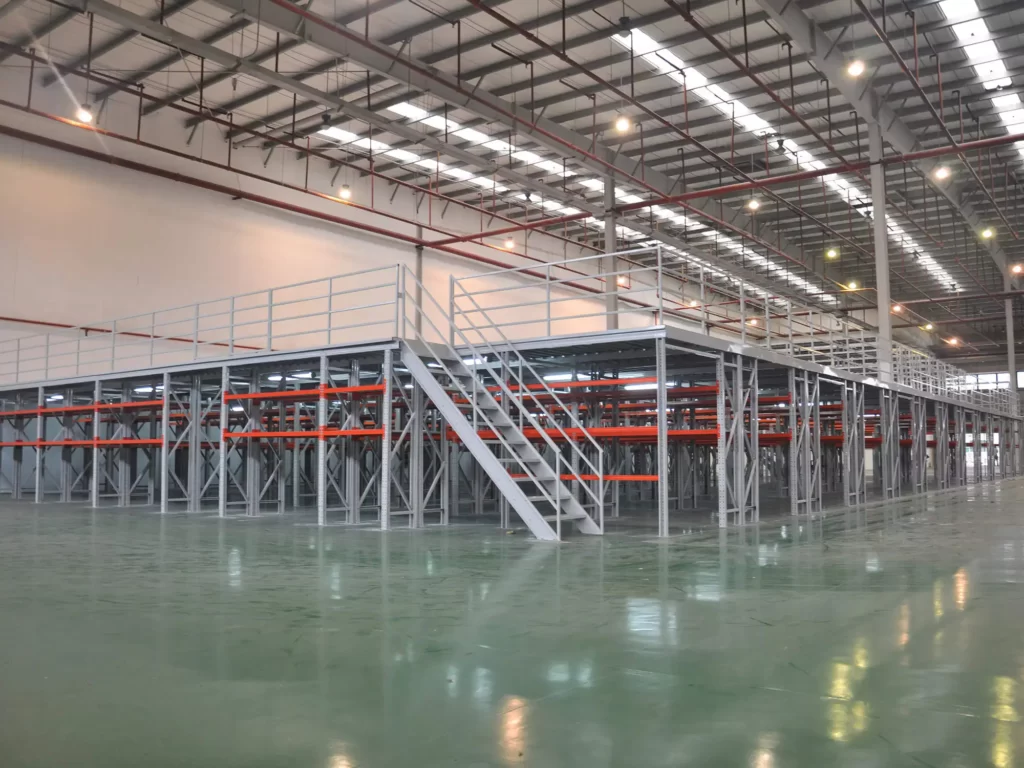 Multi-Tier Mezzanine
A multi-level system that can serve as a storage area is a multi-tier mezzanine structure. Pallet gates can be used to create loading docks with multiple levels of stairs.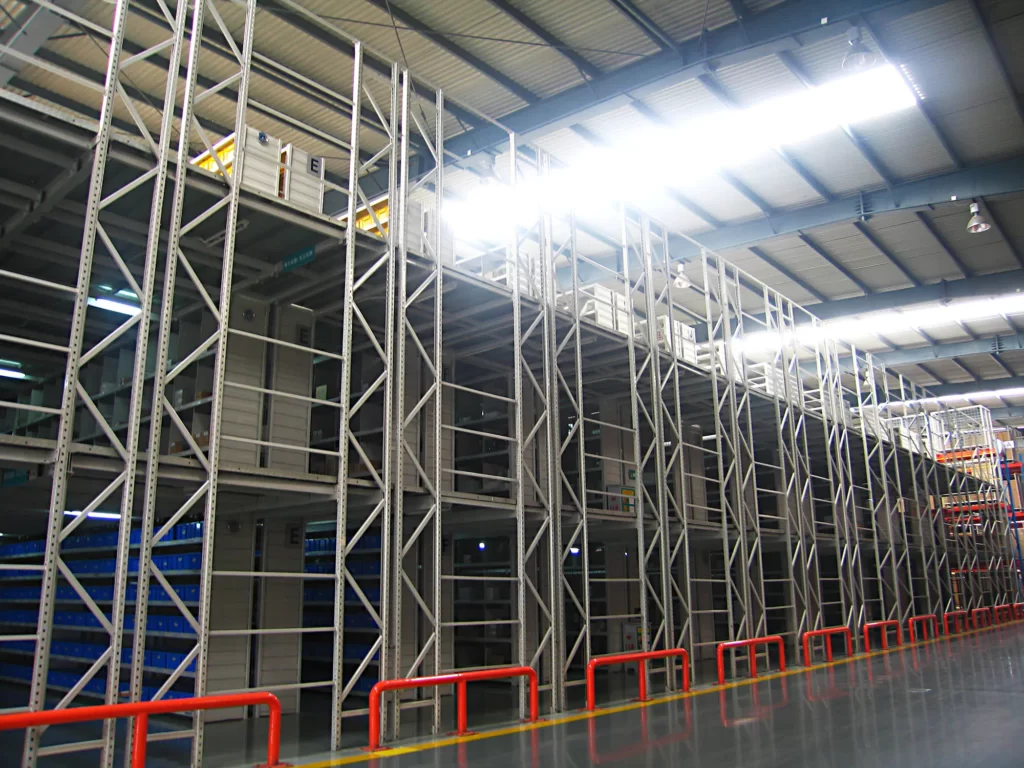 Catwalks Mezzanines
Catwalks are excellent for increasing the storage capacity of structures with tall shelving or racks. Some catwalks expand from the main mezzanine which provides access to the higher levels of the racks.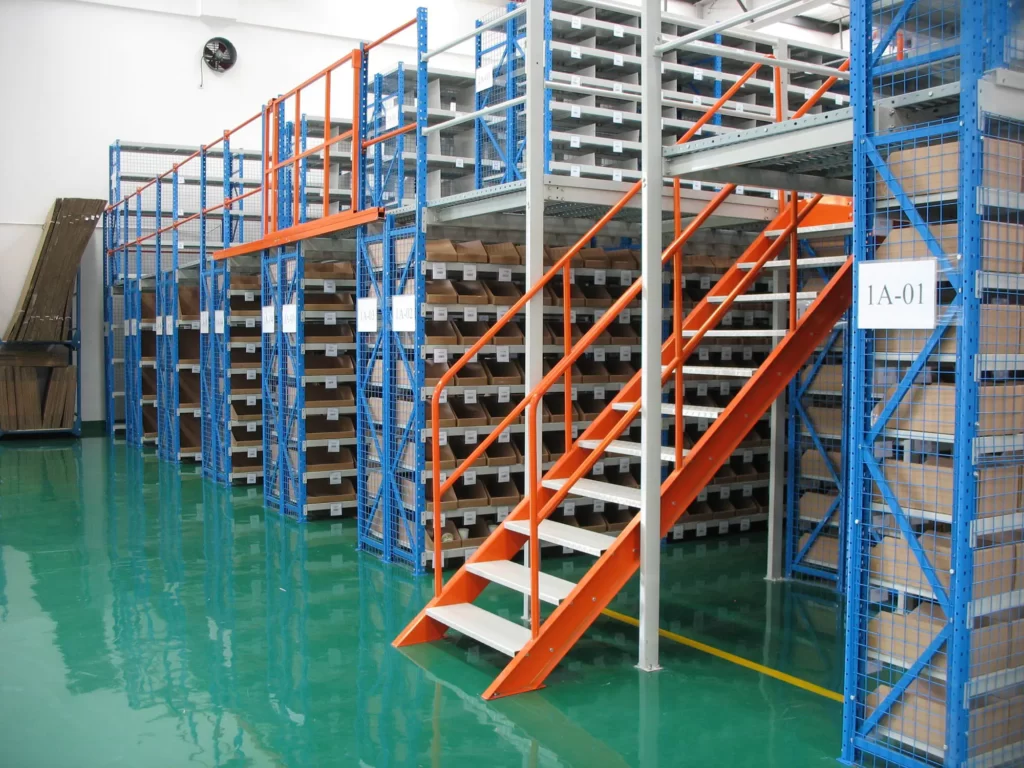 Above we have introduced you to the different types of mezzanine floor systems, understanding all of them will help you choose the most appropriate mezzanine floor system for your storage needs.
If you want to learn about mezzanine floor design, read mezzanine structure design. This article will help you to design your mezzanine floor in a way that makes sense for your warehouse and the goods you are storing.
Below we will look at the advantages of using a mezzanine floor.
Advantages Of Using A Mezzanine Floor.
Perhaps, the greatest advantage of using a mezzanine floor is that it increases the storage facility. Besides this, there are numerous advantages of using a mezzanine floor. Having a mezzanine floor is highly beneficial for a warehouse.
Some advantages of using a mezzanine floor in the warehouse are as follows:
Using A Mezzanine Floor Ensures You Are Using Your Available Space Efficiently
Do you want to increase your warehouse's floor space? Then use the mezzanine floor and you can increase the floor area by up to 50%. Moreover, you don't have to spend a lot of money on it by using a mezzanine floor.
Mezzanine flooring increases your warehouse's potential per square foot. It makes no difference whether you own your warehouse outright or rent it from someone else. A mezzanine level can significantly increase the property's value.
This is excellent if you ever decide to explore selling it or trying to rent it to another person. Buyers will be very interested in a warehouse with this extra usable space.
Increase The Storage Area In The Warehouse
The issue of outgrowing your building is a major one for warehouses. If you are managing a warehouse, you know how important it is to have more space in the warehouse.
Mezzanine systems for warehouses make it simple to increase storage capacity. Don't dismiss it as a band-aid either. A mezzanine can add a significant amount of space to the warehouse.
Mezzanine System Are A Budget Friendly Solution
Moving into a new warehouse or adding an extension to the existing warehouse is costly. The warehouse mezzanine system is one of the cheapest options if you want to increase your storage capacity.
If you want to know about the cost of the mezzanine floor, you can read mezzanine floor cost.
Serves Multiple Purposes And is Easy To Install
Mezzanine floors with good design have a variety of uses. They can be used in the following scenarios:
Work platforms in commercial environments.
Storage for equipment, goods, and machinery.
First off, it's simple to fit mezzanine floors into an existing building. They don't call for any long-term modifications from you. Mezzanine flooring can be installed quickly and easily. If you want to know more about mezzanine floor installation, please read "Mezzanine Floor Installation".
Warehouse managers can keep seasonal or expensive goods on your mezzanine floor. Mezzanine floors are frequently used in warehouses to build offices or staff kitchens.
Improvement Of Goods Storage And Distribution In A Warehouse
We know the storing of goods and distribution is one of the main tasks of warehouse workers. Using mezzanine floors can improve the storage and distribution of a warehouse. The mezzanine floor also allows for better organization of goods in the warehouse.
Mezzanine Floor Gives An Excellent View Point For Safety And Efficiency
This amazing advantage of using the mezzanine floor is often overlooked. Mezzanines can serve as the ideal viewpoint to guarantee warehouse effectiveness and safety.
Flexibility In Design
The flexibility of design that can be done on mezzanine floors is amazing. Because they are not attached to the structure of your building, mezzanines are unrestricted and very versatile. Moreover, you can design a mezzanine floor keeping in mind the following things:
Existing floor plan.
Existing machinery and equipment that are available in your warehouse.
racking layouts.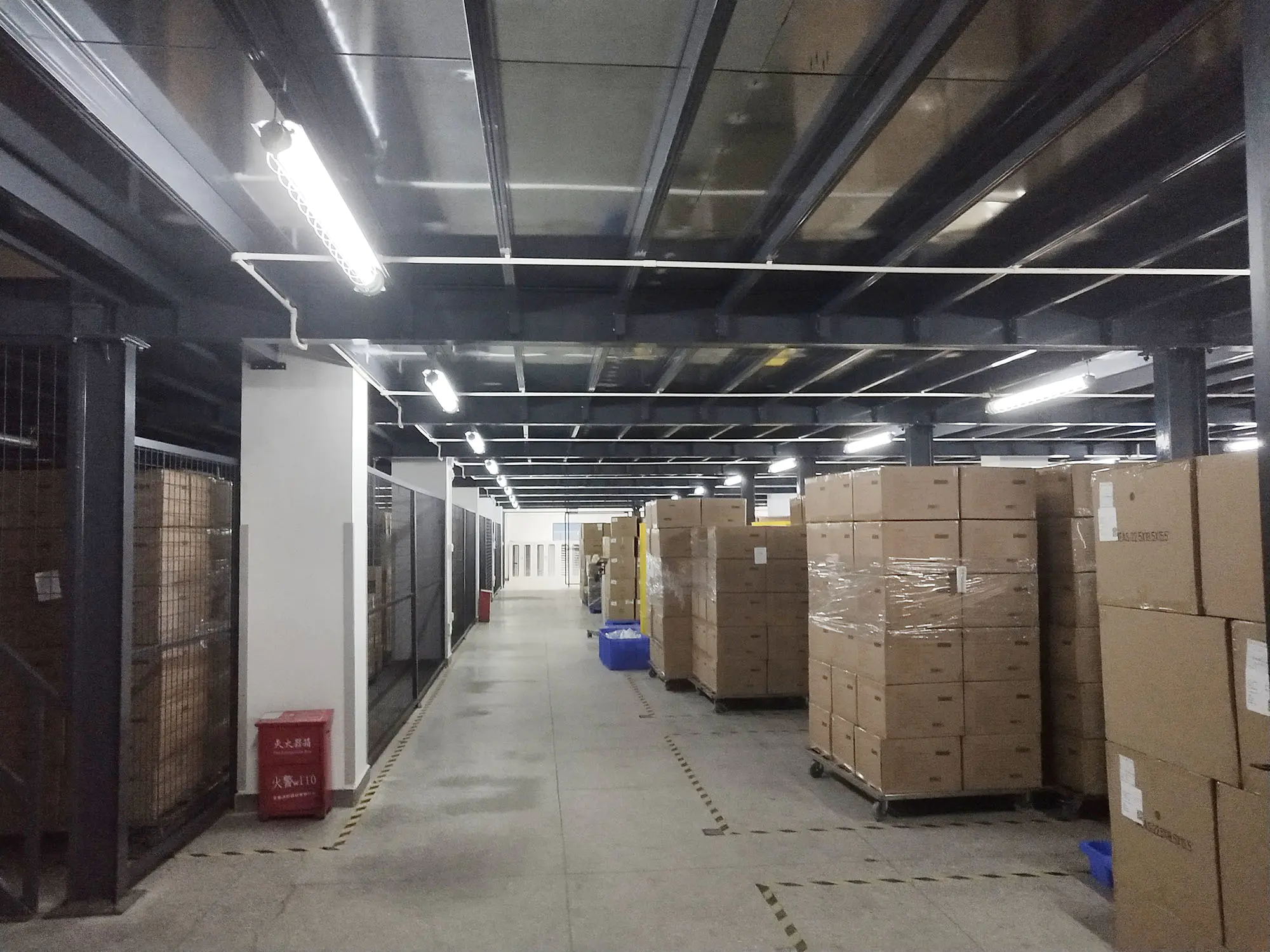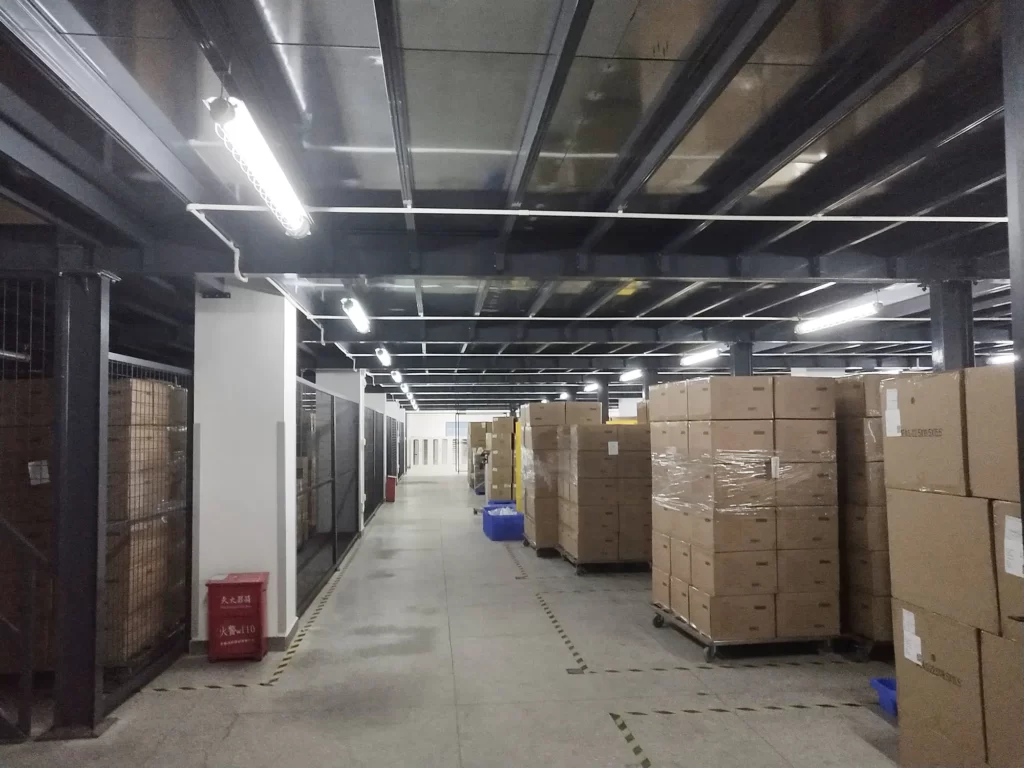 Staying In The Current Location Of Your Warehouse
One of the most frequent issues that most warehouse facilities deal with is storage capacity. If the number of goods stored in the warehouse increases, it may run out of its existing storage capacity.
Installing warehouse mezzanines is a good option if you need to increase space without moving to a new location. There won't be a need to move to a larger building or facility thanks to warehouse mezzanines.
Mezzanines might be the ideal answer to storage problems, even in small spaces. You won't need to worry about shifting your business elsewhere because of its extensive applicability.
Maximizes The Efficiency Of The Warehouse
You can utilize additional space in your warehouse if a mezzanine floor is put there. By keeping the price constant while increasing storage, you'll effectively be raising the commercial value of a property.
Moving operations and requiring employees to change their commutes can be expensive. The business may retain local clients and lower building costs by incorporating a mezzanine system.
Mezzanines with many levels can be built into larger distribution centers to make the most of the available space.
Increase In The Safety Of The Warehouse
Warehouses should ensure the safety of the workers in the warehouse. If the workers feel unsafe in the warehouse, it may affect their productivity and efficiency of working.
Products and huge crates are stacked on top of each other in a warehouse. At the same time, workers use forklifts and scaling ladders. So, it's important for a warehouse manager to monitor things to make sure everything is going the right way.
Consider constructing a mezzanine as a method to keep an eye on things and monitor activities in the warehouse. It might also provide the best viewpoint from which to see what is happening in the warehouse.
Many accidents and injuries can be prevented if the warehouse mezzanine system is used properly.
So, these are some of the amazing advantages of using mezzanine floors in your warehouse.
Minimum Mezzanine Floor Height.
You need to perform enough planning before investing in mezzanine flooring for the warehouse. Before building a mezzanine, you must take certain design requirements into account.
The distance between the ceiling and the ground should be 14 feet or 426 cm. For a mezzanine system to function effectively, this is the default option. No matter what the purpose of the floor is, it is essential to maintain this gap.
No matter the style of flooring, make sure to keep the mezzanines at least a height of 3 meters. This guarantees security when handling the items kept in the mezzanine.
For more on mezzanine floor heights, you can check out our article on mezzanine floor heights, which is explained in more detail for you here.
Difference Between A Balcony And A Mezzanine Floor.
Some people think that a balcony and a mezzanine floor are the same things. However, it is not the case. There are lots of differences between a balcony and a mezzanine floor. The two main differences between a balcony and a mezzanine floor are as follows:
An elevated floor or platform constructed between the ground and the ceiling is known as a mezzanine floor. On the other hand, the balcony is a construction that extends from a building.
To increase the warehouses' interior space, a mezzanine is used. On the other hand, the main use of a balcony in a warehouse is to overlook the facilities.
Are You Looking For A Company To Buy Mezzanine Floors?
If you are thinking of setting up a mezzanine floor in your warehouse, you can contact us. We provide high-quality mezzanine floors for a warehouse. We sell the following types of mezzanine floors:
In addition, you can customize your mezzanine floor colors which you will buy from us. Our mezzanine floors are made in China. It is also a budget-friendly mezzanine floor for warehouses. Our estimated delivery is 25 days.