A mezzanine floor is another type of storage solution for a warehouse just like a rack storage system. The mezzanine floor helps a warehouse store goods in an efficient and organized way. Today we will discuss in detail about mezzanine floor installation.
An elevated floor or platform constructed between the ground and the ceiling is known as a mezzanine floor. Installing a mezzanine floor is no simple task. It requires particular skills, knowledge, tools, and expertise in the subject matter.
The mezzanine floor also has many alternative uses. In smaller warehouses, this can be used as an observation deck too. In our article today, we will explain the following things:
The following group of readers will find this article especially useful:
Warehouse owners who are thinking of mezzanine floor installation in their warehouse.
Warehouse owners and managers who want to know about the mezzanine floor installation process.
Academicians and researchers who want to know about the mezzanine floor installation process.
A Brief Introduction To The Parts Of The Mezzanine Floor.
While describing the mezzanine floor installation process, we will describe the names of the parts of the mezzanine floor. That's why it is very important to know the names of the main parts of the mezzanine floors.
Columns
Columns support the weight of the mezzanine floor. The columns distribute the weights of the mezzanine floors.
Beams
Another source of support for the mezzanine floors is these beams. Beams are a component of every column that supports the flooring.
Stairs
Like other types of stairs, mezzanine stairs are used to climb up. Sometimes, on the mezzanine floor, a specific type of stair named "Alternating Tread Stairs" is used. When there are limited spaces, "Alternating Tread Stairs" is especially helpful.
Guardrails
In the warehouse mezzanine floor, guardrails can prevent many accidents. If anyone slips on the edge of the mezzanine floors, he can get the support of the mezzanine floors.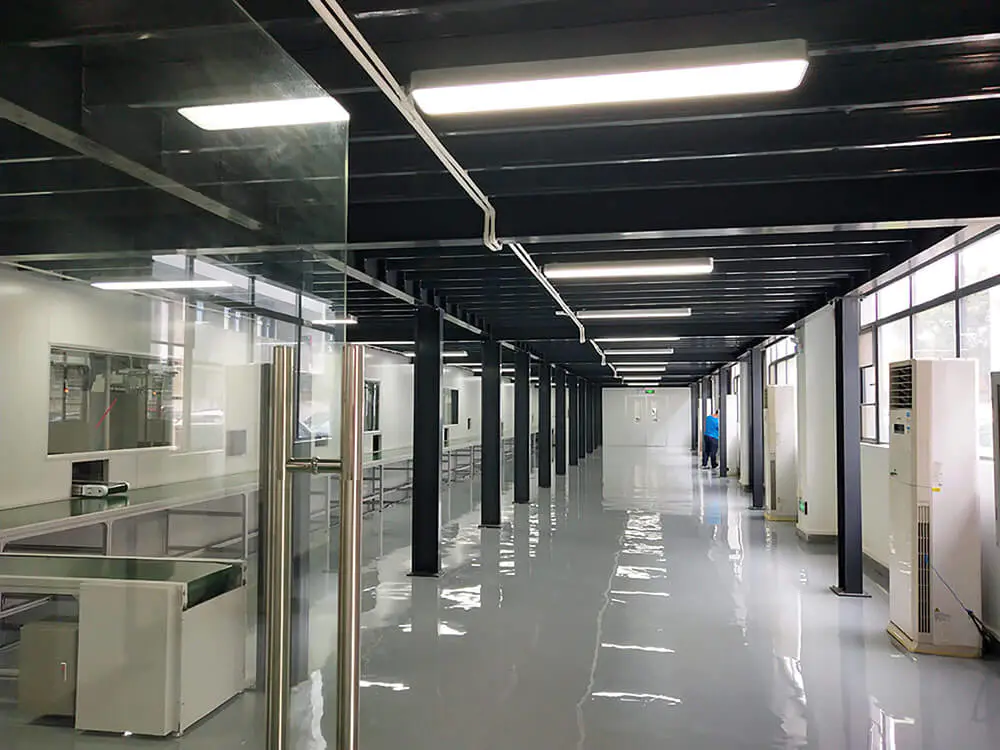 Click what is a mezzanine floor to find out about the mezzanine floor elements in great detail. This article describes some additional parts of the mezzanine floors.
Preparation Work Before Mezzanine Floor Installation.
A mezzanine floor is custom-made. It means that depending on the situation and needs of the warehouse, a mezzanine floor is built. You just can't order it like any other item. You will have to give specific orders to the manufacturer of mezzanine floors for your warehouse.
Two things to consider while ordering a mezzanine floor for your warehouse:
Your Warehouse Space And Capability
How much space you can provide for the mezzanine floor is the first thing to consider. While measuring the space, remember that you can't use the complete ground of the warehouse. You will have to leave a reasonable amount of space besides constructing the mezzanine floor.
Another important thing to consider is the soil of your warehouse. Find out if the soil of your warehouse is capable of holding mezzanine floors in it.
How Much Storage Facility Do You Need
In a warehouse, mezzanine floors are mainly used to store products. So, you should order a mezzanine floor keeping in mind your storage demands. Because, if you need a larger storage facility, you will need larger mezzanine floors.
However, if you need a smaller storage facility, you should not order huge mezzanine floors. It will be a waste of your money and space in the warehouse. Because the bigger the mezzanine floor you order, the more the cost will be.
If you want to know about the cost of the mezzanine floor, mezzanine floor cost will be especially helpful.
Equipment That Is Needed To Install The Mezzanine Floor.
Many tools are needed to install a mezzanine floor. The primary tools that are needed to install a mezzanine floor are as follows:
Forklifts
To lift heavy objects and structures for installation, forklifts are used.
Bi-Energy Scissor Lift
This machine's broad deck and massive lift capabilities make it perfect for installing mezzanine floors. The operation of this scissor lift is comparable to that of an electric machine. This qualifies it for use indoors where limited fuel emissions are necessary.
This machine's Fuel option charges the battery. As a result, it can be used for more work even when there is no electricity.
Wide Deck Scissor Lifts
Wide deck scissor lifts that have electric power have the following capabilities:
Wider deck areas.
Rought terrain tires.
Outriggers to support bigger loads and larger objects.
Telehandlers
That extra flexibility can be provided by telehandlers while building large objects. Because of the additional flexibility, it affords in putting big objects into place.
Mezzanine Floor Drawings.
A drawing is an important part of the mezzanine floor installation. Generally, the drawings of the mezzanine floor are provided by the mezzanine floor manufacturer company. While ordering a mezzanine floor, be sure to receive the drawings from the manufacturing company too.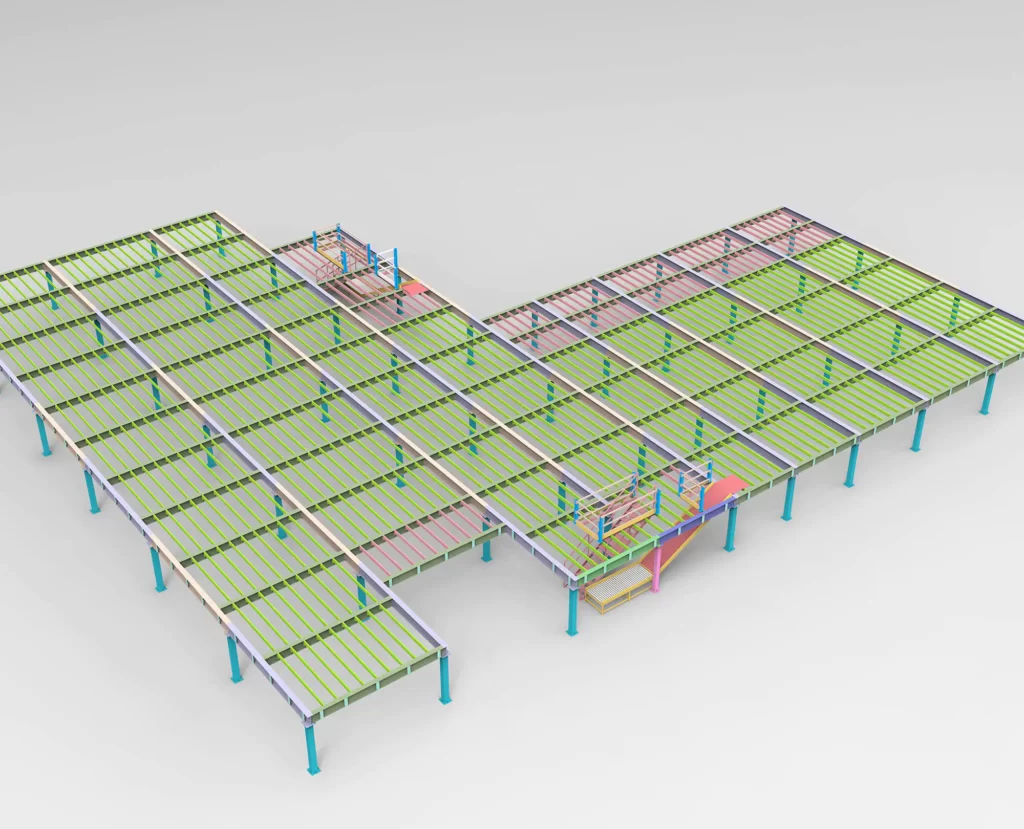 Clearing The Mezzanine Installation Space.
After you have chosen a place for mezzanine installation, make sure the space remains clean. Any debris or objects should be removed before the installation process of the mezzanine floor begins.
The Installation Process Of The Mezzanine Floor In The Warehouse.
We know the mezzanine floor can be used for various purposes, which include,
Workshop.
Office.
Retail store.
Observation deck.
Here, in our description, we will talk about the mezzanine floor installation that is used in the warehouse. To store goods in a warehouse, mezzanine floors have to be very strong and durable. Here are the details of the mezzanine floors installations:
Columns
The load per column is crucial to mezzanine construction. The utilization of the mezzanine determines the load per column. The load needs per column rise as the number of columns decreases.
Highly durable base plates/footings may need to be added if there are fewer columns. This is done to make sure each column can support the added load.
Important factors include the ability of the slab and the loading of the columns. They are particularly crucial when you are installing a mezzanine floor.
Support Beam
All the columns are to be framed with a horizontal structure which is called main beams. The main beams are in charge of transferring load to the columns.
Pre-welded cleave angles with both holes to receive the secondary beams should be provided for the main beams. Secondary beams are the beams that support the primary beams.
These beams must have pre-welded cleave angles with bolt holes so they can accept the remaining beams, also known as tertiary beams.
The staircase and ground floor beams must be secured in place following their connections. Columns should be joined together with parapet top beams. The columns must have the proper cross bracings.
Mezzanine Floor
The mezzanine flooring's thickness provides extra durability and a solid feeling. A narrower gauge won't feel sturdy although it can still support the load. When walking on, a thinner gauge also has a trembling or swinging sensation.
Mezzanine flooring for warehouses must meet certain requirements, including being sturdy and strong. Because on the warehouse mezzanine floors, many goods will have to be kept on the mezzanine floor.
So, a mezzanine floor's thickness must be taken into account first. Because after it has been implemented, it cannot be reversed.
Guardrail
For reasons of safety, all mezzanine floors must have edge protection along all exposed edges. Every mezzanine floor design must include edge protection because these structures must be secure and strong.
So, after giving the basic foundation of the mezzanine floor, it's important to install a guardrail. The majority of people will reach for a guardrail when going up or down stairs. A guardrail can assist people in maintaining their balance if they slip, which can help to reduce accidents.
The warehouse mezzanine needs to have strong and durable guardrails. While loading and unloading the products manually, having a guardrail can essentially help to avoid many accidents.
Staircase
A staircase is an important part of the mezzanine floor. It is used to climb on the mezzanine floor. Like other parts of the mezzanine floor, the warehouse mezzanine staircase had to be durable and strong.
Staircases are available in different sizes and shapes. Staircases are joined with the beams and columns of the mezzanine floor.
Slab Capacity
Weight and distribution of weight affect slab capacity. There are specifications for the pounds per square foot required for the building of every variety of mezzanine floor (PSF).
Warehousing 125 psf
manufacturing and large-scale storage 250 psf
"The International Building Code" established these numbers, which specify the general weight distribution on a mezzanine platform.
A common floor slab in a warehouse or industrial building is between six and eight inches thick. The weight capacity of this slab is 25,000 lbs. Even though this is enough to sustain a mezzanine, the soil under the floor is an important consideration.
So, the floor slab needs to be strengthened with concrete if the ground is not firm enough.
Building Codes
Never install a mezzanine floor without following all building codes. Mezzanines must follow building laws, just as any other type of construction.
There may be different sets of laws for mezzanine installation nationally, statewide, and regionally. Before installing the mezzanine floors, make sure you know these laws.
Braces
Braces provide additional support for large weights and machinery. The most popular types are cross braces and knee braces.
They strengthen the building's stability but also restrict access to the area below the mezzanine. Additionally, it may affect productivity and efficiency.
Bolts fastened to the upper joints offer an option for the installation of braces. It is a simple method for making a room under the mezzanine.
Location
Mezzanines can be fixed to a building's walls or its columns and supports, Usually we call it a rack supported mezzanine. They can also stand alone in an open area.
The intended usage affects where a mezzanine floor should be placed. Where the mezzanine floor should be placed also depends on the structure that will support it.
How its position will impact the facility's operational flow is a crucial consideration. Fitting into the facility's processes is another crucial factor.
Here we have given a generic description of the mezzanine floor installation. Depending on the type of mezzanine floor you are installing, the installation process might be slightly different.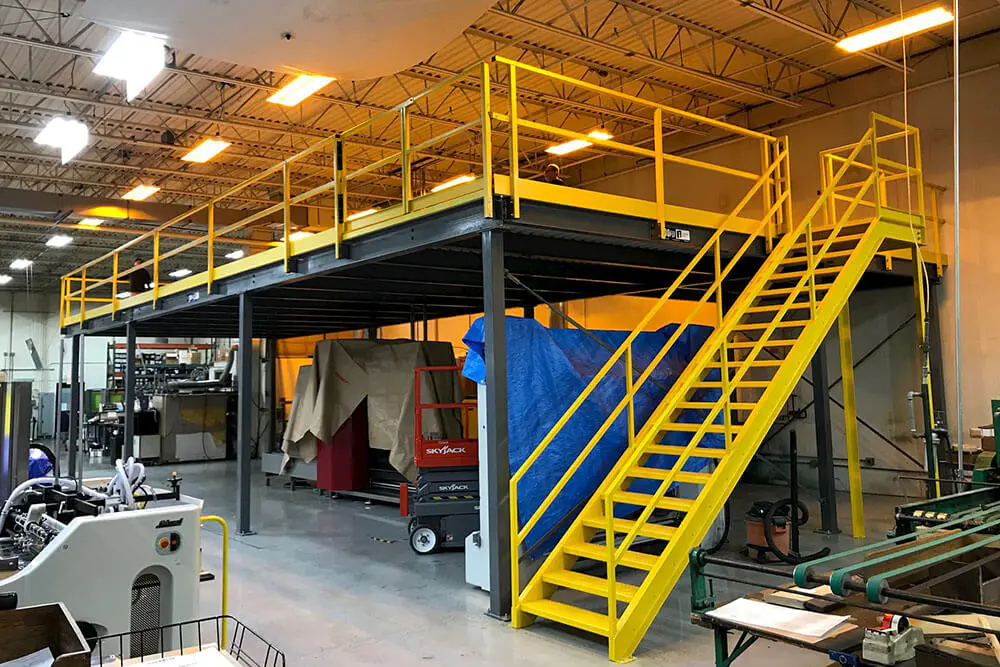 Can You Install A Mezzanine Floor On Your Own In The Warehouse?
The answer is simply "No." It is impossible to install a mezzanine floor by yourself unless you are an expert.
Even if you are an expert, still you would need the support of skilled workers. We have discussed before that installing a mezzanine floor is a very complex task. Like constructing a building, mezzanine floor installation also needs drawings of the project.
Additionally, how many columns will be set up, and how many beams will be there needs to be calculated. For these things, an expert is needed to oversee the whole matter.
Also, you can't just use your factory workers to install the mezzanine floors. The workers that will work on the mezzanine floor installation should be properly trained to install it. Some mezzanine floor manufacturers also offer the installation of mezzanine floors.
In a nutshell, it is necessary to hire a mezzanine installer to install mezzanine floors. Because there are lots of calculations and technical difficulties for any common many to understand.
Mracking Mezzanine Installation Company Offers Professional Mezzanine Installation Services.
Mracking offers mezzanine installation service at a very affordable price. Besides mezzanine installation, we manufacture the mezzanine floors too. So, we have a very good idea about the parts of the mezzanine floor and its installation process.
Here are the reasons why you should consider hiring us for your mezzanine floor installation service:
Mracking offers drawing designs for the installation of the mezzanine floors.
We have skilled workers who are experienced in installing mezzanine floors.
We provide after-sales service to our customers. If you need any help, we are 24/7/365 at your service.
We offer mezzanine floor installation at a very affordable price compared to many other mezzanine floor installation companies.
Mracking provides you with pallet rack installation services in addition to mezzanine installation services. To learn more about pallet rack installation, please read pallet racking installation.
Mracking's Mezzanine Installation Case.
In this article, we have tried to explain the mezzanine floor installation guide in detail. Feel free to contact us for any mezzanine floor installation-related queries.