Do you need to design a mezzanine floor for your warehouse? Are you looking for an industrial mezzanine design solution? Read this article, this guide will take you through how you should approach mezzanine structure design.
Why Mezzanine Floor Design for Your Warehouse?
As companies grow, the need for floor space and storage space also grows. When companies need to increase their warehouse space, mezzanines are the better choice. Mezzanines save on storage costs by utilizing unused vertical space in the building, doubling the available space. Mezzanines can be installed not only in warehouses to enhance storage space, but also in workshops to be used as mezzanine offices. Learn more about what is a mezzanine floor.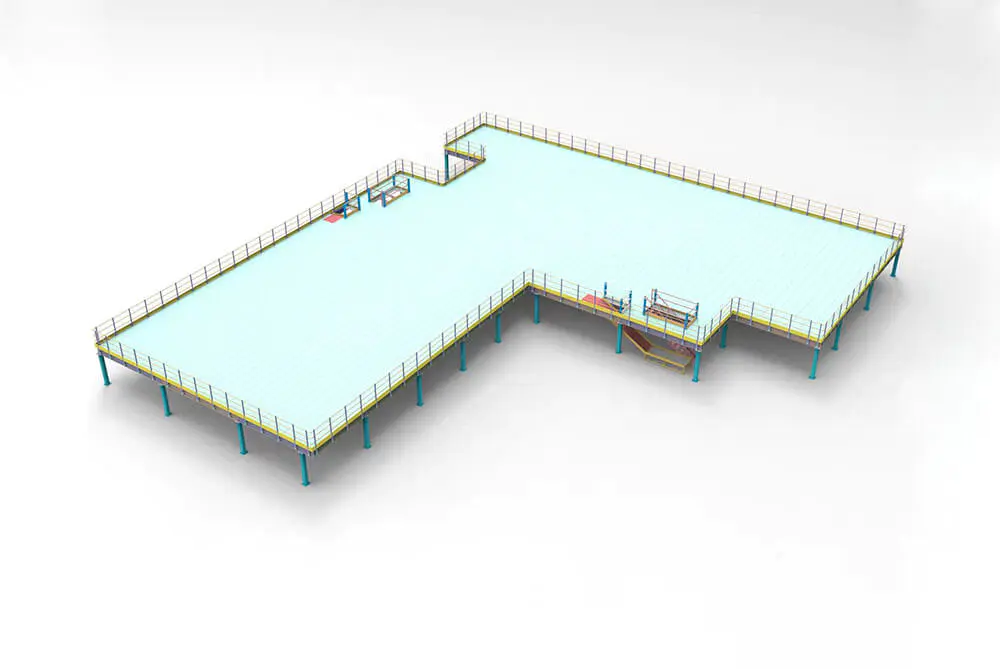 We can design and customize the mezzanine according to your warehouse dimensions. If you send us detailed data such as warehouse dimensions and location of obstacles, our engineers can design drawings for your reference free of charge and strive to make the mezzanine fit your warehouse perfectly. At the same time, the floor material, railing, lift and other options are entirely your choice. Whether you need a small, simple freestanding mezzanine or a complex multi-level mezzanine, Mracking will work with you to find the right storage solution for you.
Types of Mezzanine Floor.
Mezzanines can be designed in many different types, but overall they can be categorized into two styles, freestanding mezzanines and rack-supported mezzanines. Which mezzanine design you choose depends on the space available in your warehouse and your actual storage needs, so follow along with us to learn more about the different types of mezzanines.
Free Standing Mezzanines
Freestanding mezzanines are supported by structural columns. The first floor is typically designed to be three to five meters in height and can be completely freestanding. The span between the columns generally does not exceed eight meters, and the load capacity can be chosen at will between 200kg and 2000kg per square meter. Lighting systems, air conditioning ducts and automatic sprinkler systems can be designed on the frame of the mezzanine, which is very practical and safe. Compared with shelf or rack support mezzanine, freestanding mezzanine is more flexible and can be expanded flexibly if more area is needed, and installation and disassembly are also simpler and more convenient.
Freestanding mezzanines are available as follows.
Pallet rack mezzanine is the design that adopts the columns and beams of pallet rack as the structure, this kind of mezzanine has lighter bearing capacity, usually not more than 500kg per square. The floor panel can choose plywood or steel plate, and there is a pick-up opening at the second floor parapet, usually you need to use forklift to transfer the goods to the pick-up opening, and then use pallet truck to realize the access to the second floor goods. The advantage of pallet rack mezzanine is very cheap and easy to install, suitable for light industry such as clothing, medical equipment and electronic products storage.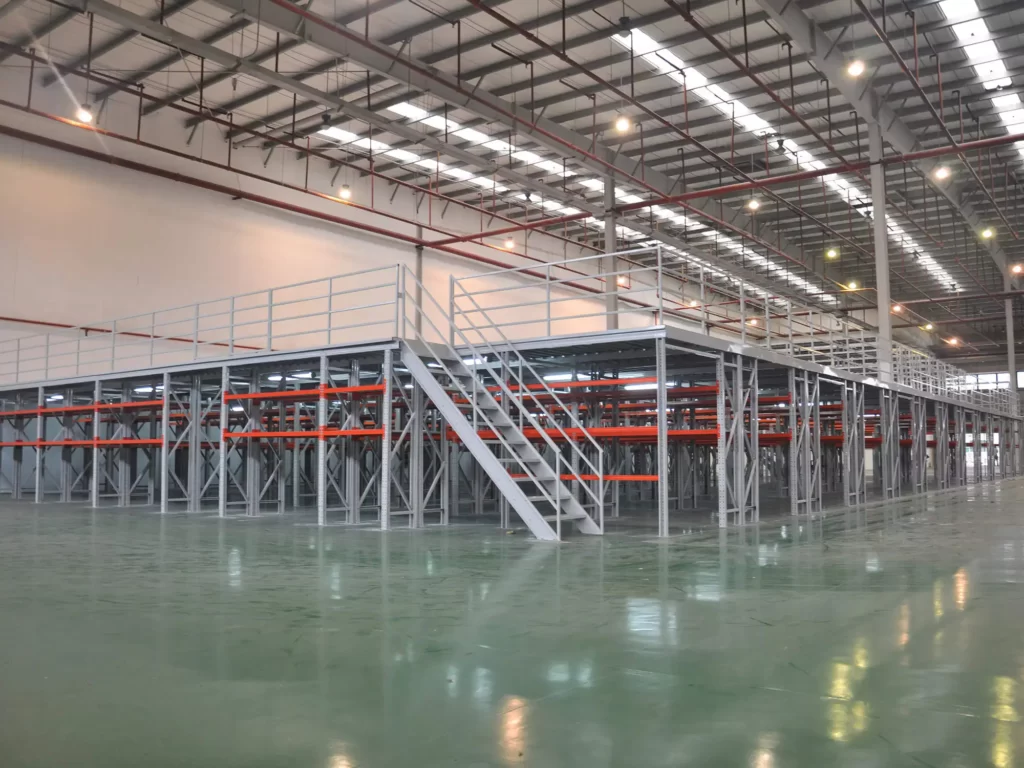 The structural steel mezzanine is designed using "H" steel as the main structure, and is a fully assembled structure with flexible design and certain seismic capacity. In order not to affect the normal production activities downstairs, when designing the mezzanine, the span between the columns of the mezzanine is designed to be as long as possible, but the larger the span, the thicker the material required, and from the perspective of cost, we usually recommend that the longest span should not exceed six meters. The structural steel mezzanine has a high load capacity, usually 800kg-2000kg per square, which is suitable for storing heavy goods like machine or as a mezzanine office.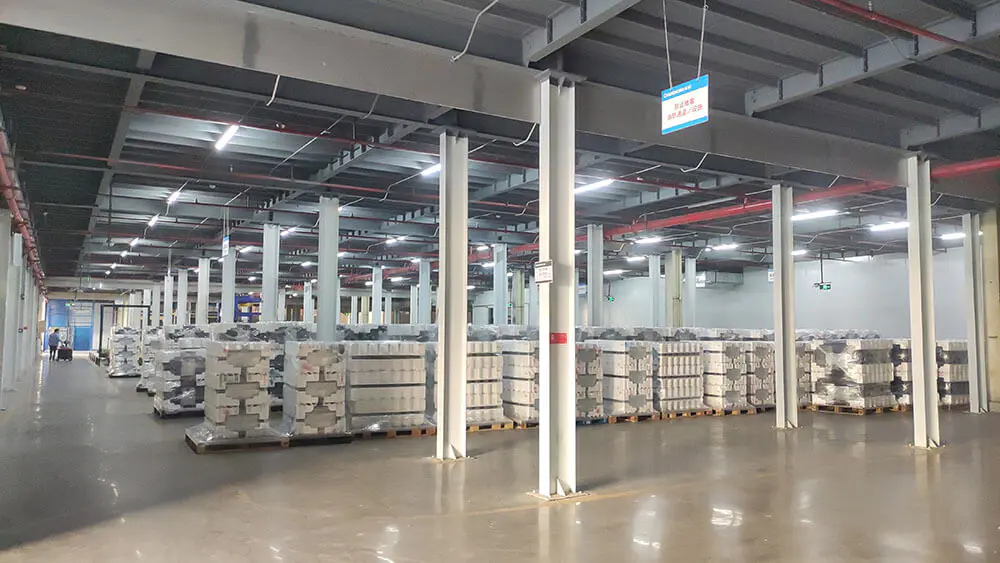 mezzanine office
Mezzanine offices use structural steel mezzanines as the main structure, and form separate work spaces by partitioning different work areas. By installing electrical and lighting systems on the mezzanine structure, the mezzanine can be transformed into a modern office. Using a mezzanine office can save you a lot of money and time compared to building an office, which is a more efficient and cost effective solution.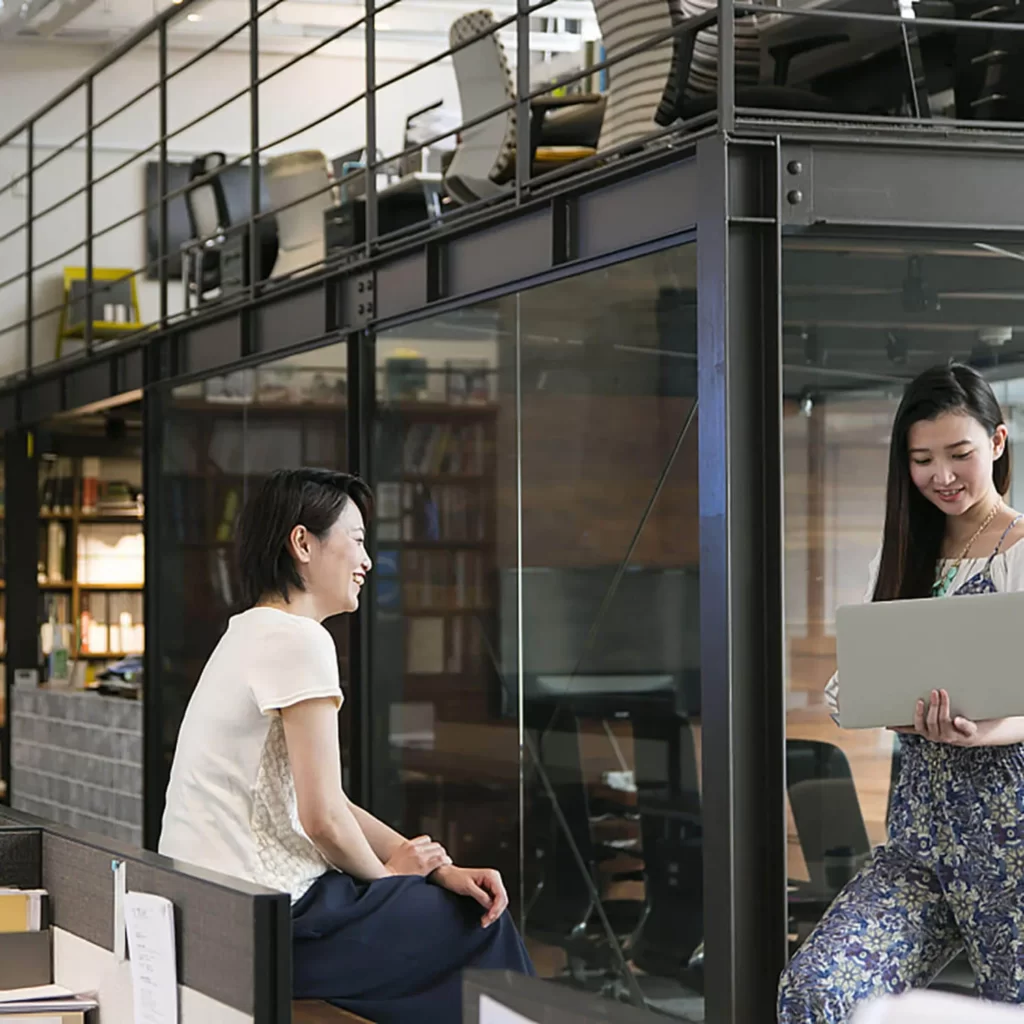 Shelving and Rack Supported Mezzanines
Shelving or rack supported mezzanines are a combination of shelving and mezzanines, and the mezzanine structure is supported by the racking system, which can be a two-level mezzanine or a three-level mezzanine. Shelf or rack supported mezzanines are widely used in warehouses with high warehouse heights, small cargo volumes and manual access to goods.
Shelf or rack support mezzanines are available in the following forms.
catwalk mezzanines
Ideal for increasing storage capacity, catwalk mezzanines allow shelving to be extended above the mezzanine floor, adding access to the upper shelving system and facilitating manual access and retrieval of goods. Typically using medium duty racking or heavy duty racking as the main body and floor support, the racking system provides adequate support for the mezzanine structure. catwalk mezzanines are suitable for storing light weight, small volume goods and are widely used in industries such as automotive parts and electronic equipment.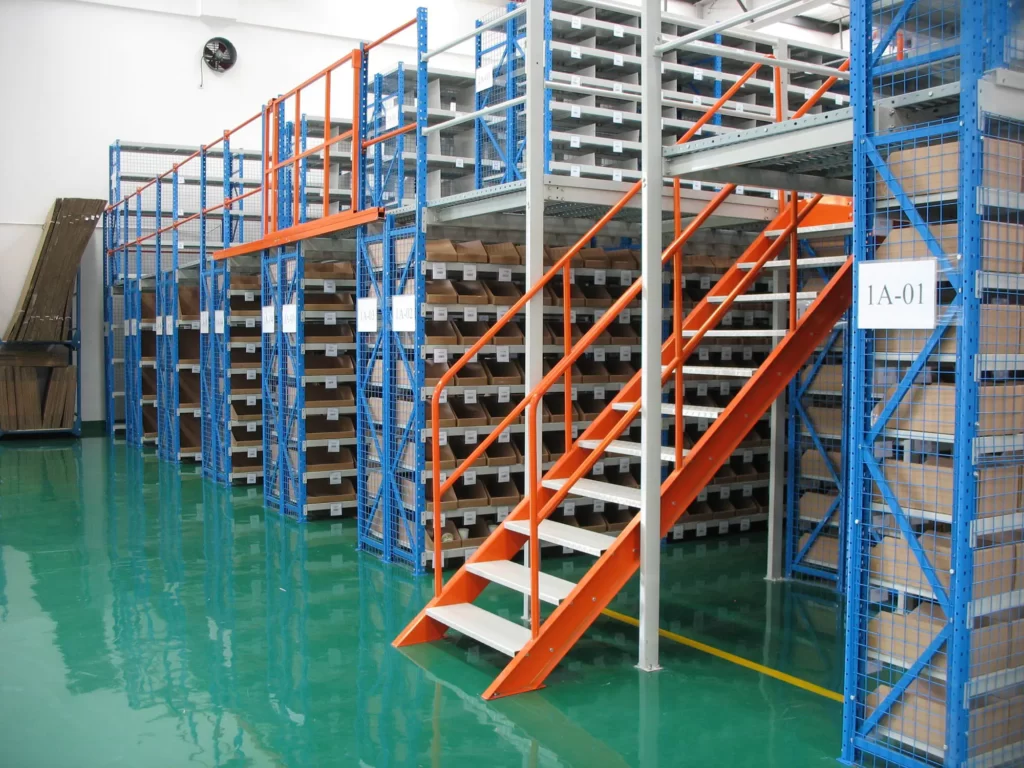 full mat mezzanines
Full mat mezzanines combine the features of freestanding mezzanines and catwalk mezzanines, with the same medium or heavy duty racking as the main support for the mezzanine floor, but without extending above the mezzanine floor. The second mezzanine floor is an open area that can be used as a storage area or as a mezzanine office, making it highly practical. full mat mezzanines can be installed on both new shelving systems and existing shelving columns to maximize space utilization.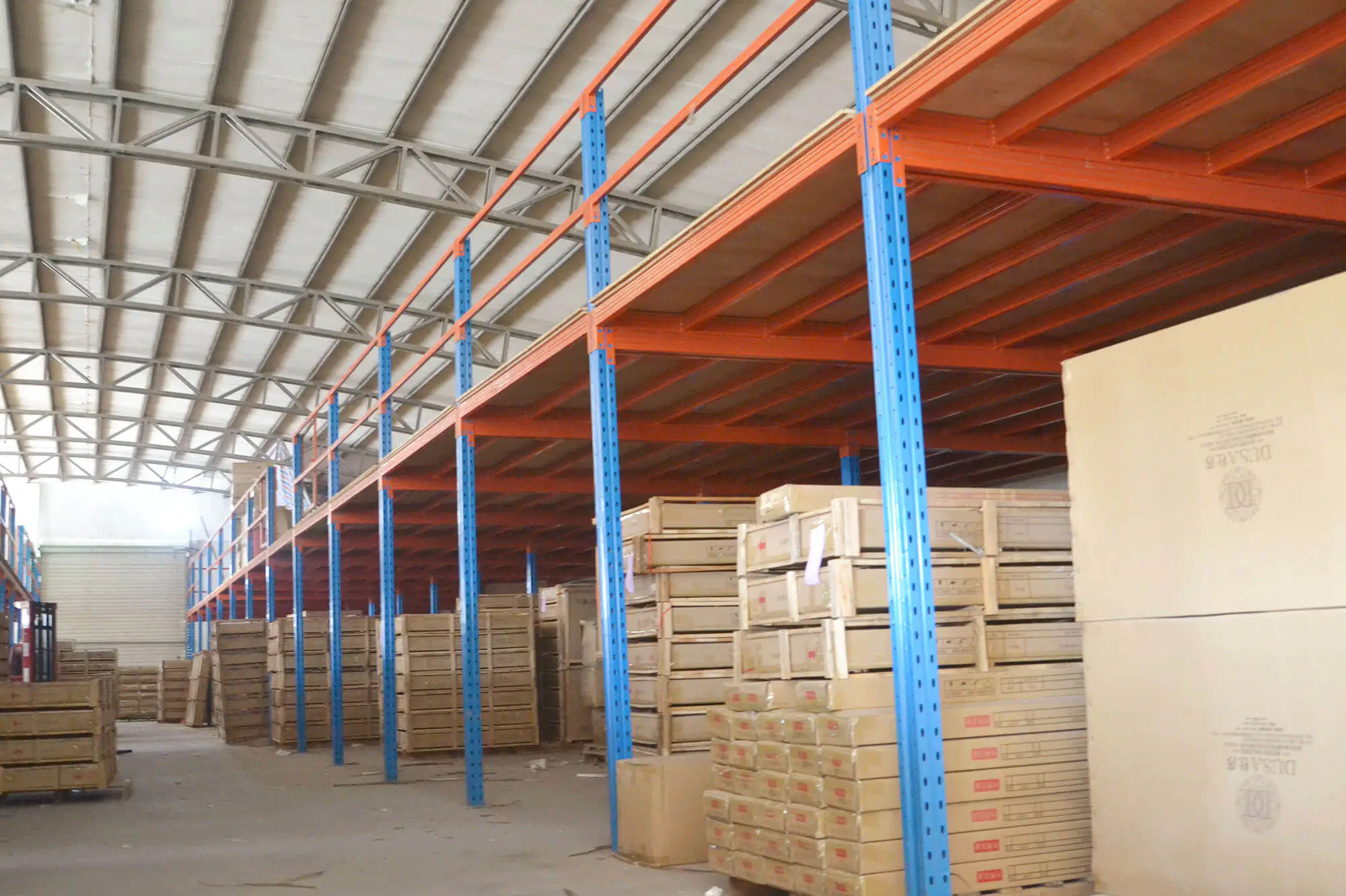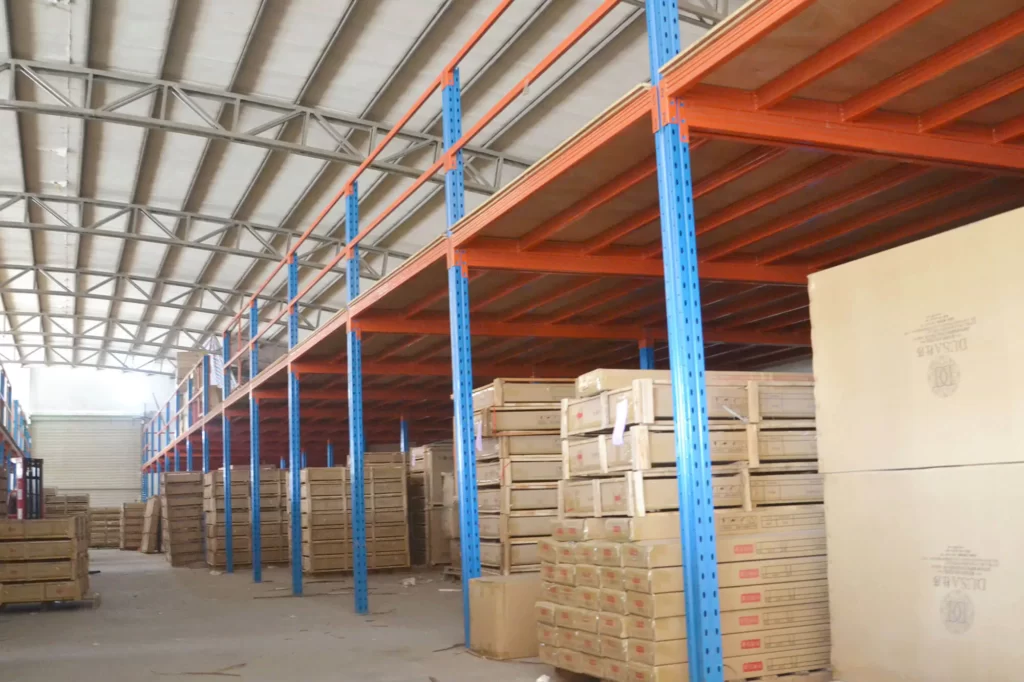 Cantilever mezzanine is a new type of mezzanine designed by mezzanine manufacturers to meet the storage needs of customers, using cantilever racks combined with pallet rack mezzanine, easy to install, suitable for storing long materials such as plates, pipes and irregular goods, often used in building materials supermarkets.
Considerations for Mezzanine Floor Design.
Designing the load-bearing capacity of the mezzanine
When designing a mezzanine, the most important consideration is the load-bearing capacity of the mezzanine, which is closely related to the safety of warehouse workers and the construction cost of the mezzanine. If the weight of the goods placed is greater than the load of the mezzanine, it may cause the collapse of the mezzanine serious safety accidents. If the weight of the goods placed is much less than the load of the mezzanine, it may lead to a waste of materials, which is not conducive to saving storage costs for the company. Usually we design the load capacity of the mezzanine to be 500-2000kg per square, which meets the storage needs of most enterprises.
When designing a mezzanine structure, the impact of static and live loads on the mezzanine load must be carefully considered. Static loads include racking placed on the mezzanine, goods stored on pallets and walls on top, etc. Live loads include pallet trucks transferring goods on the mezzanine, employees working on the mezzanine, etc.
Selection of floor panels
When designing a structural mezzanine, you should also consider the choice of mezzanine flooring material. There are usually two choices of materials for mezzanine flooring, namely plywood and steel plates. When the load is less than 1500kg per square meter, you can choose to use either plywood or steel plate for the mezzanine floor material; when the load reaches 2000kg per square meter, we recommend you to choose steel plate because using plywood may lead to deformation when the load is too heavy. By the way, if your warehouse is located in an area with strict fire protection requirements or your stored products are flammable, you'd better choose steel plate as the material for the mezzanine floor, which will be easier to pass the fire inspection.
Design the stairs and guardrails of the mezzanine
Mezzanine stairs are necessary equipment for employees to go up and down the mezzanine. Install handrails at both ends of the stairs, usually designed to be 1000mm high, and the handrails must have a smooth surface without burrs to prevent sticking on fingers. In the mezzanine platform without walls around also need to set guardrail, guardrail height is usually 1200mm, connected with the mezzanine platform by welding, it can prevent staff from falling from the edge of the mezzanine.
Design of lift and pick-up opening
A lift is an elevator-like facility where goods can be moved up and down the mezzanine for transfer access purposes. You can also design a pick-up opening at the guardrail on the second floor of the mezzanine, use a pallet truck to transport the pallets of goods to the pick-up opening, and then use a counterbalanced gravity forklift to lift the goods from the ground to the second floor of the mezzanine. Both ways can realize the access work of goods from ground to mezzanine floor, the difference is that it is more convenient and faster to use the lift, while reserving the pick-up port can save you more cost, depending on your choice.
Project Examples of Mezzanine Structure Design.
1. Steel structure mezzanine design case of "Changhong", one of the world's top 500 companies
2. Japanese steel mezzanine design case
3.Malaysia steel structure mezzanine design case
Mracking mezzanine floor design experts, around your storage requirements to design the mezzanine structure
In our nearly two decades of designing and manufacturing steel mezzanine floors for warehouses, we have designed and manufactured over three hundred mezzanine floors for our clients. The smallest mezzanine is only 60 square meters in size and the largest mezzanine platform is over 50,000 square meters in size. Regardless of size, all of our structural steel mezzanines are built to strict safety standards and are capable of withstanding predetermined loads.
The size and storage needs of each enterprise vary, and Mracking's engineers will design a floor plan that perfectly fits your warehouse space according to the actual situation of the customer. We strive to manufacture structural steel mezzanines that can fit perfectly into your warehouse space and maximize the use of warehouse space without affecting the normal use of other equipment in the warehouse.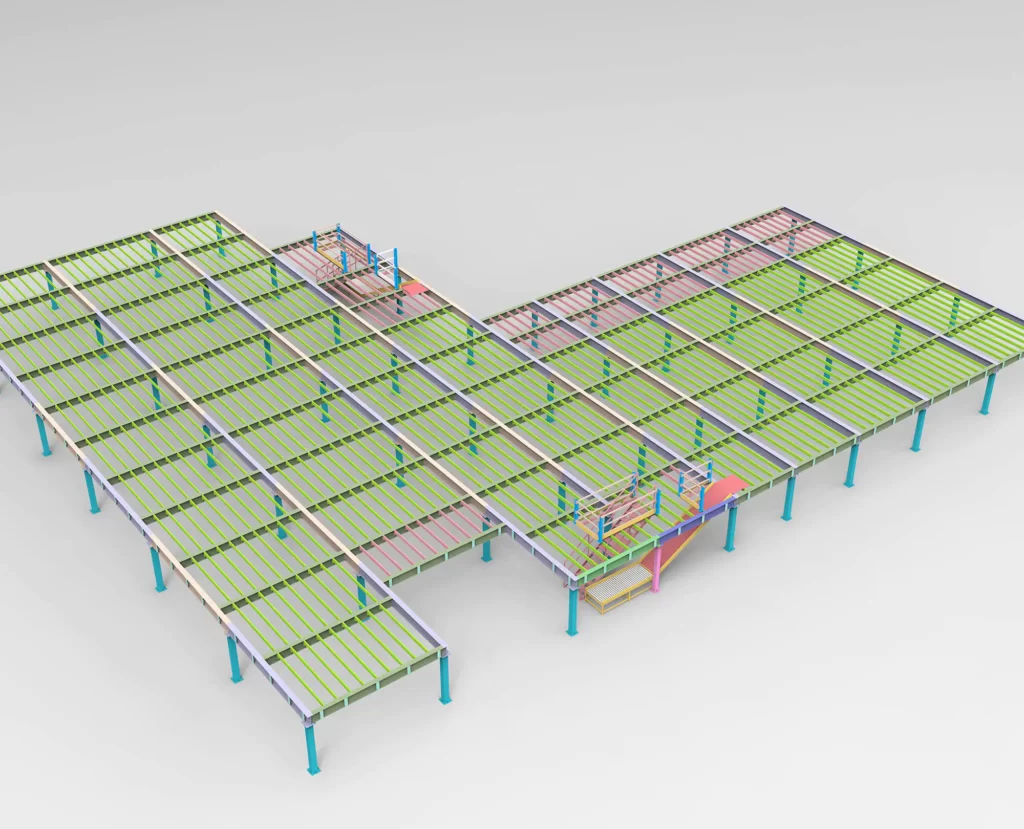 Whether it's a freestanding mezzanine or a shelf or rack support mezzanine, we can provide you with an economical solution. Also, our dedicated installation team with over twelve years of experience can install exactly as designed in the drawings for precise installation. For more information on mezzanine structure design, contact us today for guidance from our engineers to help you with your warehouse mezzanine design, contact us now via the form below!