A warehouse is a building where large quantities of produced goods or raw materials are kept. Warehouses are massive buildings with simple structures. Today we will discuss the top 10 warehouse racking manufacturers in Houston.
Warehouse storage solutions like pallet racks or mezzanine floors are installed to increase the warehouse's storage capacity. Pallet racks are material handling warehouse aid systems that store goods on pallets.
Houston is the most populous city in Texas and the sixth-most populous city in North America. According to the 2010 census, this city has 2,100,265 people.
Houston city is well known for its robust economy and industries. As this city has many industries, it will also have many warehouses. As we know, warehouses store raw materials or produced goods for industries.
Pallet racking is the most widely used warehouse storage solution. Due to its lower cost and easy repair, it is commonly used in warehouses worldwide. The city of Houston has many warehouse rack manufacturers who produce pallet racks.
In our article, we will discuss the following things:
The owners and managers of warehouses located in Houston may want to buy pallet racks for their warehouses. This article will be especially beneficial for people who wish to purchase warehouse racks in Houston.
Besides discussing warehouse rack manufacturing companies, we will also elaborate on how to buy cheap racks. For people who want to know about how to purchase cheap warehouse racking, this article will be beneficial to them.
Top 10 Warehouse Racking Manufacturers In Houston.
Here is the list of the top 10 warehouse racking manufacturers in Houston city:
Shelving Concept.
Massey Rack
Warehouse Rack
Express Rack
Amoruso Racking
New Era Products Inc.
Cato Industrial Rack
Houston Pallet Racking
Pallet Rack System
Global Industrial
(Please note that the rankings are in no particular order.)
Warehouse Racking Manufacturers Houston – Company Summaries.
If you plan to expand your warehouse's capacity, warehouse racking is excellent equipment. The quality of the racking can streamline the workflow as well as increase the worker's productivity.
Surely, you will see the difference in your warehouse with better equipment.
But, we kill our time by focusing on which racking provider we should consider. Instead, we should focus on finding more suitable equipment for the warehouse.
This article has brought together the ten best warehouse racking providers in Houston to save you time. So, let's jump in without taking any more time.
1. Shelving Concept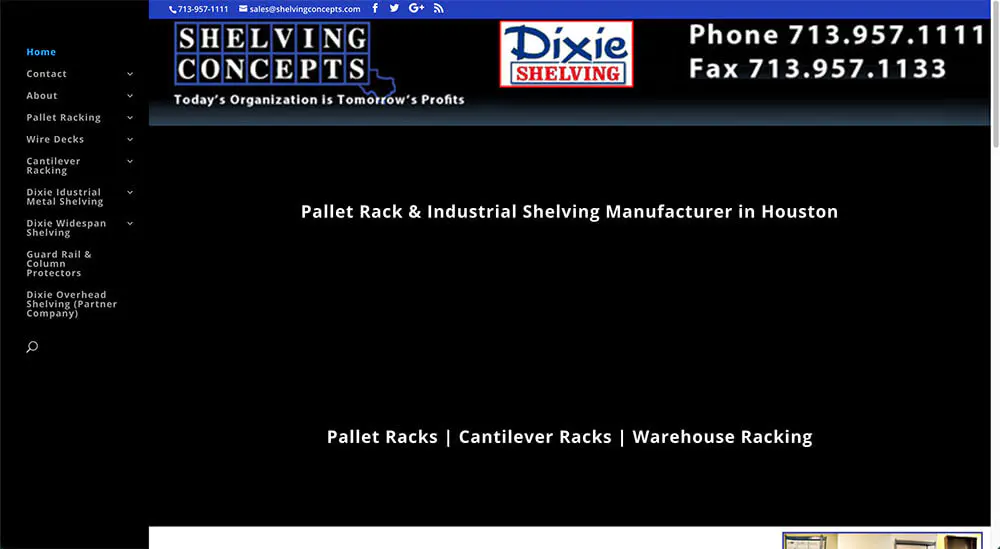 Shelving concept is a leading manufacturer of warehouse racks and pallet racks in Houston. They are the answer if you want brand-new racking to take your warehouse to the next level.
They are quite known in the market as a leading shelving and stocking distributor in the Gulf coast area.
Shelving concept constructs and distributes industrial shelving and racking and provides installation throughout Houston. If widespan, outdoor pallet racking, or cantilever racks are wanted anywhere in the USA, they can ship them for you.
The shelving concept sells both brand-new and used racking and shelving. If you want cheap and used racks, they can provide this for you.
2. Massey Rack
Masseyrack has been providing highly engineered rack storage solutions in Houston and Texas. Masseyrack offers both used and new racks, especially in the greater Houston metro area.
Masseyrack provides specialized storage plans and installation according to your need. Masseyrack is known for manufacturing Teardrop selective pallet racks. A popular and sturdy rack is available in welded and bolted shapes.
3. Warehouse Rack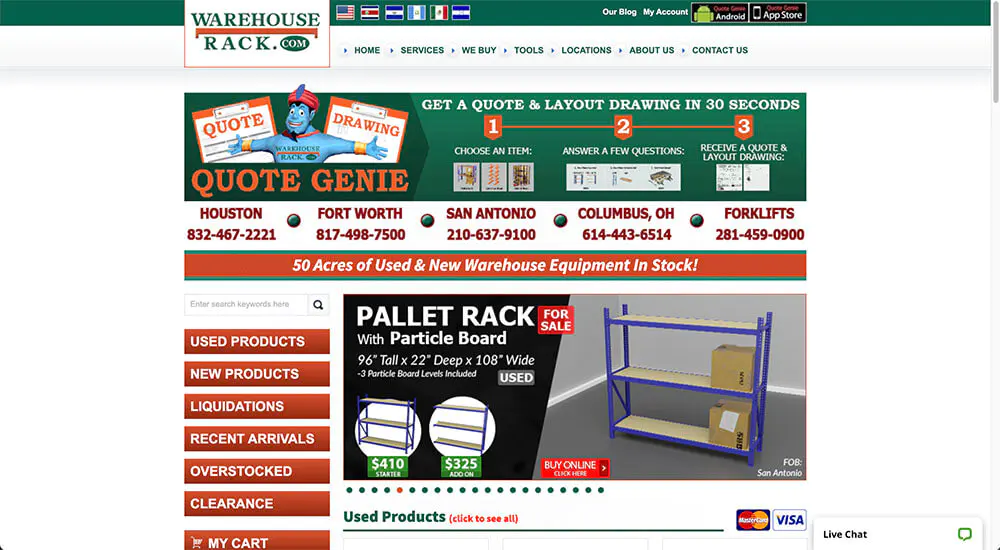 Warehouse rack is one of Houston's biggest distributors of warehouse logistics and storage solutions. Warehouse rack sells both used and new racking systems for warehouse storage.
They have excelled in this industry with their expertise in material handling by professionals.
They offer different types of racks, including pallet racks, which include,
Cantilever rack
Metal shelving
Selective pallet rack
They also provide installation services. Contact them if you need a detailed layout drawing and quote from the manufacturer.
4. Express Rack
Express rack is a full-service material handling equipment and installation company. Express rack is popular for selling both new and used racks, shelving, and other warehouse products all over Houston. They also buy used warehouse products at a very good rate.
Of course, as a one-stop supplier for warehouse storage, they can also give you a hand if you need to purchase a pallet shuttle.
Express rack and shelving is a proud distributor of highly engineered product lines from manufacturers with good post-purchase service.
5. Amoruso Racking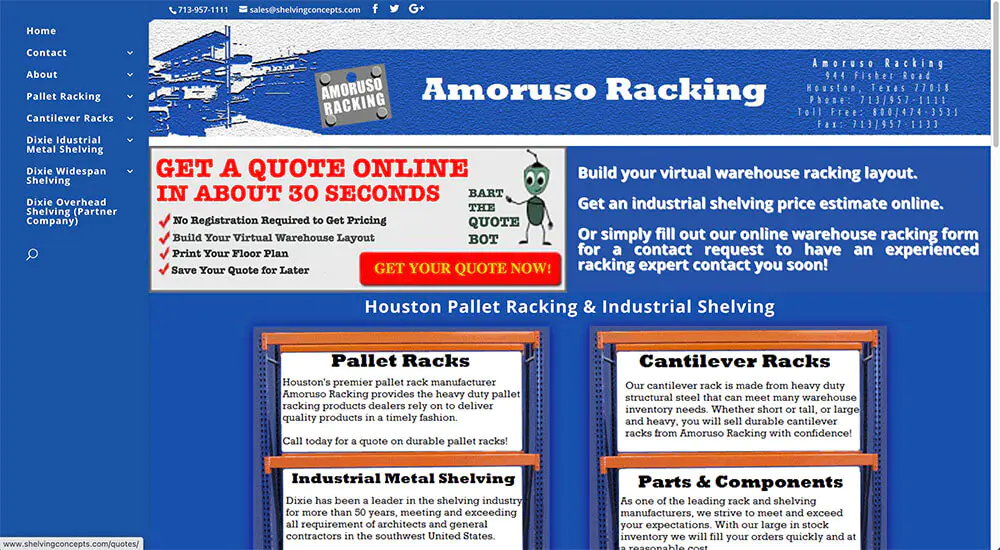 Amoruso racking is a warehouse racking and design provider. This company has served industrial shelving needs in greater Houston and other states for over half a century.
If you are planning to purchase a racking system like a pallet rack, or industrial metal shelving, they are here to help. Amoruso racking provides highly engineered products and post-purchase service, ensuring your needs.
6. New Era Products Inc.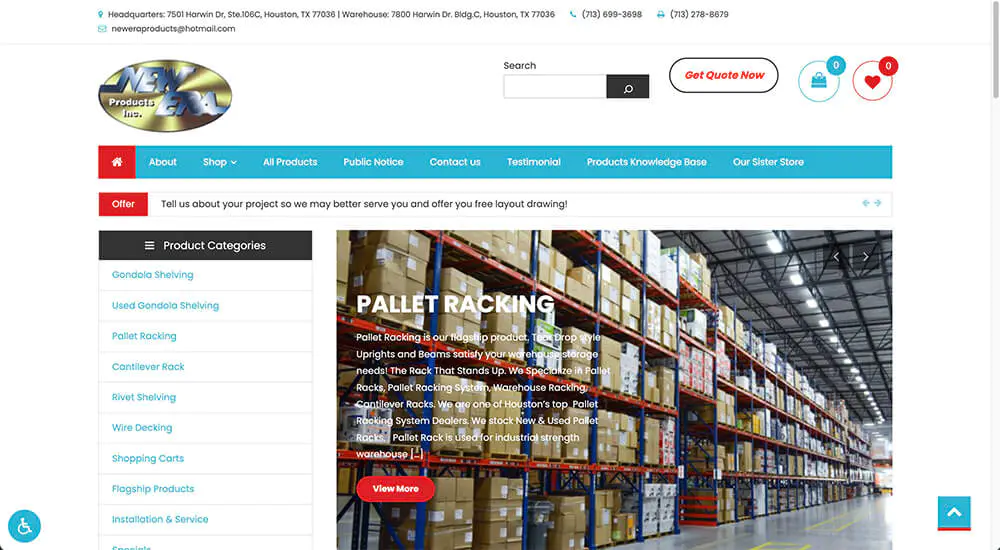 New era product Sinc. is one of the leading importers and wholesalers of warehouse racks and logistics in Houston, Texas, USA. Their modern technology specializes in creating different types of racking options for your warehouse storage solution.
They manufacture several types of racks, including pallet racking shelving, storage racking, cantilever rack, display, gondola shelving ETC. They offer quality material handling equipment at a very efficient price. They are a great place to start your purchase.
7. Cato Industrial Rack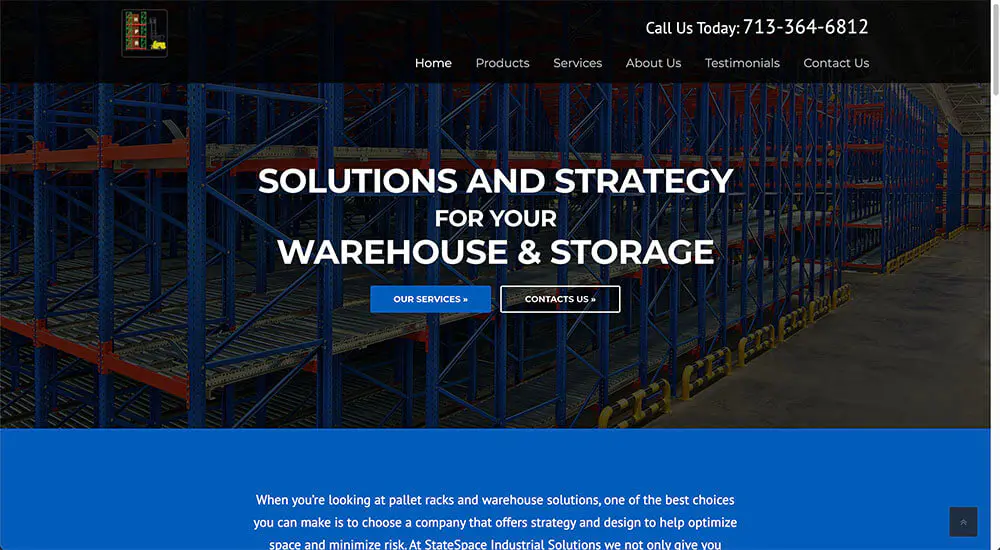 Cato Industrial Rack is a warehouse logistics and rack manufacturer that provides strategic storage layouts and designs. With their global expertise, you can always count on them for your success.
They provide excellent A-grade products and supply chain expertise that offers solutions and improvement. Starting from scanning, labeling, product localization, and warehouse operation and installation, they offer excellent customer service.
8. Houston Pallet Racking
Houston pallet tracking is renowned for providing customized rack and shelving solutions that meet your specification and demand. They are a great choice if you want to upgrade your facility.
Houston Pallet Racking offers a wide selection of new and used pallet racking. They also manufacture mezzanine floor and decking systems to utilize the available space.
With a great bunch of professionals and experts in Houston pallet racking, they provide great warehouse solutions and designs for you.
9. Pallet Rack System
Pallet track systems provide installation programs for their products all over the USA. They have a great team of experts serving Austin, Dallas, Fort Worth, New Orleans, Baton Rouge, and more.
The pallet rack system offers warehouse racking and shelving for all kinds of needs. But one thing that helps to make them stand out in the market is sorting functions on the website. If you need a racking solution for your warehouse, a pallet rack system is a one-stop shop.
10. Global Industrial
Do you need to upgrade your rack or keep your warehouse in peak shape? Well, global industrial can assist you with that. Global industrial is one of the leading suppliers of storage solutions and warehouse logistics in Houston, Texas.
They offer a great selection of racking systems, including cantilever racks, clad rack warehouse, wide-span racks, and warehouse shelving. You can easily check their available products and select from them through their online platform.
Not to forget, they also deal with used warehouse products and offer exchange deals.
So, these are the top ten warehouse racking manufacturers in Houston.
How To Buy Cheap Warehouse Racking From Warehouse Racking Manufacturers.
Pallet racks are one of the cheapest warehouse storage solutions. Still, buying pallet racks costs a lot of money to warehouse owners, and pallet racks are available at different costs depending on their use and benefits.
For instance, a selective pallet rack is $88-$180 each and is one of the cheapest. On the other hand, the "Gravity flow pallet racking system" is quite expensive, costing $350-$420 for each pallet.
Warehouse owners choose the pallet racking system that can fulfill their storage demands and is budget-friendly. If warehouse owners can buy cheap warehouse racks, it will give them lots of advantages which include,
Buying cheap pallet racks will cut down the cost of the business.
The warehouse owners will be ahead of their competitors if he buys cheap pallet racks.
Now, we will discuss how warehouse owners can buy cheap warehouse racking from warehouse racking manufacturers:
Buying Pallet Racks At Large Quantities
It's well-known that you get a reduced price if you buy something in large quantities, and this principle also applies to warehouse racks.
Because if you order pallet racks in large quantities, the overall production cost will also go down. As a result, warehouse rack manufacturers can sell pallet racks to you at a reduced price.
Transportation cost is another crucial thing that must be considered while buying pallet racks. While ordering pallet racks, also add the transportation cost.
If you order large quantities of pallet racks at a time, transportation costs will go down. For instance, ordering massive amounts of pallet racks will decrease shipping costs.
So, purchasing large quantities of pallet racks at a time is an excellent strategy for buying cheap warehouse racking.
Buying Used Pallet Racks
Purchasing a used pallet rack is another excellent strategy for buying cheap pallet racks. You can get used pallet racks for about half the price of a new shelf. However, there are some disadvantages to buying used pallet racks which are as follows:
Used Pallet Racks May Not Be Available All The Time.
Very few warehouse rack manufacturers sell used pallet racks. So, the availability of used pallet racks can only sometimes be ensured. So, you may need pallet racks instantly, but due to their unavailability, you won't be able to buy cheap pallet racks.
Used Pallet Racks May Not Fulfill the Specific Storage Solution Needs Of A Warehouse.
Every warehouse has some specific demands related to its racking system. For instance, some storage solutions like "Gravity Flow Pallet Racking System" offers a "FIFO" system to the storage demands.
Other storage solutions like "Double Deep Pallet Racking System" offers a "LIFO" system to the storage demands. It may happen that you have found a used pallet rack, but that doesn't guarantee it will solve your storage solution.
Suppose you need a racking system that offers a "FIFO" solution. But if you buy a used pallet rack that provides a "LIFO" system, it will not meet the demands of your storage solutions.
The Quality Of The Used Pallet Racks.
The quality of the used pallet racks may need to be in better condition. It may get broken if you purchase a used pallet rack of poor quality. As a result, your goods stored in that pallet racks may get damaged.
You need to be extra cautious before buying used pallet racks.
Ordering Pallet Racks From China
Purchasing pallet racks from Chinese companies is one of the best solutions for buying cheap pallet racks. Chinese rack manufacturing companies offer pallet racks at a reduced price.
China is a country of 1.4 billion people. So, they have a huge demand for warehouse racks in their own country. Chinese rack manufacturers manufacture racks in massive quantities, bringing down the pallet racks' overall cost.
The labor cost is also significantly lower in China. As a result, Chinese racking producers can produce pallet racks at a lower price than their western counterparts.
The quality of the Chinese racking manufacturing company is also excellent. Moreover, China has some of the best warehouse rack manufacturers in the world.
So, you can adopt these strategies to buy cheap pallet racks from warehouse racking manufacturers.
Mracking Sells Warehouse Racking In Houston
Mracking is a high-quality rack manufacturing company located in Guangdong, China. They have a huge factory area of 20,000+ sq.m. More than 85 workers work in the factory of Mracking.
Mracking company manufactures high-quality pallet racks. They can also ship these pallet racks worldwide, including Houston, Texas, USA.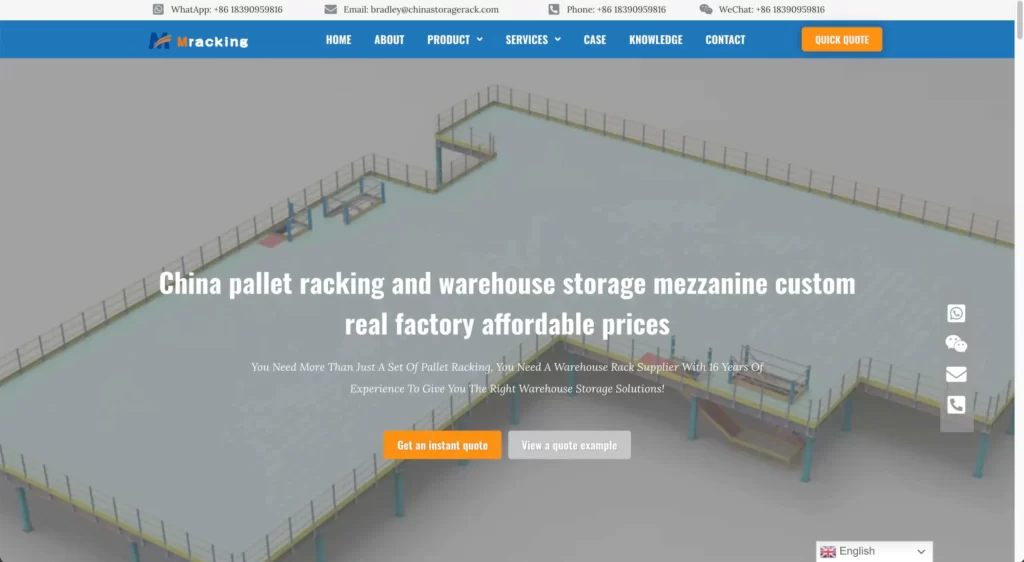 Mracking produces the following type of racks for warehouse storage solutions:
Besides manufacturing pallet racks, they also offer several services related to the pallet racking industry, which include,
Installation support
Accessories supply
Quality management
Pricing
Mracking offers warehouse racks at an affordable cost. You can get an instant quote from them about the pallet rack's price. After sending a price quotation request, Mracking engineers design the floor plans based on the dimension of your warehouse.
Mracking's Installation Support
If you know the warehouse industry, you would know that installing pallet racks is a headache for warehouse management. Mracking offers installation guides and drawings in their installation support. Additionally, they offer field installation service too. For warehouse racking installation please read "Pallet Racking Installation".
Mracking's After-Sales Service
The after-sales service is one of the best features of this company. They have a 20-year warranty period!
If anything happens (Provided that any problem with the product should not be because of human error), they offer free replacement or repair.
Support Service Of Mracking
Mracking offers 24/7/365 support service! So, whenever you face any issue with their product, you can immediately ask for a solution from Mracking.
Other Products Of Mracking
Besides manufacturing pallet racks, Mracking also manufactures some other products for the warehouse, which include,
Shipping
If your warehouse is located in Houston, Texas, or elsewhere, Mracking can ship the pallet racks to your place. Ordering pallet racks from Mracking will solve your warehouse storage problems.
So, here's some information we've compiled on warehouse racking manufacturers in Houston. Contact Mracking to get the best warehouse racks at an affordable price.