Industrial warehouse requires outdoor pallet racking systems to save some storage within the industrial facility. The purpose of exterior pallet racking is to provide storage capacity in open-air facilities.
This racking is established according to the company's logistics needs. For instance, what sort of goods they deal in and in what condition they must be stored.
Before we know more about the outdoor pallet racking system, I would like to give you some useful information about industrial warehouses. So that we can have a better understanding of the outdoor pallet racking and why they are being used in such conditions.
So, let's get started!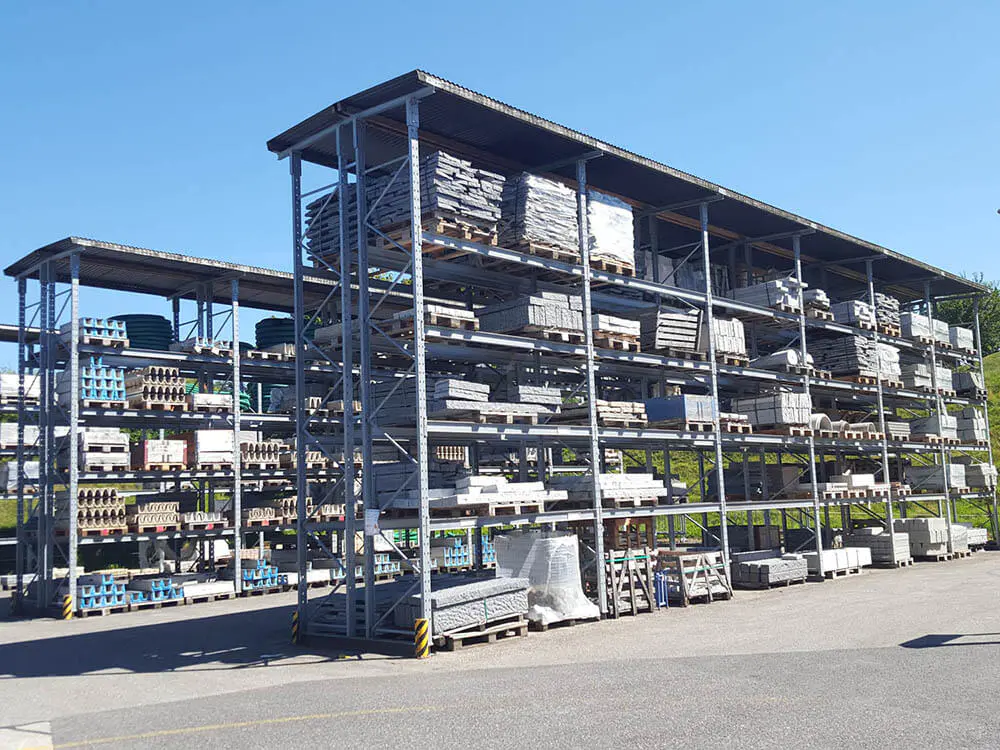 Outdoor Pallet Racking for Uncovered Warehouses.
The outdoor pallet racking can be made in semi-covered warehouses or uncovered or you can say outdoor warehouses. Some goods are sensitive and must be handled carefully. Therefore they cannot be stored outside. They can be harmed due to the weather conditions like rain, storms, excessive sunlight, or too high or too low temperatures.
Sometimes companies do not require extra protection for their products before their further usage. Such products can conveniently be stored in uncovered warehouses.
There are no walls and roofs required for such warehouses. Therefore, the pallet racking that is specifically designed for outdoor purposes should be used.
Who Uses Outdoor Pallet Racking for Uncovered Warehouses?
Uncovered warehouses are commonly used by those companies that house materials that do not damage due to weather conditions. Outdoor pallet racking is used in the construction and steel sectors.
Following are the materials or products that are stored in outdoor warehouses and do not suffer in harsh and constantly changing climates:
Materials used for machines
Materials used for vehicles
Raw materials from the construction
Raw materials from metallurgy or timber sectors
Outdoor Pallet Racking for Partially Covered Warehouses.
Some warehouses are designed in such a way that they are partially covered. The items stored in these warehouses need some protection. The products are usually protected from direct rain, sunlight, or snow. These warehouses are ideal for the products that may suffer from these weather conditions.
Also, partially covered warehouses can be covered with a roof or maybe a roof and walls.
Who Uses Outdoor Pallet Racking for Partially Covered Warehouses?
Typically, these warehouses are used to store delicate products (as compared to fully uncovered warehouses). The items that are stored here can be any delicate machinery or vehicle item.
Partially covered warehouses are normally used by various businesses that include:
Distribution companies that store the goods temporarily
Logistics organizations
Retail businesses maintain their inventory storage in such warehouses
Construction companies store equipment and other materials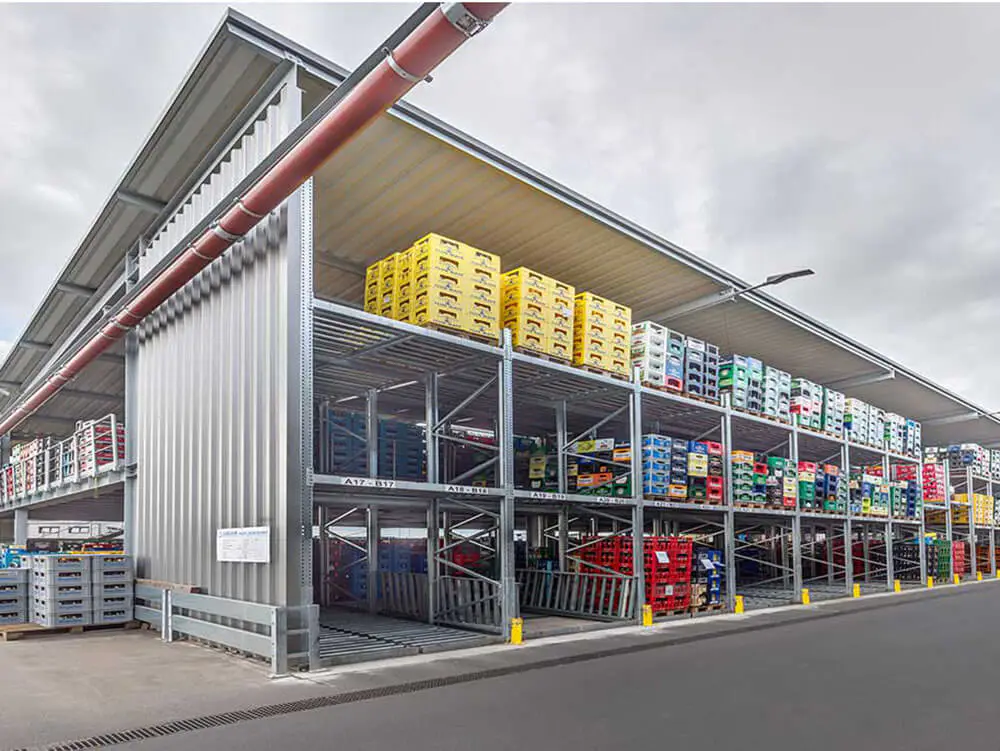 Why Do We Use Outdoor Pallet Racking?
There is a huge impact of an organized pallet racking system on your supply chain management. The overall supply chain operations are dependent upon the smooth loading and unloading of the pallets in your warehouse. This not only influences the efficiency and productivity of your company but also helps to improve your profitability.
The basic and main reason for using a pallet racking system is to optimize your warehouse space. It helps to build the inventory in a vertical position so that it can save you space and you can better manage your workflow and Stock Keeping Units (SKUs).
The answer to your 'why' can definitely be answered with this one point. Outdoor pallet racking helps to implement different inventory control methods. It can be first-in-first-out (FIFO) and last-in-first-out (LIFO).
It is easier to check and balance your products kept outdoors in terms of security and safety using digital tracking and automation systems.
Customization is the core value of using pallet racking. Quick and easy access makes it a preferable warehouse need. What sort of inventory do you want to keep? and how much space do you require? These all can be custom-made as per the user's choice.
Benefits of Outdoor Pallet Racking.
Companies are now switching towards smart solutions that save them costs and also serve benefits in various ways. Outdoor pallet racking is one of the racking solutions that keeps many advantages.
I have compiled the following list of benefits that companies get by using outdoor pallet racking.
Cost-effective
Outdoor pallet racking is a cost-effective way of organizing the goods. Industrial warehouses find this versatile racking system very beneficial because it saves you money.
This racking system is ideal for businesses to quickly store items for a longer time. You will not require additional costs for maintenance and installation.
Durable Material
The outdoor pallet racking is made up of sturdy and durable material. It is designed in such a way that it can withstand harsh weather conditions. These racks are constructed from heavy-duty materials like steel, aluminum, or sometimes plastic.
Being the outdoor racking system, these racks are built rust-resistant. So that you can easily use them during humid, damp, and other worrisome weather conditions.
Easy Installation and Maintenance
Outdoor pallet racking requires minimum maintenance because of its durable material. This racking system is easy to install. Usually, companies provide complete guidance so that the user can easily assemble the racks and adjust them as per their requirements.
You might not need experts and tools for its installation. That is why this quick and easy outdoor pallet racking is a complete solution for industrial warehouses. It will accommodate your storage requirements to help you save labor and other incurred costs.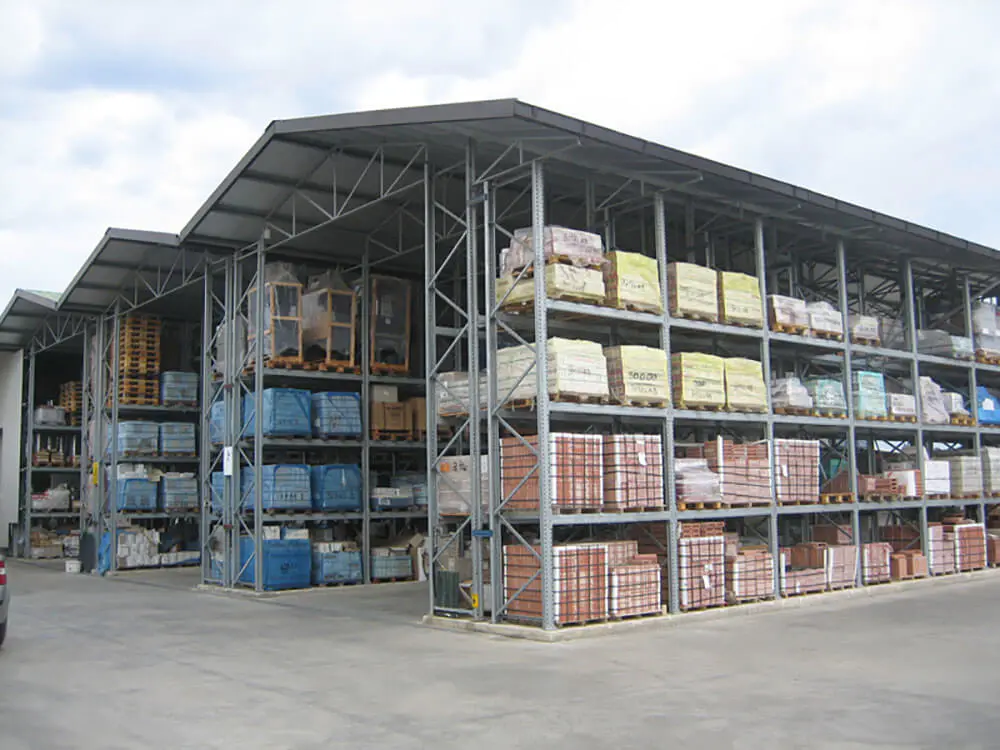 Efficient Storage Solution
A complete storage solution that can save you space and energy to find things. This will help to improve operational efficiency. So that you can streamline the processes that will enhance productivity and eventually make more profits.
Adaptability
Adaptability is the main benefit you can get by using this racking system. You can custom-make your outdoor pallet racking in different sizes, styles, and other configurations available. Also, you can order the best solution as per your requirements to manage your storage system well.
Environment-Friendly Solution
Outdoor pallet racking is an environment-friendly solution where you can implement sustainable practices. These include recycling and reducing energy consumption.
Finally, along with optimizing storage space, you can reduce waste and eliminate those factors that concern the environment.
Safety and Security
Outdoor pallet racking is designed to meet safety standards and regulations. This should be designed in such a manner that these racks get stability and security racks that protect items from falling and damage. The loading and unloading of the items should be comfortable whether they are loaded using pallet shuttle or with manpower.
Outdoor Pallet Racking for Industrial Warehouses.
There are different types of outdoor pallet racking to store palletized goods securely and efficiently. Storage racks are designed in many customizable ways to fit the specific requirements of the firm.
The material used for the outdoor racking system must be weather resistant and durable. Because the racking system has to last longer and bear the climatic changes.
Therefore, if you want outdoor racks then specify it to your manufacturer and get your desired products.
Following are the several types of outdoor pallet racking:
1. VNA Pallet Racking
VNA is a short form for a Very Narrow Aisle. This type of racking system is known for its narrow aisles as it can store high-density products. You can use your space more efficiently.
VNA racking systems can be used indoors and outdoors, depending on the requirement of the warehouse storage facility.
Narrow aisle racking requires specialized equipment like a VNA truck to access the stored materials in the rack.
VNA racking improves productivity by providing high storage density. It follows FIFO (First In First Out) storage method so that it can store different types of products.
Things to Consider for Very Narrow Aisle (VNA) Pallet Racking
It can cost you from $50 to $60 per pallet
The floor utilization can be up to 90%
Storage utilization 95%
Type of inventory management: FIFO
2. Teardrop Pallet Rack
A teardrop pallet rack is a popular racking system that is being used to get a convenient storage solution.
Teardrop-shaped holes are punched into their vertical posts so that they can secure horizontal beams. This way the storage levels are made strong and spacious.
This racking system got popular because of its ease of installation and versatility.
This racking system is designed in such a manner that you can adjust the beams and configure the storage levels according to the requirement.
You can get a teardrop pallet rack at an affordable price.
This racking system can easily be assembled and disassembled.
This outdoor pallet racking is market compatible.
The main component of the teardrop pallet rack is its column and beams but there are other accessories that come with it. It includes safety clips, row spacers, wire mesh decking, support bars, and upright protectors.
Things to Consider for Teardrop Pallet Racking
It can cost you from $150 to $350 per pallet
Weight capacity is 1000 kg to 3000 kg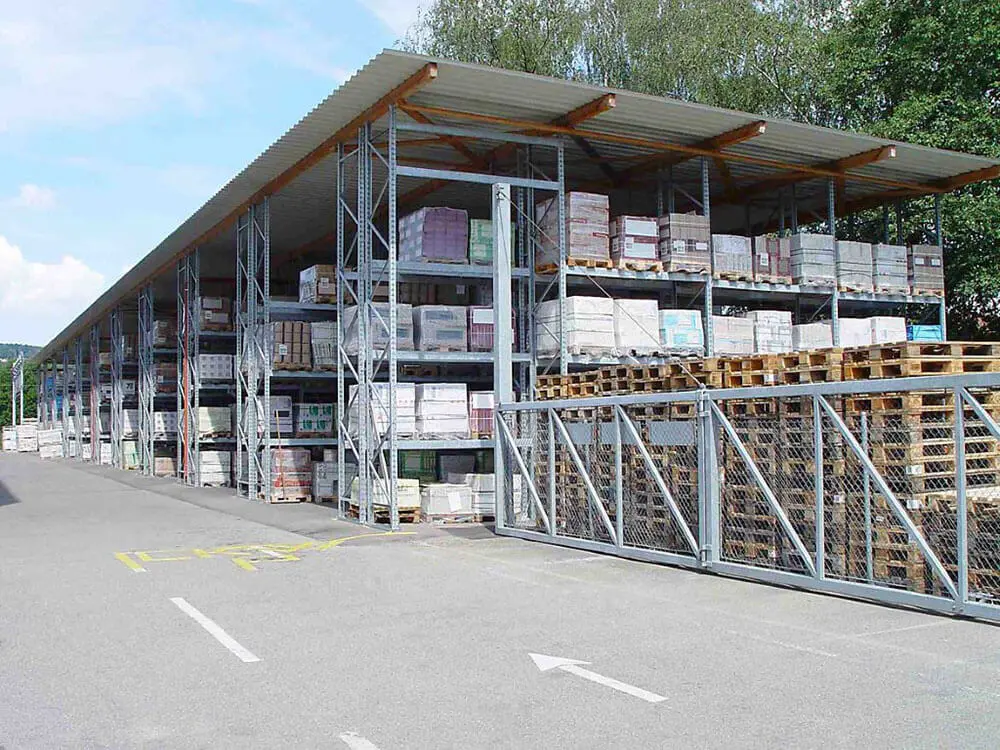 3. Selective Pallet Racking System
The word selective in the selective pallet racking system is named because it allows ease of access to any product that is stored in the rack. You will not need to move other pallets and waste your time.
There is no standard size stated for this racking system. However, you can custom make them in the best suit your requirements.
A selective pallet racking system consists of beams, uprights, and horizontal load-bearing shelves. These shelves are also known as pallet levels. The sizes and shapes of pallets can vary.
This racking system offers high-density storage. Therefore, it is easy to efficiently manage more space. The easy access to every pallet makes the operations fast that can help with effective production.
This racking system is best suitable for small bulk items and a variety of different items.
Things to Consider for Selective Pallet Racking
It can cost you from $45 to $65 per pallet
The floor utilization can be up to 40%
Storage utilization is 90 to 95%
Type of inventory management: FIFO
4. Adjustable Storage Racking System
These storage racking systems can adjust the height and position of the shelves to match different sizes of items for a specific company.
The adjustable storage racking system can consist of steel and other materials.
This racking system is designed to get flexible and adaptable pallet settings that are suitable for your storage needs.
This racking system consists of uprights, beams, shelves, and dividers.
Dividers are also known as partitions that are used to separate the items on the shelf.
This type of racking system is used where you need to store a wide range of items that varies in size. This might require frequent changes so you can easily reconfigure.
Adjustable storage racks offer high-density storage that provides you with enough space to store as many items as you can.
Things to Consider for Adjustable Pallet Racking
It can cost you from $80 to $150 per set
Load capacity: 200 kg, 400 kg, 500 kg
Who Can Use an Adjustable Racking System?
Adjustable racking systems can be used by various industries to store items according to their estimated sizes and height. As these racking systems can easily be adjustable, therefore, these racks can be used to store any sort of item.
Items might include machinery, small parts, electricity supplier warehousing, cross-border electricity supplier distribution centers, and many other fields. But all these items require extra protection when keeping them in outdoor warehouses.
5. Drive-in Rack
A high-density storage solution that is designed to maximize your storage capacity. It can save you 90% of the space in the facility.
This racking system requires specialized equipment like trucks or pallet jacks to get access to stored items.
This is a highly efficient storage solution that can store a large number of pallets in a limited space.
A drive-in racking system is used to store slow-moving items. It follows the LIFO rule that says Last-In-First-Out.
It consists of uprights, beams, pallet levels, and drive-in racks.
This racking system is also known as drive through racking system.
It is mainly used to store items of the same type and package units. The items can vary from industry to industry.
Things to Consider for Drive-in Pallet Racking
It can cost you from $160 to $185 per pallet
The floor utilization can be up to 65 %
Storage utilization is 60 to 65 %
Type of inventory management: LIFO
6. Shuttle Rack
It is a warehouse automation storage equipment. It consists of three divisions:
o Rails or racks
o Shuttle cars
o Forklift
The shuttle moves along the rails and you can easily store the items in the pallets. Also, you can retrieve the stored items on a FIFO basis.
The shuttle racking is designed to maximize the storage capacity of the warehouse. It will help to enhance the efficiency of storage and get optimal results.
The shuttles are powered using batteries and they are controlled and monitored over computer systems. This way you can ensure safety and the work is done in minimum time.
This racking system is used by distribution centers, in general. Other outdoor storage facilities can also use this racking system where high-density storage and fast retrieval are required.
This system is also cost-effective in a way that you do not require many employees to get the task done in the warehouse. It reduces labor costs.
Shuttle racks have the ability to reduce energy consumption and CO2 emission. Because you have the opportunity to reduce the lights and therefore, you can manage all the work using forklifts and with less hassle.
Things to Consider for Shuttle Pallet Racking
Shuttle racks are more expensive than the typical ones
Load capacity: 1000 kg, 2000 kg, 500 kg, customizable available
Type of inventory management: FIFO and LIFO
7. Push-Back Rack
Push-back racks have the highest utilization rate.
When a pallet on the front is removed from the lane then the pallet behind it push-back in line. So that the space in front is filled and you can have access to the next pallet.
Push-back racking systems can be more efficient than traditional ones.
It allows FIFO (First-In-First-Out) storage methods.
These racks are used in various industries like manufacturing, distribution, and retail. Because space utilization, efficient storage, and fast retrieval are their foremost concerns.
It is better suitable to keep fewer varieties but more batches of items.
This racking system requires more attention towards the installation guide. Because the inclination of the racks should hold the weight of the goods and does no damage.
Things to Consider for Push-Back Pallet Racking
It can cost you from $275 to $295 per pallet
The floor utilization can be up to 75 %
Storage utilization 75 %
Type of inventory management: LIFO
What Are Beams, Uprights, and Pallet Levels in a Pallet Racking System?
Uprights are the vertical columns in a racking system that is the structure of the rack.
Beams are the horizontal structure that connects with the uprights and hence help to support the total weight of the pallets.
Pallet levels are the shelves where pallets are stored. These are horizontal load-bearing shelves. These pallet levels are adjustable according to the different sizes of the pallets. The pallet levels rest on the beam.
Characteristics That Outdoor Pallet Racking for Industrial Warehouses Should Meet.
The outdoor pallet racking for the industrial warehouse must meet all the conditions that can affect due to weather. For this purpose, a galvanized racking system is recommended.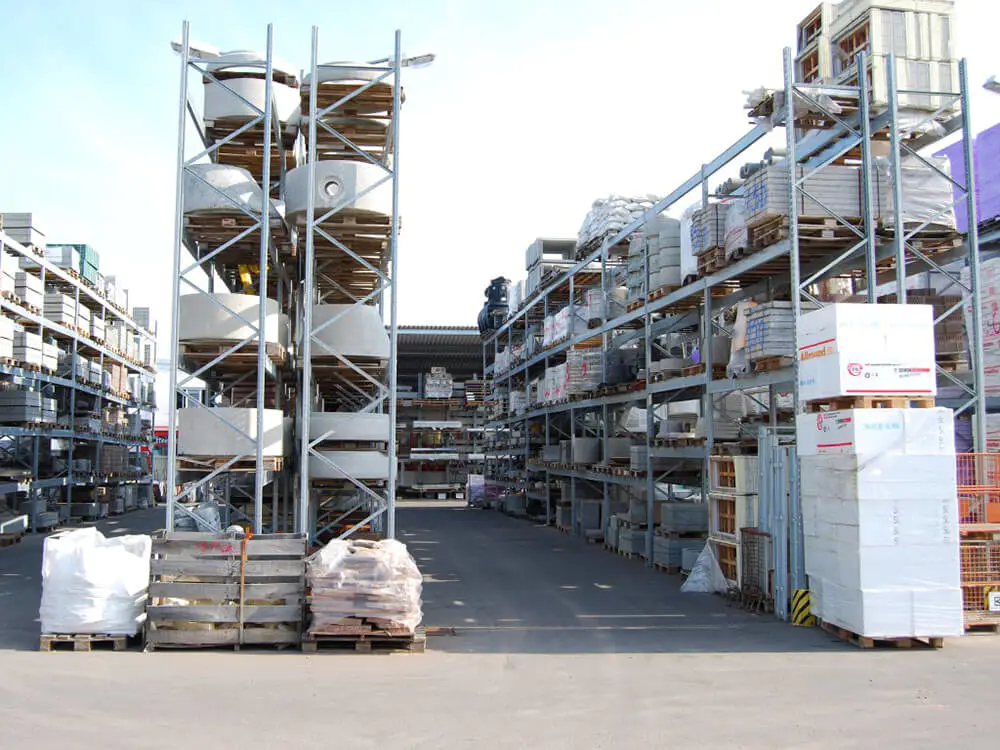 Particularly, a hot-dip galvanized process is recommended. It is a process in which metal surfaces are protected from corrosion by coating them with a layer of zinc.
The zinc coating acts as a barrier to resist rust and corrosion. Zinc is also cathodic to metal which states that it will protect it from damage.
Also, these are affordable and efficient storage systems. Additionally, there are protective paints available for outdoor steel structures.
Compliance with Safety Regulations
Industrial warehouses require trusted companies that religiously follow safety rules while manufacturing. These industry specifications rules should be as per the stated standards of the industry. This is a basic requirement that should be met while buying outdoor pallet racking.
Modularity
Companies tend to change their storage capacity to meet the sizes and heights of the item. These frequent changes require the standard of adjustment and module in racks so that the storage capacity can be enhanced and changed.
Tips You Need to Know Before Buying Outdoor Pallet Racking.
However, pallet racking is an inexpensive and easily available product but this needs protection and a guide about how you can use it for a longer time. So, here are some tips that you can follow and save your outdoor pallet racks for the long run.
If your pallet racks are made up of steel then you must be careful to protect them from rust. The steel can get rusted easily when it is exposed to water and oxygen. The rust will damage the structural integrity of the rack in no time.
You can use galvanized steel in order to protect it from rusting. Or as mentioned above, you can use the hot dip method to avoid harsh seasons.
Consider using a firm that best manufactures the outdoor pallet racking and delivers what it says.
Research before you make a purchase. What type of outdoor pallet racks can be useful for your company? Either the size and shape of your product you want to store, matches your ordered product?
Conclusion
Outdoor pallet racking is an ideal solution for industrial storage. You can store as many items as you like in an organized, efficient, effective, and sustainable manner. There are several benefits that make its usage effective. It is versatile, durable, easy to install, requires low maintenance, easy access, and can take heavy load items to utilize maximum capacity.
Outdoor pallet racking can improve the overall performance of a company in an effective way. These racks can be ordered in a customizable way according to the requirement of the user. The company you are ordering from should also be considered. Quality and better storage solutions can only be provided by quality assurance companies.