A clad rack warehouse is a proper storage facility. These are basically the structures that use the racks as the foundation of the building. The self-supported racking structures eliminated the cost of civil construction.
We will be discussing the advantages of using a clad rack warehouse, and all the information that will be useful for you.
So, read on with us for a better understanding of clad rack warehouses!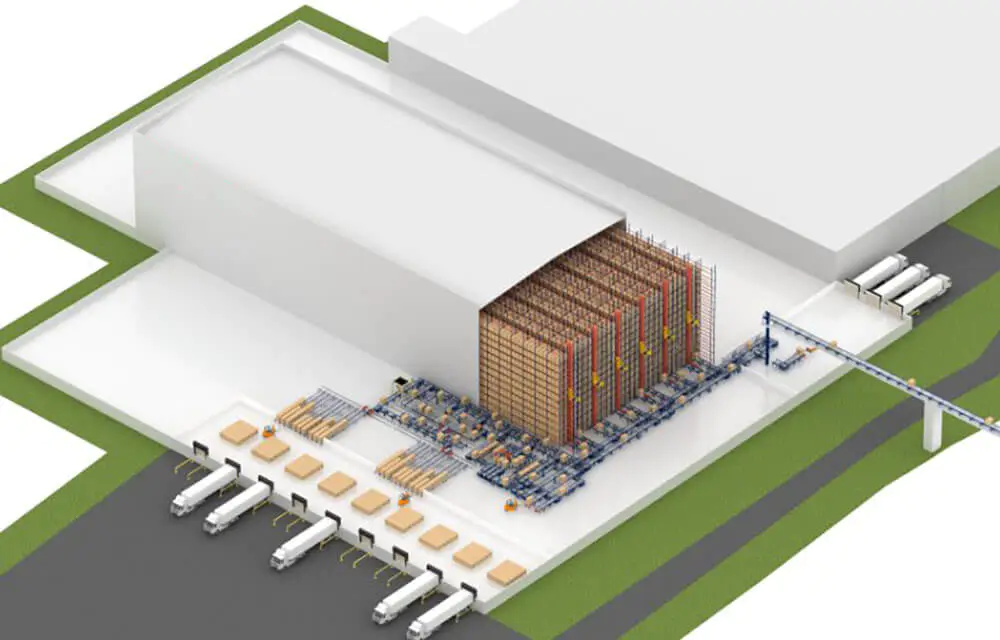 Purpose of Using a Clad Rack Warehouse.
Using a clad rack warehouse has several benefits over traditional storage warehouses. The primary storage system uses the open or in-house warehouses that might be within the factory facility or they might be made out of tin material. These conventional warehouses use the storage system according to their requirements.
Whereas, clad racks are heavy-duty shelving units that can bear heavy loads. These are made up of steel and other materials that are durable. The clad racks are ideal to store equipment and heavy items that will be saved from extreme weather conditions.
Clad rack warehouse provides you with good storage and space to store heavy items, finished goods, war materials, or anything related to your manufacturing or distribution. You can avail of more storage space without purchasing new areas by enhancing your clad racks vertically.
Difference Between Traditional Warehouses and Clad Rack Warehouses.
Before going further about clad racking, it is important to know the difference between traditional warehouses and clad rack warehouses. Warehouses are a core and crucial part of any firm. It helps to keep the products/items organized and ready to distribute and quickly available for sale (in the case of an E-commerce business).
There are two main types of warehouses, the traditional warehouse, and clad rack warehouse.
Traditional Warehouse
The traditional warehouse system has been running for centuries. It has been a reliable solution for storing goods and has proven to be a successful storing idea. Usually, warehouses are constructed with solid walls that are made of bricks or wood and concrete. There are shelves and partitions within the storage facility.
This sort of warehouse requires racks and pallets or shelving units according to the needs of the firm. It provides a secure space and keeps the products from harsh weather away. Also, customization is the basic and necessary part of this warehouse system in order to accommodate the needs of the company.
Clad Rack Warehouse
On the other hand, a clad rack warehouse is a development of the warehouse industry in recent times. These warehouses use its frames and racks as their construction structure. Clad rack warehouses are made with frames, modular, steel frames that are covered with metal cladding roofs and walls.
The interior of this warehouse is divided into storage bays that use selective pallet racking. This way it is easier to access stored items. This warehouse system is the best solution for companies that requires a large number of storage units within a limited area.
Both traditional warehouses and clad rack warehouses have their own features and advantages. It totally depends on the business that choice they make. Their specific needs and requirements should be fulfilled. Either they want to enhance the storage capacity or they want a more controlled environment.
Features of the Clad Rack Warehouse.
Clad rack warehouses are engineered in such a manner that it is a solution for every type, weight, and size of the items, and situation. We have described the features of the clad rack warehouses for you to have a better understanding.
Clad racks require smart construction with the help of roofs and walls to turn them into the building structure. Hence, the self-support building structure is formed using the following components:
Racks
Roof sheets
Roof truss
Purlins
Side cladding
Canopy
Docks
Gutter lines
Fire hydrant systems
Civil floor and structure
The total height of the building interior is occupied by the racking system.
Clad racks store heavy-duty items and support the structure of the building. Therefore, it is essential for you to take calculated measures in order to avoid any mishap.
The racks are designed durable and strong so that they can withstand the weights.
Also, the pallets stored on the racks are heavy too. It should be considered in mind that the overall racking system and pallet's weight are calculated.
Clad racks are made up of metal structures to get enough strength. These metal structures have large numbers of pillars that include frames or uprights. The pillars help to evenly distribute the weights on the warehouse floor.
Clad racks are highly adaptable. It works with any sort of racking and shelving system. Read about the different types of pallet racks.
This racking system is so strong that it is able to protect goods from brutal external forces like winds, rains, snowfall, etc.
Clad racks are designed with safety features that ensure the items remain intact. It prevents the racks and items from falling.
The metal cladding provides more durability to the warehouse. It provides resistance to fire, harsh weather conditions, and even pests. It is completely a secure and safe warehouse facility. Businesses can rest assured that their stored items will not rot or get damaged using this warehouse system.
There is no need for extra support in structure when you are expanding the storage for horizontal panels.
The weight of the structure is light.
Advantages of the Clad Rack Warehouse.
You can benefit your firm by using a clad rack warehouse that is totally useful and one of a kind. Following are the advantages that you should know about the clad rack warehouse:
Good Utilization of the Facility
Clad rack warehouses are made to occupy that area that is required. There are no pillars in between the construction that can influence the facility distribution. That being said, the clad rack warehouse uses the full surface area without requiring additional space. You can stack multiple levels of racking to make it possible to store more items. This is an ideal situation for companies where floor capacity is limited.
Quick and Simple Construction
As soon as the racks are designed, the warehouse is designed at the same time. The entire construction of the building is assembled on a concrete floor or slab. This slab might be of your desired thickness in order to achieve even distribution of forces toward the foundation.
Requires Less Time in Construction
The foundation of the slab requires time as the calculations need to be measured. Once the slab is built strongly, clad racks can progressively be done.
It takes less time to construct as compared to the conventional one. Therefore, its completion time is less than the traditional warehouse.
Minimize Costs
The clad rack warehouses are not civilly constructed with concrete and beams. They are formed using different components together that are made up of steel and other durable materials.
Instead of investing more in land and building a new location for expansion, a clad rack warehouse is a perfect choice that is cheaper to build and easier to expand. Overall, the cost of constructing a clad rack warehouse takes less cost than a traditional warehouse.
Less Civil Work Needed
There is minimal civil work required for a clad rack warehouse. But it is greatly dependent upon the system you want to install, your requirements, the climate in your area, and the size of the warehouse you want to construct.
The several factors vary with all the demands you have. These are some common civil works that are needed to construct clad rack warehouse:
The first civil work is the foundation work. The construction of the clad rack's foundation should be designed in such a manner that it can take the weight of the warehouse, the racks, and all the items stored there. Making the foundation strong and durable, may involve pouring a concrete slab, installation of steel piers, and digging footings in order to withstand the building's load.
A flat concrete floor would be required for this racking system. The floor will support the clad racking system where the weight of racks, pallets, and all the stored items will be accommodated.
Then comes the electrical work for the clad rack warehouse. The lighting, cooling, and heating systems, and all other facilities will require civil work. Plumbing comes next where civil work will be needed. This work is not only important but also will help the operations to run in an efficient way.
Clad rack warehouses may include loading docks. These docks might require some civil engineering work like concrete work, and installation of ramps. This will allow the easy movement of goods for loading and unloading them for the warehouse.
The site work for the clad rack warehouse can use civil work. You might need to construct things like grading, excavation, and other site preparation work.
The Height Capacity Is Flexible
Clad rack warehouses can be built to any height. But remember there are factors that should be considered prior to extra construction. These factors include the design of the storage system, codes and regulations of the building area, and the primary use of the warehouse.
The clad rack systems can be single tier which means that they have a capacity of 8 to 10 feet. This capacity can vary according to the weight capacity and other specifications.
Then comes the multi-tier rack system. These rack systems can be several stories high. The size and the weight capacity of the warehouse may decide the actual height capacity of the warehouse. But usually, the multi-tier rack systems can be built up to 50 feet or maybe more.
Storage Flexibility
Clad rack systems are more flexible when it comes to storing items. You can safely load or unload your items and store them in the warehouse. More items can be stored in multi-tier storage. Also, the storage can easily be configured as per the need.
Increasing the height of the storage facility will help to increase the storage capacity. It will help to keep the costs as low as possible.
Accessibility
In terms of accessibility, the clad rack warehouses have better accessibility than the conventional ones. Because these racks are properly designed using automation systems and robotic equipment.
The racks use pallet lifts, pallet shuttles, conveyor systems, and other material handling equipment, therefore, they tend to be more organized and easily accessible. You can reconsider the storage plan and make changes to the racks because they can be more easily accessible to you if required.
Durability
Traditional warehouses are built or might have a structure that is often made up of concrete, steel, or wood. These warehouses are made to store items on shelves or pallets. The structure can be affected due to the hard weather conditions.
Whereas, the clad rack warehouse is specifically designed to just store the items in an effective and organized manner. These racks are made out of steel and any other durable material that allows the rack's longevity. The layer above the racks protects the racks as well as the products inside the warehouse.
Also, the material doesn't come in direct contact with light, heat, or cold. Therefore, there is less chance of damaged items and racks material rusting.
Automated System
Clad rack warehouse items can be stored manually through trucks and automated machines or equipment. It is best to invest in the automated storage system when you have a clad rack warehouse. It is a one-time investment that can turn out to be more profitable because machines can work faster than humans. All the storing and removing items from the pallets and positioning them in a new area can easily be done through machine operations. Also, you can have a total record of items through automated systems.
You can manage limited staff for the warehouse and there won't be a mess of hiring more employees. Hence, it will reduce the overall costs of the business and make the operations efficient and effective.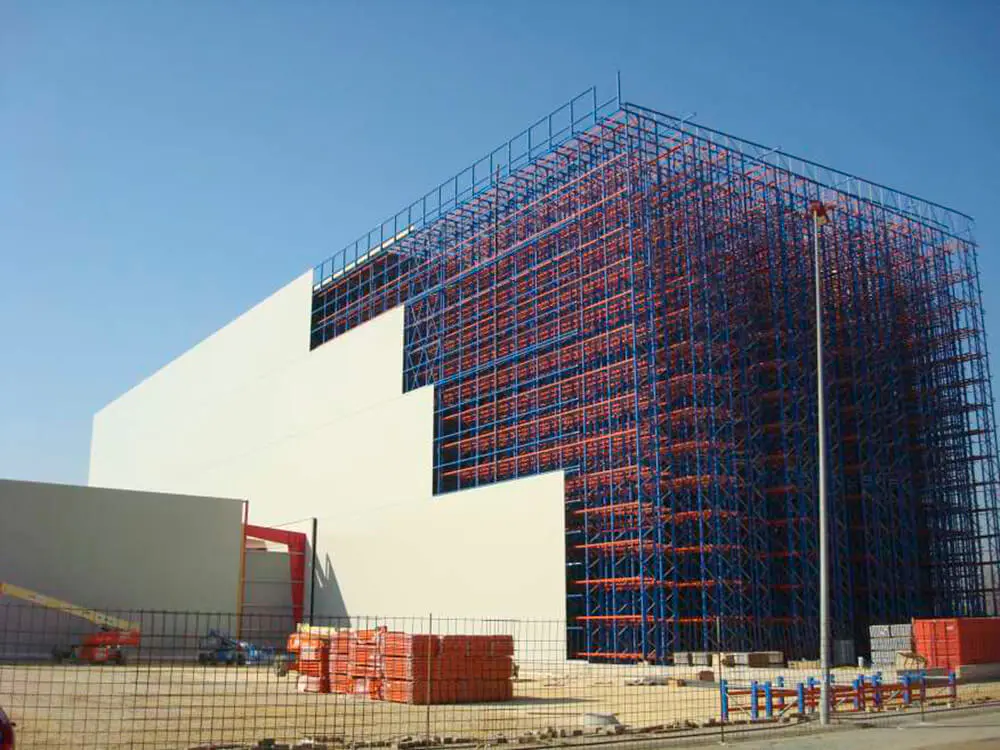 Application of Clad Rack Warehouse.
Clad rack warehouses are used in various industries that require large storage facilities. The application of clad rack warehouse includes:
1. Manufacturing: Manufacturing businesses use clad rack warehouses in order to keep raw materials, components, finishes items, and other materials of their use. These businesses require changes and more storage space in their growing sales; therefore, a clad rack warehouse is a perfect solution for such businesses.
2. Logistics: Clad rack warehouse provides easy loading and unloading of items using robotic or automated systems. It is easier to manage the items that are in transit.
3. Retail and wholesale: Clad rack warehouses are best for retail and wholesale businesses. As these businesses require high storage density and versatility in clad racks. It allows them to store as many goods as they require. Also, they can enhance their storage capacity within that space.
4. Distribution: There is no need for multiple storage locations when you have a clad rack warehouse. Distribution companies can easily access the desired item and can have check and balance facilities as well.
5. Agriculture: This industrial sector needs a clad rack warehouse in order to store seeds, fertilizers, raw materials, supplies, and all the ripe fruits and vegetables that need to be stored until dispatched. Clad rack warehouse protects the food from pests and weather.
6. Food and beverages: Food and beverages industry requires a large storage location where they can store raw materials, raw ingredients, finished products, and all other supplies. Clad racks warehouses are temperature controlled and they are best to store food and beverages. The ventilation system helps to store items well. Also, this warehouse helps to keep the items fresh and maintain the quality of products.
What Should You Consider When Planning for a Clad Rack Warehouse?
These projects typically look easier but in reality, they are more dangerous to construct. Therefore, they need professional guidance to save labor, items, costs, and even time for the company. Every situation needs to be monitored and construction should be calculated.
You need a professional project manager to eliminate risks and other factors that can damage your company's reputation and well-being. Once the construction is finished, there might need to be a thorough check of the basic physics which means estimating the stress calculations and undertaking every situation and calculation into account.
Also, the wind is a major factor that can destroy your project in no time. It is necessary to calculate the height of the warehouse and take precautions according to the area you are constructing the clad rack warehouse.
Final Words!
In conclusion, I would say that clad rack warehouses are the modern solution for businesses that seek efficient storage solutions. The clad racks maximize the use of available surface area and avoid the wastage of space. The cost-effectiveness, high storage density, and modular designs are the integral part of this storage system which makes it attractive.
Furthermore, versatility, expansion within the limited area, and ease of reconfiguration are something that makes it a flexible solution for business. It enhances the profitability of the company with efficient operations. Overall, clad rack warehouse is a complete solution for expanding businesses to gain more storage area and a flexible storage solution.