Want to know the top storage solutions suppliers in America so you can purchase and import them to your country? Here are the top companies for high-quality storage racks.
There are many reasons why buying the best quality warehouse storage equipment is beneficial. First, they provide the storage space that customers demand (extremely important given the very high cost of warehouse rent these days!). Second, they give the user a better fit and comfort, thus providing greater flexibility. Third, the best storage equipment can effectively improve the storage efficiency of the warehouse
In the list below we've enumerated the top manufacturers of high-quality storage solutions equipment at the best prices.
PS. If you're looking for CE-approved products with superb quality, then check out Xinmiao rack. We are an American-contracted supplier from China that has good standing in the production of pallet racks, mezzanine floors, and cantilever racks.
List of the Best Provider of Warehouse storage equipment in American
1. UNARCO Material Handling, Inc.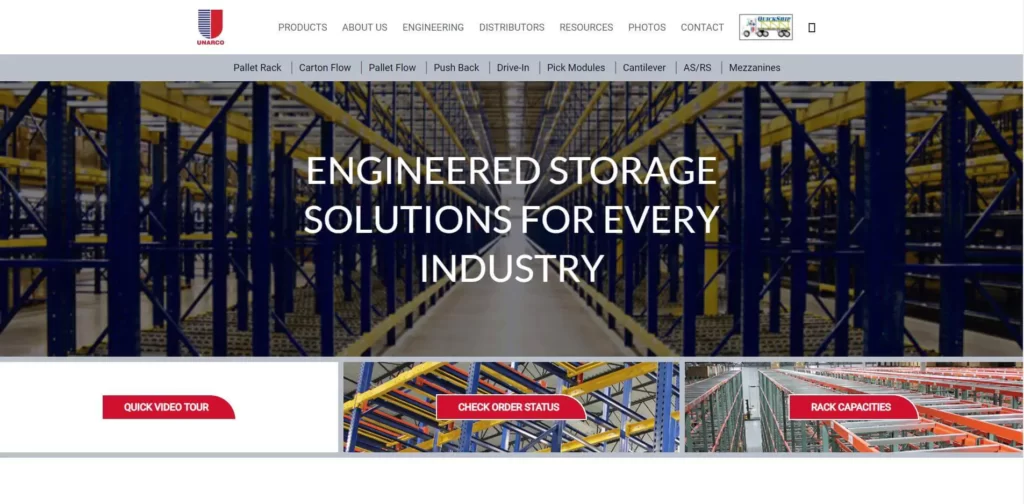 UNARCO Material Handling, Inc. manufactures structural and roll-formed selective pallet racking and has engineered warehouse storage systems for distribution centers, e-commerce fulfillment, and retail stores. As pioneers in the pallet rack industry, UNARCO provides the widest industrial shelving product assortment, including Carton Flow, Pallet Flow, Push Back Rack, Drive-In Rack, Pick Modules, Cantilever Rack, Mezzanines, and Pallet Rack Repair.
Their customer list covers every level of the supply chain and all racks are fabricated in strict compliance with all current RMI standards. From project engineering and design to onsite project management and installation, UNARCO can take any distribution center or warehouse storage space and add a pallet rack solution that will increase product flow efficiency.
The folks at UNARCO not only manufacture the most trusted pallet rack in the industry, but also provide the best customer service and engineering. The UNARCO team has partnered with Fortune 500 companies from every industry for decades, creating lasting relationships. Thousands of satisfied customers rely on UNARCO's years of project engineering and experience.
2. Ridg-U-Rak, Inc.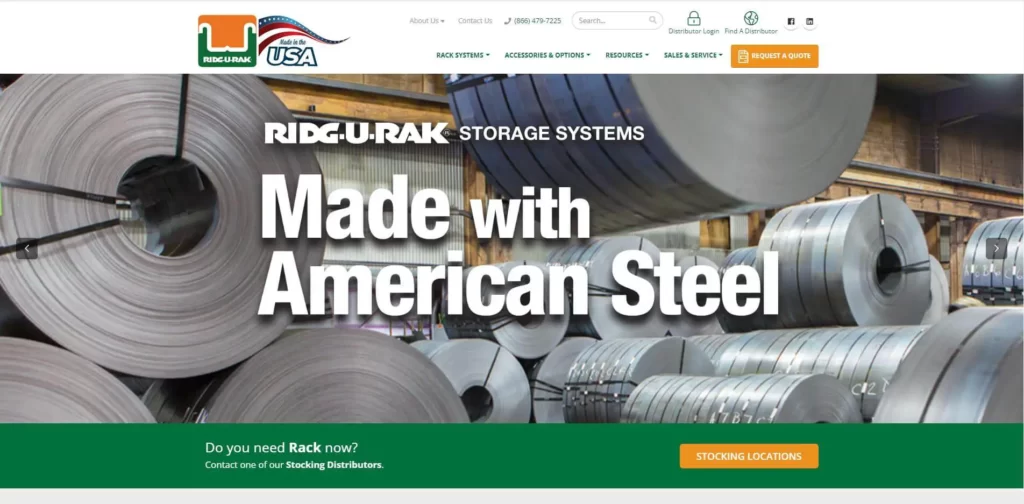 Ridg-U-Rak is one of the largest pallet rack manufacturers in North America, with an annual production capacity of more than 130,000,000 pounds of storage rack. They have three facilities in North East, PA that provide over 400,000 square feet of manufacturing capability and warehousing space. Ridg-U-Rak has a number of stocking distributors across the country that maintain inventories of the most commonly used rack components. If you have an urgent need, count on Ridg-U-Rak for fast service without sacrificing quality.
Throughout the manufacturing process, strict quality policies are followed to ensure a reliable finished product is delivered to our customers.
At the heart of most Ridg-U-Rak pallet rack systems is their famous roll-form column design. Each upright is welded fully using heavy-duty bracing and base plates to ensure structural integrity. All uprights, beams and support components are engineered to maximize load capacities while minimizing weight to reduce cost. Ridg-U-Rak offers a wide variety of beam profiles and gages to provide their customers with the most efficient solutions possible.
Ridg-U-Rak conducts independent laboratory testing on their storage rack systems and accessories to verify calculations. Every product line has been capacity-rated and all load-carrying component has been destructive-tested.
3. Speedrack Products Group Ltd.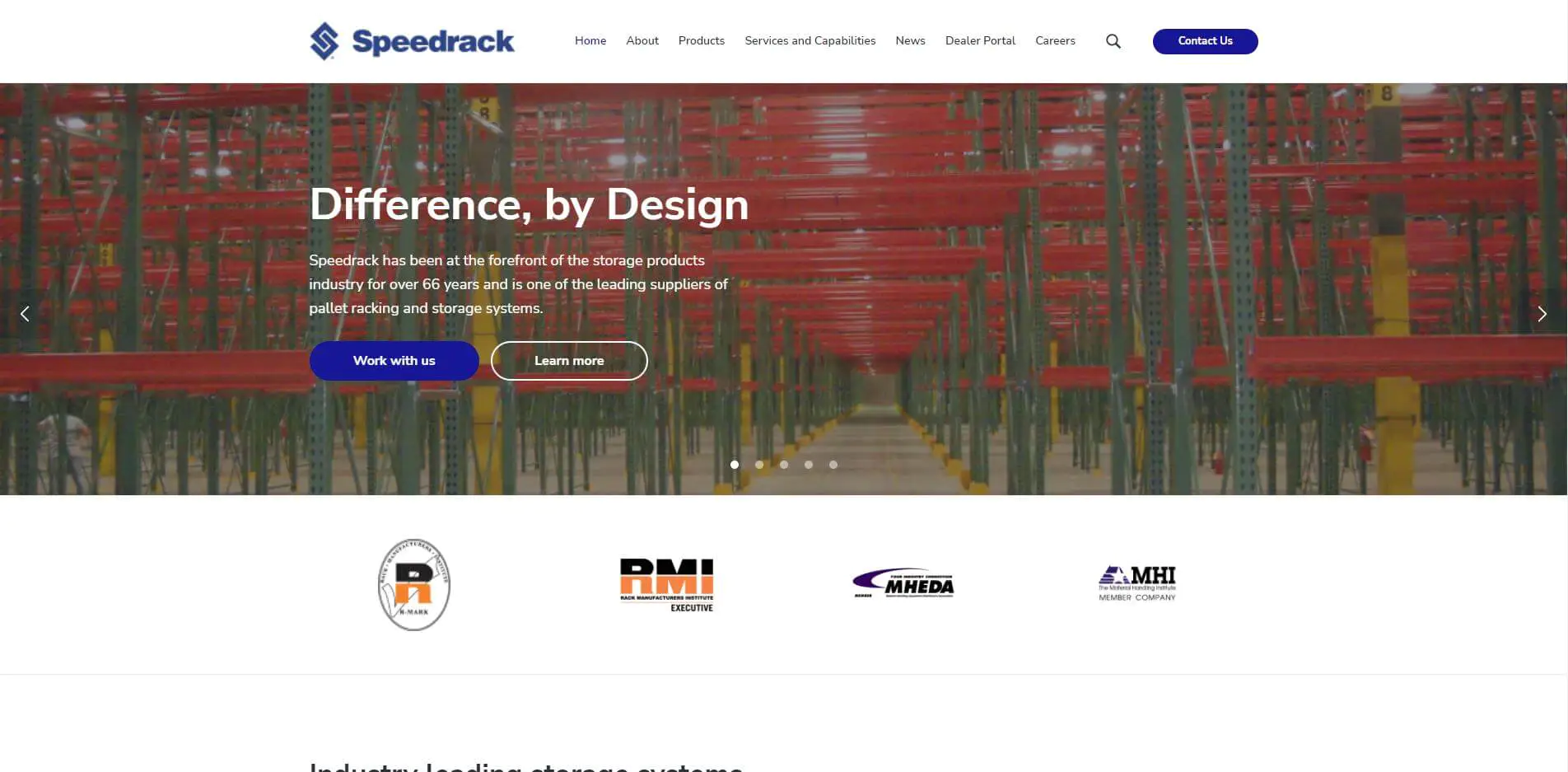 Speedrack began pioneering modern storage systems in 1954, when it launched by developing vertical storage racks for manufacturers in Skokie, IL.
In 1971, Speedrack created the first of its many storage system innovations: totally tubular rack design, which provides greater strength per pound of steel and higher resistance to damage than conventional open shape sections.
Speedrack established its current headquarters in Sparta, MI in 1989. It has since developed two manufacturing facilities in Michigan. Its primary facility for manufacturing new products opened in 2003 in Quincy, MI, while a second satellite manufacturing facility in Litchfield, MI opened in 2017. In 2020, a major expansion to the Quincy facility broke ground. Speedrack employs more than 300 people across the three facilities.
Speedrack's approach to business emphasizes lasting partnerships with a select group of customers and distributors. They focus on long-term relationships with customers and distributors. They market exclusively through a selective and limited group of distributors.
4. Sunbelt Material Handling
Sunbelt Material Handling is a company that provides material handling equipment. Warehouse forklifts, narrow aisle forklifts, electric pallet jacks — Sunbelt Material Handling has the solution to fit your specific application.
Sunbelt Material Handling has been in business since 1987 and has proved to be one of the region's most reliable and trustworthy material handling dealerships. As an employee-owned company, they pride themselves on being easy to do business with and providing customer service that keeps companies loyal to Sunbelt.
Sunbelt Material handling carries five major brands: UniCarriers, Big Joe electric pallet jacks and stackers, Clark, Hangcha and Flexi narrow aisle forklifts. These brands allow them to provide a full spectrum of solutions to every customer.
Sunbelt Material Handling is the premier material handling dealer in Texas and Oklahoma. They are the authorized UniCarriers and Big Joe dealer in North Texas and Oklahoma, along with being the authorized Clark dealer in North Texas, extending down to Austin. They also are the North American distributor for Flexi Narrow Aisle forklifts. With a vast selection of new forklifts, used forklifts, and forklift rentals, along with award-winning service and a parts inventory stocked with over one million dollars, they have the necessary tools to get the job done. Find the closest Sunbelt Material Handling for all your material handling needs.
5. Steel King Industries Inc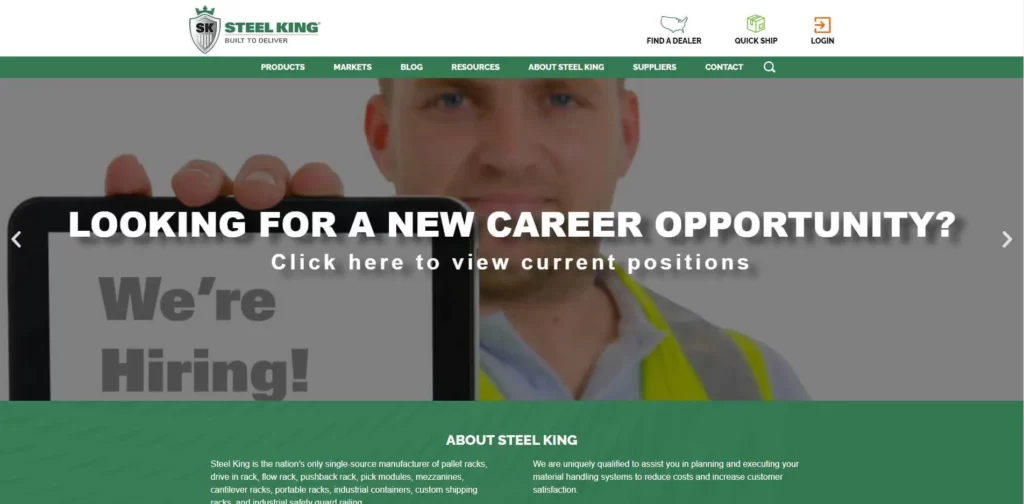 Steel King is the nation's only single-source manufacturer of pallet racks, drive-in racks, gravity flow racks, pushback racks, pick modules, mezzanine flooring, cantilever racks, cantilever mezzanine, portable racks, industrial containers, custom shipping racks, and industrial safety guard railing. They are uniquely qualified to assist you in planning and executing your material handling systems to reduce costs and increase customer satisfaction.
As the international's only single-source manufacturer of pallet racks, drive-in racks, flow racks, pushback racks, pick modules, mezzanines/work platforms, cantilever racks, portable racks, industrial containers, custom shipping racks, and industrial safety guard railing, they are uniquely qualified to assist you in planning and executing your material handling system.
They know the importance of using quality materials and skilled labor to produce a superior product with structural integrity and pleasing aesthetics. Starting with their highly seasoned design and engineering professionals, their dedication to product innovation is evident in the refinement of current products and processes as well as the development of unique, engineered material handling systems.
As an active member of several industry trade associations, they have a proven dedication to the material handling industry and industry standards. Their product capacity charts are RMI certified to ensure product and worker safety.
If you want to know the top 10 warehouse racking manufacturers in Houston, please read "Warehouse racking Houston".
These are the best warehouse equipment manufacturers in America that we have compiled for you.