Searched far and wide for the top suppliers of selective pallet racks in America to no avail? Here we've listed the top companies manufacturing warehouse storage equipment.
America has many manufacturers that provide the highest quality products in the world. So in this article, we've listed the suppliers of the best warehouse rack in America where you can get the bang for your buck.
PS. If you're looking for high-quality warehouse racks, at affordable prices then check out Mracking. We offer racks that meet American ANSI MH16.1-2012 and ISO 9001 standards and have passed rigorous quality checks. We export worldwide and have clientele in the reaches of North America. Our superb customer service is also something we can be proud of. Reach out to us now.
Best warehouse storage equipment exporters, suppliers, and manufacturers in American
1. BITO Storage Solutions US, Inc.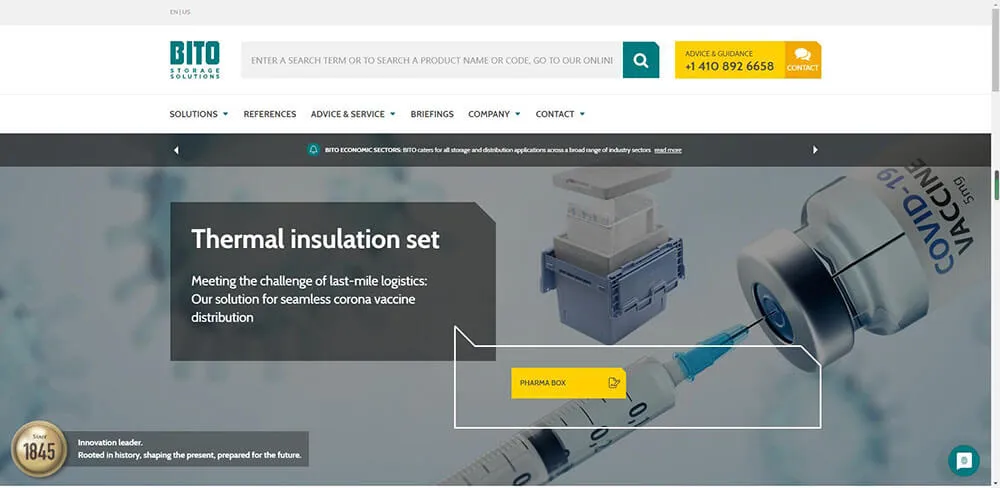 BITO-Lagertechnik Bittmann GmbH stands for innovative storage technology. As one of the few single service providers in its field, the company supplies racking, container, picking and transportation systems for all industries. They are an internationally active industrial firm, currently with more than 70,000 customers, and they are one of the market leaders in Europe.
BITO is one of the few single-source suppliers in the intralogistics sector. They offer a complete range of storage technology components. From catalog products to large-scale systems. From shelving products for workshops and factory installations to compact pallet storage for your intralogistics system. From small visible storage bins to large-size containers.
Based on customer needs, they focus 3 business lines:
The BITO Direct line is their B2B service path in Europe that allows customers to buy their products in their webshop, from their catalog or to place orders by telephone. This line offers its customers a wide range of ready-to-buy stockroom and warehouse equipment and allows them to place re-orders without support.
With their BITO Solutions business line, they offer consulting and support services geared to each customer's individual requirements. Typically, this segment is geared to customers who intend to realize medium or large-scale warehousing projects. BITO's representatives visit customers' plants in person, working together with their contacts in the company to plan and design bespoke system solutions that meet the customer's specific needs as precisely as possible.
The third line, BITO Engineering, emphasizes close collaboration with system integrators and general businesses. In this segment, BITO is a reliable partner in constructing static storage systems as a basis for automated solutions. Here, BITO places particular value on long-term, intensive customer relationships which include both specialized solutions and new joint developments.
2. Advance Storage Products
Advance Storage Products is the country's leading manufacturer of pushback systems, producing nearly half of the systems sold in the US. Advance's LoPro Pushback racking solution is the recognized "gold standard" for ease of installation, ease of operation, quality and durability. Their warehouse pallet racking solutions are used in major installations for many Fortune 500 companies.
Advance also provides large-scale structural pallet racking solutions in all product configurations, including selective pallet rack, pushback pallet rack, double deep pallet rack, drive-in pallet rack, pick tunnels, pick modules, gravity flow pallet rack and carton flow racking systems. Advance brings over 100,000,000 lbs. of steel production capacity per year and routinely ships projects in excess of $5,000,000, on time and on budget.
Advance's state-of-the-art rack system manufacturing facilities in Cedartown, Georgia and Salt Lake City, Utah were designed from the ground up, specifically to produce structural pallet rack and pushback industrial storage systems. The integrated production process ensures on-time delivery, proper sequencing of production and excellent quality at competitive prices, for all types of rack projects for warehouses and distribution centers in the US and abroad.
3. AK Material Handling Systems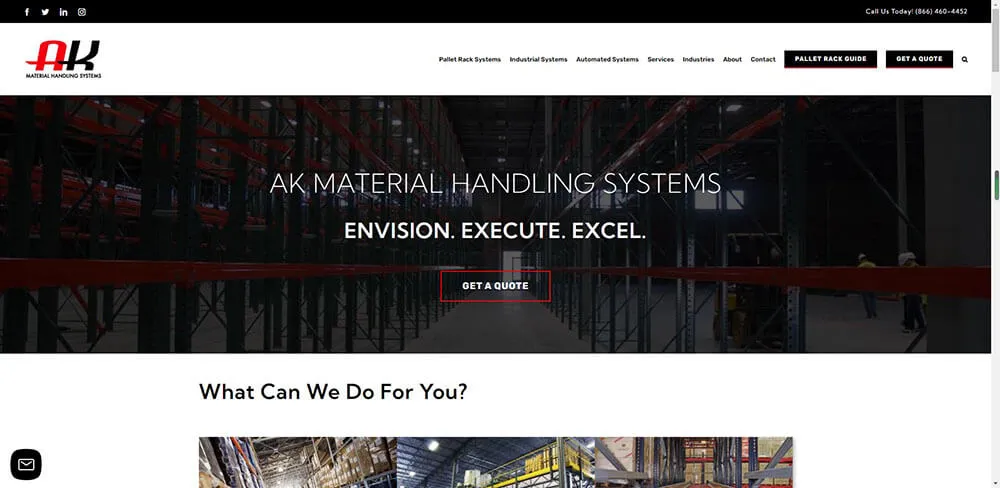 They deliver value to their customers by providing the absolute best combination of quality products, helpful customer service and competitive pricing. Here at AK, they specialize in warehouse layout & design utilizing pallet racks, automated, and industrial storage systems like warehouse mezzanine floors and modular offices. Through engineered sales and completed turn-key warehouse systems, they can optimize any warehouse storage space.
2008: AK Purchases VBI's (Viking Business Interiors) remaining inventory after they close their doors and continues the VBI legacy by supplying the Twin Cities with industrial steel shelving and storage products. VBI was most known for its excellent customer service and BLUE shelving systems.
2011: AK Material Handling Systems purchases the building next door. 8630 Monticello lane is now the main headquarters and main warehouse for new pallet rack products.
4. CLARK Material Handling Company
For the past nine decades, CLARK has been one of the industry's most progressive and responsive manufacturers, continuously seeking innovative ways to improve products, expand services and provide value to its customers.
Worldwide, CLARK has one of the broadest product lines in the industry with five major lines. Trucks ranging from 1,500 to 18,000-pound capacities, LPG, gasoline, dual fuel, diesel, narrow-aisle stackers, electric riders and powered hand trucks. CLARK currently has one of the largest dealer support networks in the material handling industry in North America, boasting over 230 locations. They have over 550 locations worldwide with dealer representation in more than 80 countries.
CLARK has state-of-the-art parts distribution warehouses in Louisville, Kentucky and Changwon, South Korea. The parts warehouses are centrally located to service all of CLARK's dealers and customers. CLARK's Korean facility acquired its ISO 14001 (Environmental Management System) certificate in 2001. This places CLARK in a dominant position in the market to be prepared for any environmental restrictions.
Through CLARK's new product development and value engineering program, product engineers and suppliers work together to minimize costs and, at the same time, improve the quality and efficiency of their products.
5. Cogan Wire & Metal Products Ltd.
From humble beginnings over a century ago, they have grown into a company of over 150 employees in our own 100,000+ SQFT manufacturing facility. With 13 sales offices and counting, and a remarkable network of dealers throughout North America, Cogan products are being installed far and wide.
Whether you need a warehouse mezzanine, racking system, guardrail barrier, wire mesh partition or storage locker, Cogan gets it right. Delivering professionalism their many satisfied clients know what to expect. They honor budgets and deadlines, and ultimately keep your property, profitability, and people safe.
Cogan thinks long-term. They engineer products that last a lifetime and strive for their company and customer relationships to mirror that spirit of longevity. That's why they make it as easy as possible to get exactly what you want, every step of the way.
If you want to know the top 10 warehouse racking manufacturers in Houston, please read "Warehouse racking Houston".
These are the best warehouse storage equipment manufacturers in America that we have compiled for you.