Knowing the pallet racking weight capacity of a warehouse is very important for multiple reasons. For instance, knowing the exact warehouse racking weight capacity will help to prevent overloading it.
But, first of all, we should know, what is pallet racking and why are they used in a warehouse. Pallet racks are material handling warehouse aid system that is used to store goods on pallets. Pallet racks are mainly used to store the goods in the warehouse.
A pallet rack has numerous advantages. For instance, installing pallet racks ensures that the vertical space of the warehouse is being used. Pallet racks reduce operational costs as a huge number of goods can be stored in a small area.
Pallet racks are also known by names such as "Pallet shelves", "Warehouse racks, etc. Pallet racks are a crucial part of warehouse systems around the world. Additionally, it also provides a trustworthy mechanism for locating and classifying products.
Different types of warehouse racks may have different weight capacities. For instance, a cantilever racking weight capacity will be different compared to a boltless racking weight capacity. The size of the pallet rack also plays an important role in the pallet racking weight capacity.
In this article titled, "Warehouse Pallet Racking Weight Capacity: The Definitive Guide," we will discuss the following things:
This article will be especially beneficial for the following group of people:
Warehouse owners and managers who want to learn the importance of warehouse racking weight capacity.
Warehouse managers who want to calculate the weight capacity of pallet racking.
Weight capacity of various types of warehouse racks (Cantilever, Mould, Boltless, etc)
Academicians and researchers who want to learn about the warehouse pallet racking weight capacity.
What Is The Pallet Rack's Weight Capacity?
In simpler terms, a pallet rack's weight capacity is the capacity of pallet racks to hold goods in it. For instance, a pallet rack's weight capacity is 1000 kg. It means it can hold products of up to 1000 kg.
Pallet racks increase efficiency by storing and organizing products in a warehouse. It is a solid steel structure made of cross braces and posts connected with horizontal bars. The bars hold up the pallet racks between each upright frame.
Usually, pallet rack capacity means the distance between two beam levels. Moreover, it can also be measured by the distance between the floor and a beam level. Now, examine the number of beam levels and their spacing per bay.
Make sure you are well aware of the total load the upright frames can take. This is necessary to evaluate the pallet load of your racking system.
What Things To Consider While Determining The Pallet Racking Weight Capacity?
While calculating your pallet racks weight capacity, you need to take these factors under consideration-
Horizontal Beam Spacing
The horizontal beam spacing is usually an important aspect while calculating the capacity. The ideal beam spacing is 48", but it can vary depending on the weight you are about to put.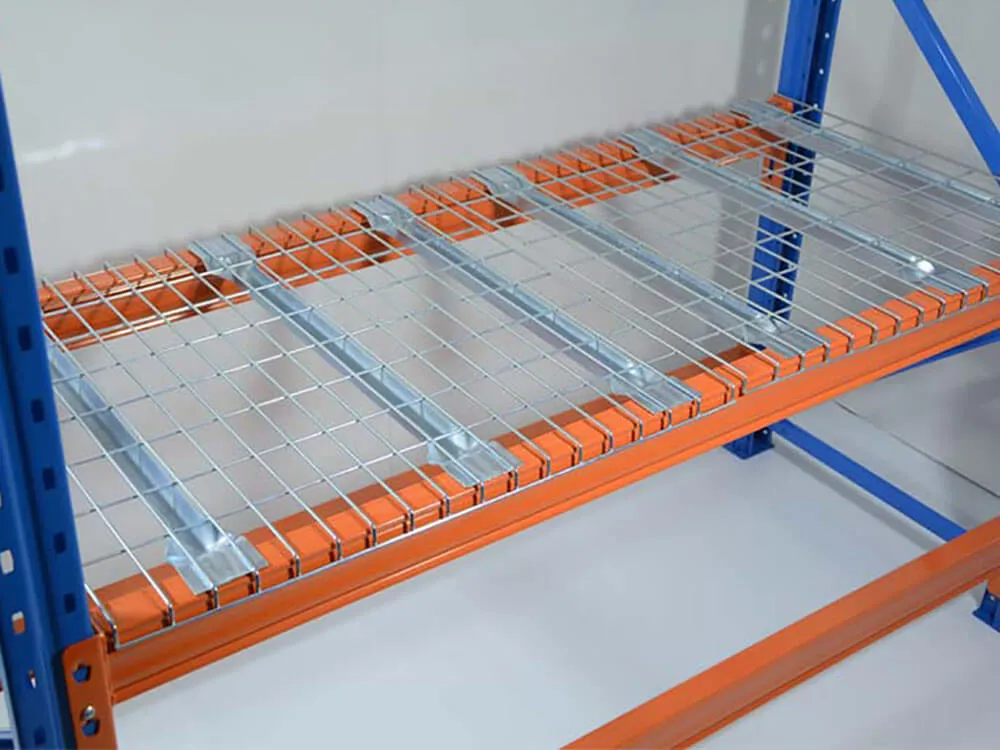 Remember, the higher the horizontal spacing, the less amount of weight the upright frame will carry. For instance, if you have a 15' upright frame, with 4 beam levels of 3000 lbs, the frame capacity needs to be 12000 lbs. The spacing between the beams may affect the frame design.
Upright Frame Weight Capacity
The upright frame weight capacity can be determined based on beam weight, space, decking, and other important factors.
The level of beams normally impacts the overall capacity of the upright frame. You can install upright protectors, this equipment decreases the risk of damage to upright frames.
Pallet Dimension And Weight Capacity
Pallet rack weight capacity can be calculated based on the pallet weight and dimensions. You have to put the heaviest items on the ground rack, closest to the floor. You need to distribute the pallet evenly, in order to maintain stability.
Steel Type And Thickness
Your pallet rack capacity also depends on the type of steel used during the construction of the racks. If the racks are manufactured with roll-formed racks, (cold roll-formed steel) they will have a higher weight capacity. The structural steel rack generally has a higher holding capacity.
The thickness of steel can also play a great role in its weight capacity. Steels with higher thicknesses can carry more weight. But remember, a steel gauge is a range of thickness, it's not a fixed number or something.
Gauge is not the only thing to keep in mind. While buying a used rack that usually doesn't have the gauge number stamped on it.
Flooring
Before even going to the calculation of pallet racks' weight capacity, crucial to know whether the floor is fit for it. You need to assess the floor of your warehouse facility. The soil-bearing capacity also plays a vital role in your pallet racking system.
It is necessary to know how much weight the facility can withstand. End of the day, the flooring will bear all the weight of the pallet racks or whatever weight is there.
Make sure you examine these things with a qualified engineer and then prepare your racking plan according to it.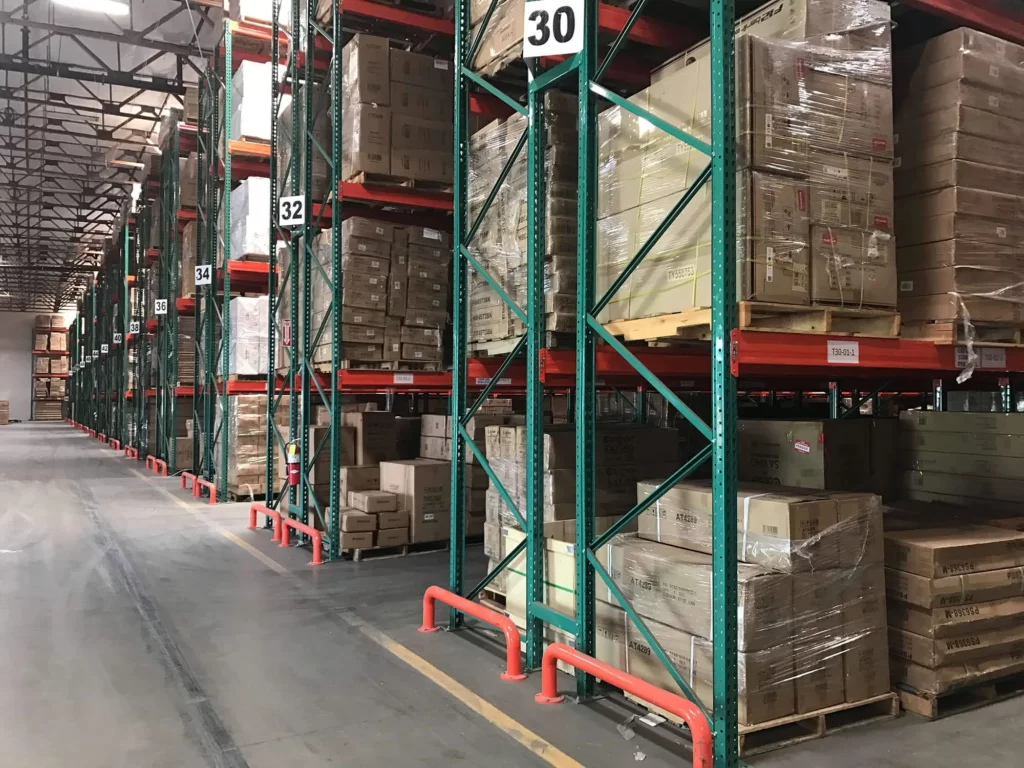 Some other things to consider while calculating the warehouse pallet racking weight capacity are as follows:
Beam capacity: Beam capacity can't be changed as stated by the manufacturing companies. But, the frame capacity can be altered. While calculating beam capacity remembers, their load-carrying ability is proportional to their dimension.
Deck capacity: The decks of pallet racks are meant to evenly distribute the pallet loads in each level of storage.
Deflection of rack beams: There might be some deflection in the rack beams where you put the heavy loads.
Safety Consideration Of Pallet Racks
Just like the safety of products and employees, pallet racks are important for proper warehouse operation. Let's take a look at some of the safety measurements you can take under consideration-
Slab And Soil Condition
The condition of your soil is the first thing to consider in terms of the safety of your pallet racks. You should know how much your soil and slab can hold in your facility. Prepare the right flooring for your facility with a qualified engineer.
Seismic Requirements
Seismic requirements are an important factor while constructing and installing a pallet racking system for the warehouse. Generally, pallet racks with thicker and larger base plates are manufactured to meet seismic requirements.
A pallet rack made for seismic applications will be much heavier than a normal pallet rack.
Misplaced Or Misaligned Pallet Racks
Misaligned or misplaced pallet racks can cause accidents to products and workers. To prevent such accidents, follow the manufacturer's instructions while installing the pallet racks in the facility.
To know more about the safety consideration of the pallet racks, consider reading pallet racking safety.
Capacity Doesn't Mean Density
Even if your pallet racking system has great capacity, you might not have enough density per square foot. If the density isn't managed carefully, you might lose the value, the turnover, and most importantly your inventory.
Make sure the density is suited to your warehouse layout. You can lose inventory if the capacity exceeds what you think you can load in peak times.
Why It Is Necessary To Calculate The Weight Capacity Of Pallet Racking?
Pallet racking is a revolutionary piece of equipment that is a storage solution in three-dimensional warehouse facilities. Even though they are very sturdy in build, it is necessary to know the weight capacity of your pallet racks.
So, it is important to know about product diagrams and weights before ordering any pallet racking system. Without knowing the weight capacity of the racks can lead to overstocking, which will eventually lead to racking collapse.
Calculating the weight capacity of heavy-duty pallet racks is necessary as they keep your product secure and off the ground. The manufacturing companies calculate the pallet racking's weight capacity by evaluating the component's load-bearing ability.
There are several benefits you would get if you know the limits of your pallet racking system. Starting with, no damage to products and complete security of workers.
An improper pallet racking system would lead to improper management. This will eventually lead to the destruction of items stacked in the warehouse and cause accidents for its work. The necessity of calculating the weight capacity of pallet racks is as follows:
It Prevents Pallet Rack Collapse
If the weight capacity of your pallet racking system is calculated correctly there won't be any rack collapse. This is very crucial if you are a warehouse owner. You will have a better and more comprehensive understanding of your warehouse racks.
Ensuring the safety of the stored products
Calculating the correct weight capacity of the racking system of your warehouse will ensure product security. If the pallet rack's weight capacity isn't calculated and you end up overloading the racks, products may get damaged.
This will lead to massive financial damage and surely you don't want that as a warehouse owner. So, there is no alternative to measuring the weight capacity of pallet racks for ensuring product safety.
Ensuring Workers Safety
Ensuring workers' safety is another important fact you need to keep in check as an owner. If you somehow overload the pallet racks without knowing the limits, they might collapse on someone's body.
There might be a high chance of accidents of workers if the pallet racks are overloaded with products. This is why calculating and knowing the limit of pallet racks are important for the safety of the worker.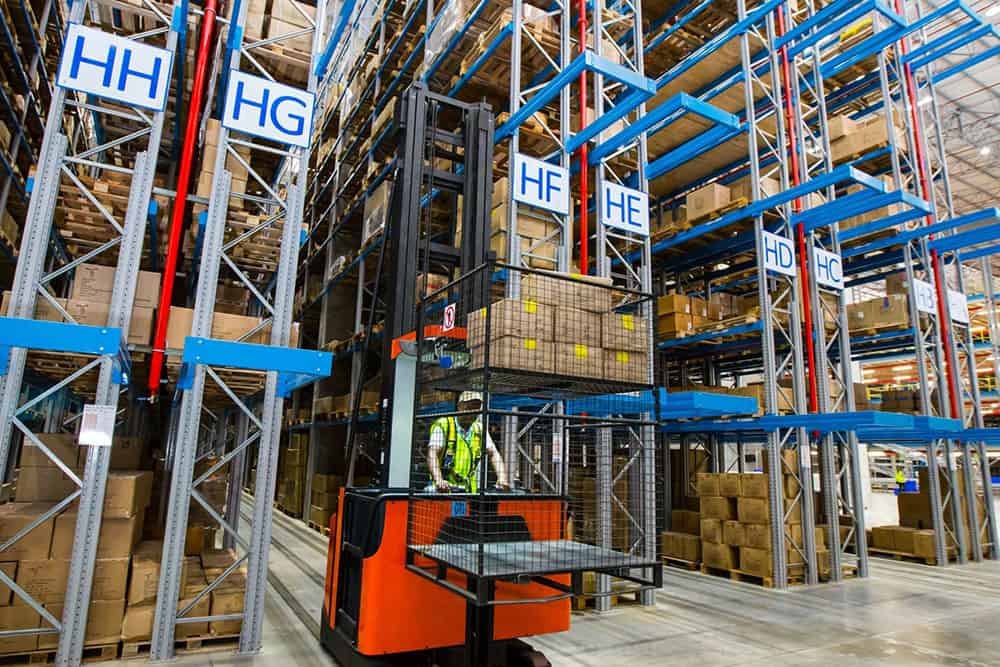 Getting Accurate Quotes From The Manufacturers
While you are purchasing pallet racks, it is important to know what products you will store. So, a warehouse consultant will help you in such cases.
The cost of pallet racks depends on the size and weight capacity. So, knowing the accurate weight capacity the manufacturers can easily calculate the price and quote for your pallet racking.
These are the reasons you should calculate the weight capacity of pallet racks.
How To Estimate The Warehouse Racking Weight Capacity?
The easiest way to find out the weight capacity of warehouse racks is to ask the pallet racking manufacturer.
To ensure the safety of pallet racks; the warehouse management should estimate the pallet racking weight capacity. Now, we will give a discussion on estimating the pallet racking weight capacity:
Find Out The Weight Taking Capacity Of Each Level
Suppose, a pallet rack has 10 pallets in it. The size of the pallet in pallet racks is similar. First, find out the weight-taking capacity on one level. For instance, suppose a pallet can take a weight of 500 kg.
Then, simply just multiply the warehouse racking weight capacity by the number of levels. So, the calculation should be like this,

Warehouse pallet racking weight capacity= Warehouse pallet racking weight capacity of one pallet*number of pallets in the racks.
So, if a pallet has a weight capacity of 500 kg and has 5 layers for 10 pallets(each layer have 2 pallets), then this warehouse racking bearing capacity is= (500*10) kg = 5000 kg
If there is a slight miscalculation in the pallet racking capacity, it may cause the rack to fall For instance, suppose, a pallet racking weight capacity is 1000 kg. Due to a miscalculation, if a weight above 1000 kg is put on it, it may break down.
The consequence of the collapse of the pallet racking may be disastrous. Read this article to find out the warehouse racking collapse.
Mracking Pallet Racking Weight Capacity Table.
Mracking is one of the best pallet-racking manufacturing companies in the entire world. They manufacture different types of pallet racks. Additionally, they also give an after-sales guarantee of 20 years. They offer inspection and installation service of the pallet racks too.
To make it easy to know for the customers, Mracking has created the following pallet racking weight capacity table.
| | |
| --- | --- |
| Pallet Racking Size/Thickness(mm) | Pallet Racking Weight Capacity(kg) |
| 2700*80*45*1.2 | 628kg |
| 2700*80*45*1.5 | 851kg |
| 2700*80*45*1.8 | 965kg |
| 2700*100*45*1.2 | 989kg |
| 2700*100*45*1.5 | 1337kg |
| 2700*100*45*1.8 | 1588kg |
| 2700*120*45*1.2 | 1521kg |
| 2700*120*45*1.5 | 2050kg |
| 2700*120*45*1.8 | 2438kg |
| 2700*140*45*1.2 | 2195kg |
| 2700*140*45*1.5 | 2950kg |
| 2700*140*45*1.8 | 3510kg |
Pallet Racking Weight Capacity Table
How to understand the table? For instance, if a pallet rack has a

– Size of 2700*80*45 mm; when its beam thickness is 1.2 mm; its weight capacity is 628 kg.
-Size of 2700*80*45 mm; when its beam thickness is 1.5 mm; its weight capacity is 851 kg.
-Size of 2700*80*45 mm; when its beam thickness is 1.8 mm; its weight capacity is 965 kg.
If you would like to know the weight capacity of more sizes of pallet rack, please contact Mracking and our engineers will calculate and produce accurate drawings for your reference free of charge.
Cantilever Racking Weight Capacity.
Cantilever racks allow longer and heavier items stored horizontally across multiple arms used as shelves. Upright cantilevers support those cantilever arms. These can be 4-6 layers high depending on your requirement. The key advantages of any cantilever racking system are,
Ideal replacement of floor stacking.
Heavy-duty storage is handled easily.
Longer and Heavier items can be stored efficiently
Customizable according to your needs.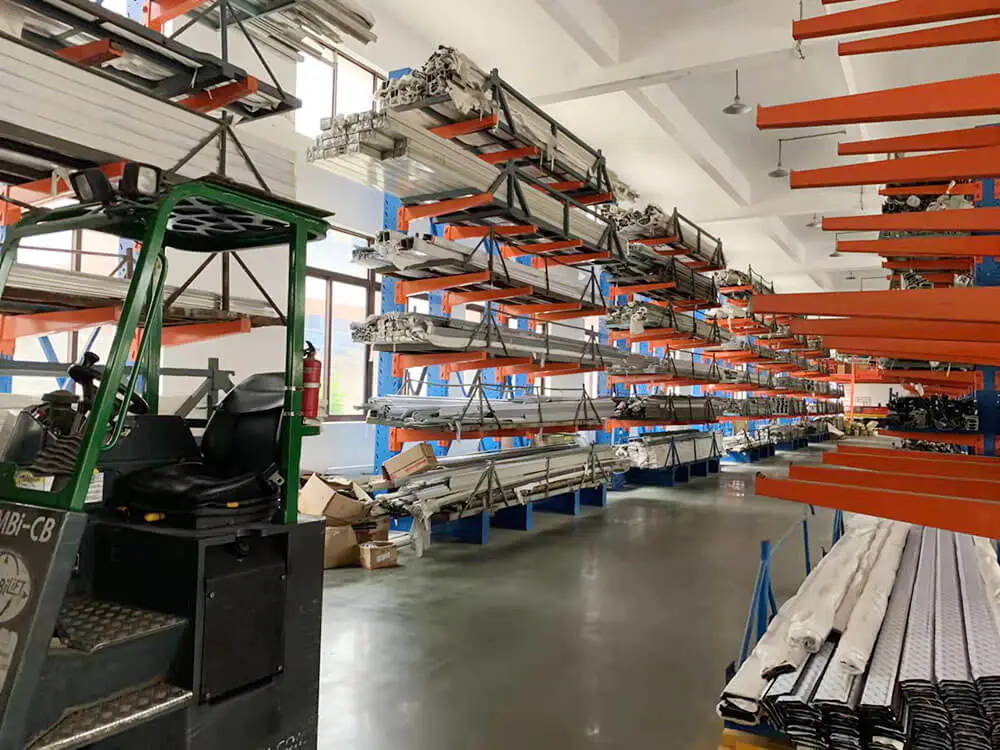 Cantilever racks don't have front columns to obstruct loads. So, these are ideal for tubes, lumber, pipe furniture, and other bulky loads. These are cost-effective racks ranging from a few hundred to several thousand as per your specifications.
Cantilever racks are easily loaded and unloaded with forklifts or stackers or even by hand. The cantilever racking weight capacity is between 500kg-1000 kg.
Mold Rack Weight Capacity.
One-way pullout shelves are present in the mold storage racks. Additionally, it incorporates a sheet base panel to make warehousing considerably easier. Heavy items are ideal for storage on mold racks, which include,
Mold racks are very easy to assemble. It is very easy to store as well as fetching too in a mold racking system. There are two types of mold racks, which include,
1. Standards Mould Rack
Standards mold rack has a weight capacity of 1000 kg at maximum.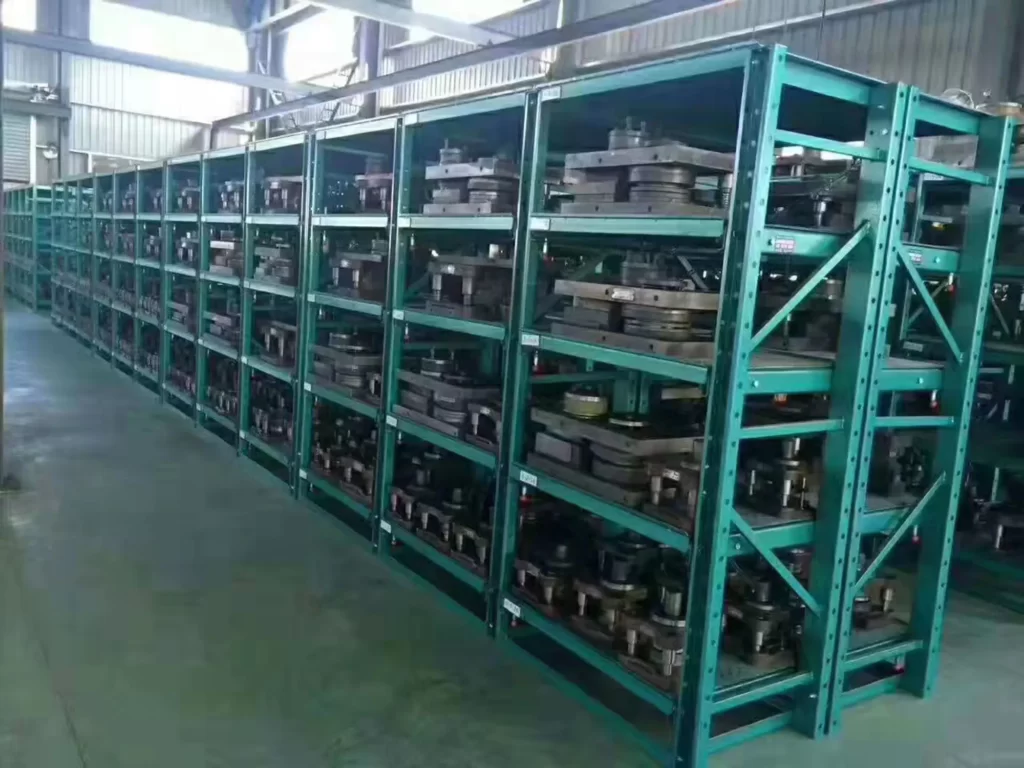 2. Customized heavy-duty mold rack
This mold rack is specially designed for holding massive weights. Customized heavy-duty mold rack has a weight-taking capacity of 1000kg-3000kg.
Boltless Racking Weight Capacity.
Boltless racks are used in industries for storage which are configured without nuts or bolts. These are easy to assemble and can be a versatile option for any kind of storage. Stability, Durability, and versatility are the key advantages of bolt-less racks.
Other advantages of boltless racks are as follows,
Allows heavy-duty storage
Fully adjustable and customizable
Ease of assembly.
There are several types of boltless racks. You can avail of one as per your need.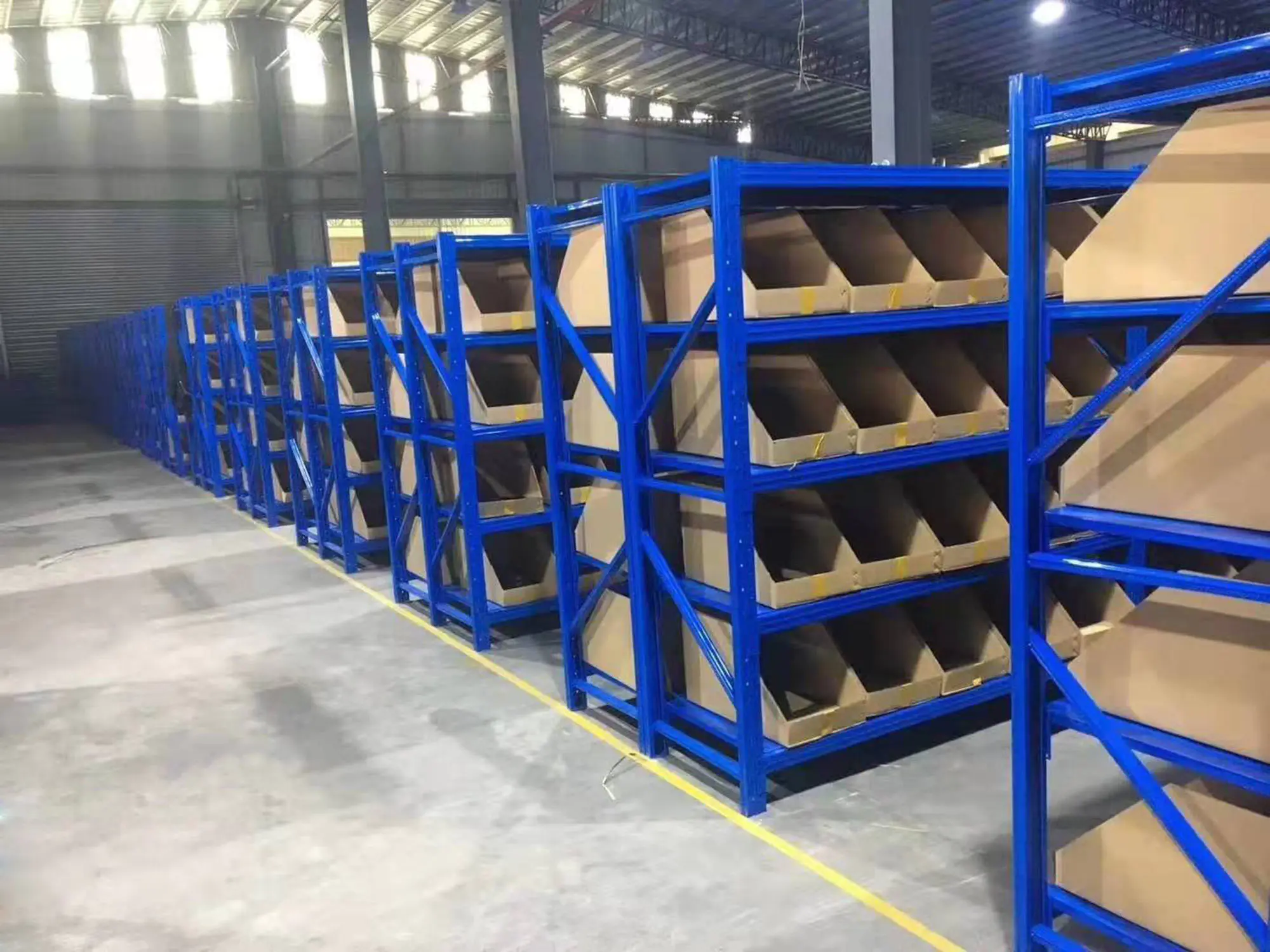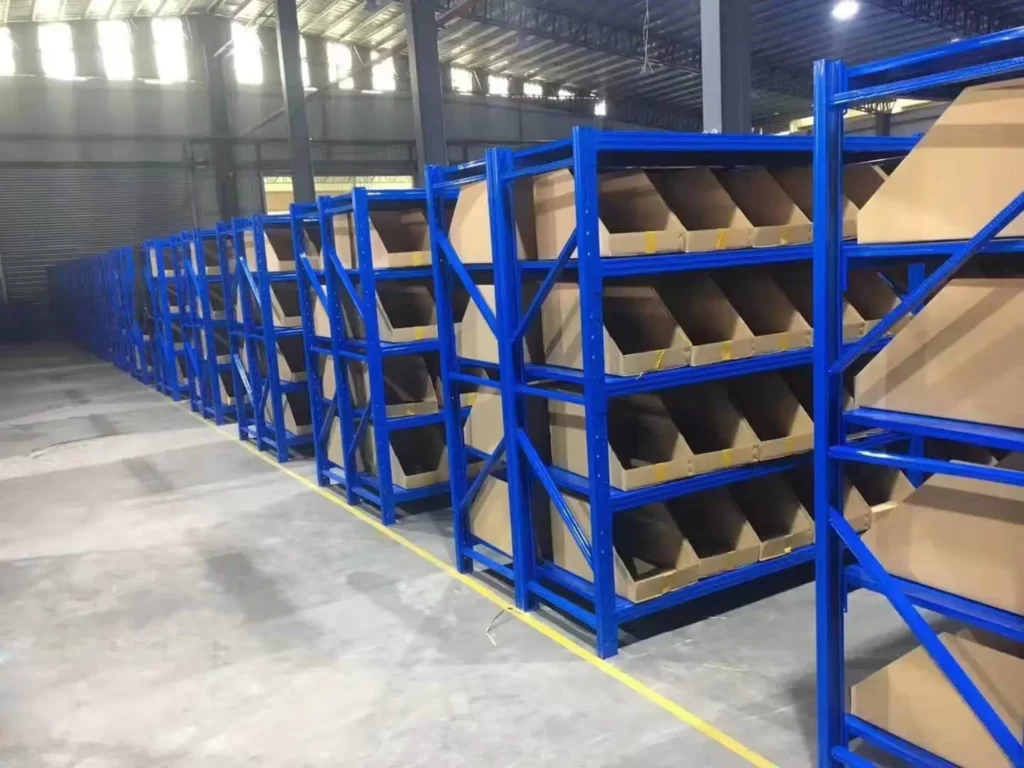 Boltless racks are used for racking any type of storage. It is mainly used in warehouses and factories. As boltless racks are fully customizable, you can easily fit them into your facility. Whether you want a light or large, you can make it to meet your needs.
From medical supplies to automotive parts, you can find the right storage solution with boltless racking. Boltless rack has a weight-taking capacity of 100kg-500kg.
This article explains in great detail the warehouse pallet racking weight capacity. Let us know if you have any questions related to the pallet racking weight capacity.