Most industries today need warehouses to store goods. Pallet racking is one of the most effective warehouse storage solutions. Today we will discuss the top 10 pallet racking manufacturers in Sydney city.

E-commerce, the automotive industry, pharmaceuticals, manufacturing, retail, etc. industry need a warehouse to store goods. Products are stored in pallet racks, as it is one of the most common and efficient methods.
Sydney city is also the capital of the New South States of Australia. According to the 2021 census, the greater Sydney area has a population of 5,231,150.
To meet the demand of this larger population, it is obvious that many warehouse-racking companies will expand their operation in Sydney. Today we will discuss the following things in this article:
Top 10 Pallet Racking Manufacturers In Sydney.
The top pallet-racking companies based in Sydney are as follows:
Dexion Pallet Racking
BHD Storage Solutions
Steelcore Australia
MACRACK pallet racking & storage solutions
Colby Storage Solutions
APC Storage Solutions
Premier Pallet Racking
Global Industrial
Apex Racking
Sydney Pallet Racking
Dexion Pallet Racking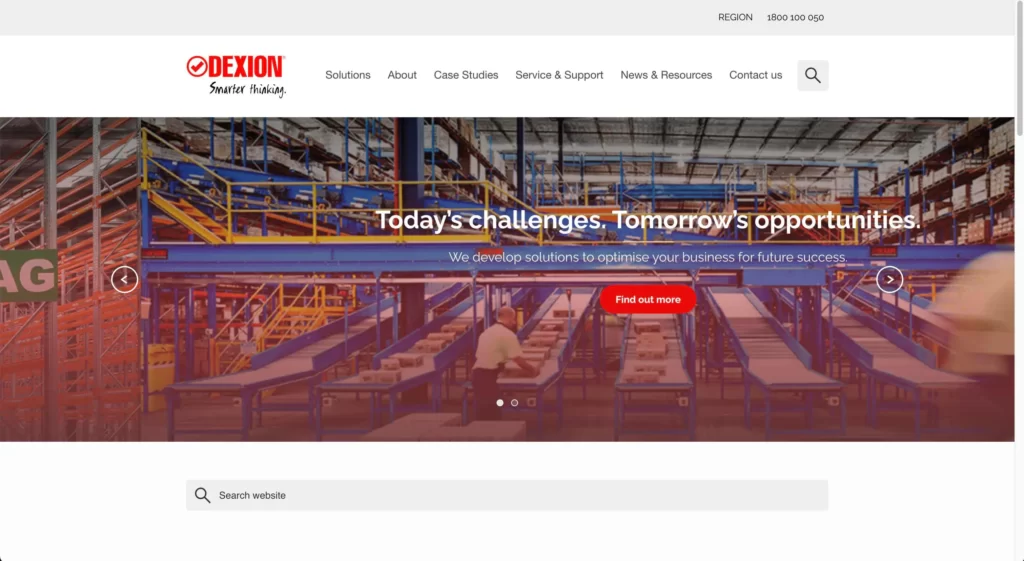 Dexion is a global company that provides a range of storage and materials handling solutions for businesses. The company has been in operation for over 70 years. Dexion has a strong presence in Australia and has been operating in the country for over 50 years.
Dexion has a head office and manufacturing facility located in Sydney. This facility serves as the company's main operations center for New South Wales and the Australian Capital Territory.
Dexion Australia offers a wide range of storage solutions, including shelving, pallet racking, and mezzanine floors. They also provide materials handling equipment such as conveyors and pallet trucks. They are the full package company for pallet racking and warehouse storage.
One of the key features of Dexion's products is their versatility. Their storage solutions can be customized to fit a variety of applications.
Their materials handling equipment can be adapted to meet the specific needs of different industries. That is why Dexion pallet racking Sydney is a popular choice.
Dexion is known for providing high-quality installation and maintenance services for its storage and materials handling solutions. They also offer ongoing maintenance services to ensure that their solutions continue to operate efficiently.
Dexion's installation and maintenance services are designed to have the least negative impact on clients' operations as feasible. Their set-up is meticulously planned out and carried out. They ensure everything is finished as fast and effectively as possible while maintaining quality and safety.
Some of the industries Dexion has worked with are food and beverage, automotive, retail, and logistics. These are just a few examples of industries that Dexion has helped. You can find more detailed information about their services and pricing on their website.
BHD Storage Solutions
BHD Storage Solutions is a company based in Sydney, Australia. They have built a strong reputation for providing high-quality warehouse storage solutions and excellent customer service.
BHD storage solutions specialize in designing, supplying, and installing storage solutions for a wide range of industries. They offer a variety of storage systems.
BHD Storage Solutions include services that include a comprehensive consultation process. They work with clients to determine their unique storage needs and provide customized solutions.
They use the latest technology and equipment to ensure that their storage systems are installed safely and efficiently.
The company works on big projects with heavy-duty industries ranging from small industries. They pride themselves on providing customized storage solutions that meet the unique needs of each client.
If a client needs to relocate their pallet racking system, BHD Storage Solutions can assist with the process. They can disassemble and reassemble the system at the new location, ensuring that it is installed safely and securely.
They offer a range of accessories to enhance the functionality of the racking. They can inspect and repair damaged or worn components. BHD also provides preventative maintenance to avoid future issues.
Pallet racking audits may be performed by BHD Storage Solutions. They evaluate their safety and adherence to pertinent norms and laws. They might provide suggestions for modifications or changes to make sure the system is reliable and secure.
The cost of each project depends on various factors. The price varies depending on the project's size, the kind of storage system used, and any other services necessary. Find out more by contacting them on their website
Steelcore Australia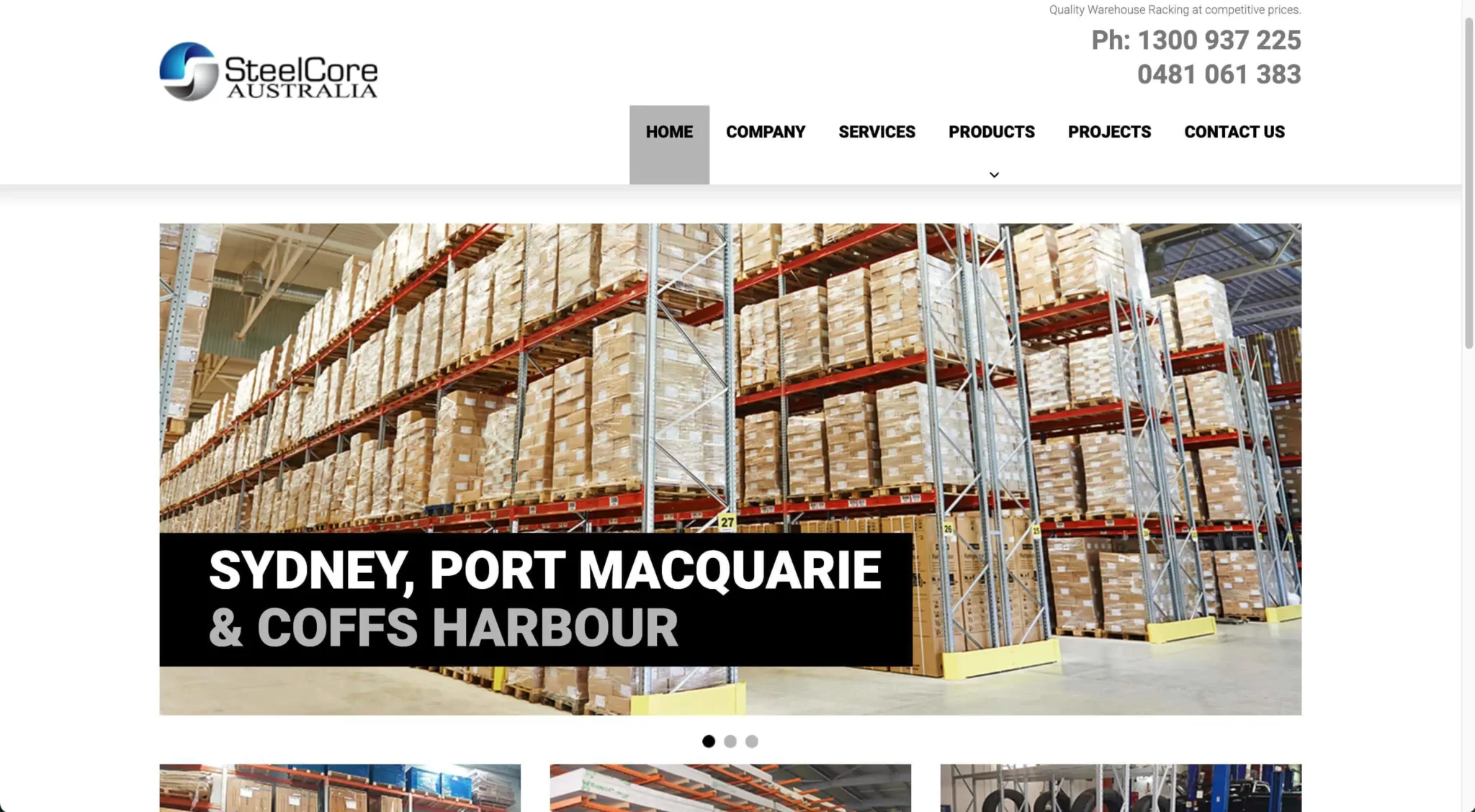 Steelcore Australia is an Australian-owned company. They specialize in the design, supply, and installation of high-quality pallet racking, industrial shelving, and mezzanine floors.
They provide a wide selection of pallet racking. Steelcore Australia offers specialized storage solutions to meet certain needs.
Steelcore's services are designed to provide clients with complete industrial storage and handling solutions. They also provide repairs and maintenance services for their products.
Steelcore also offers maintenance contracts. They ensure that their products are kept in top condition and continue to function efficiently over the long term. The business employs a group of skilled installers that complete their task swiftly and effectively.
The company prides itself on providing cost-effective and efficient storage solutions. Their work maximizes warehouse space, increases productivity, and improves safety. Steelcore Australia adheres to strict Australian Standards and offers a comprehensive range of safety accessories.
Steelcore has its own manufacturing facilities where it produces a range of industrial storage and handling solutions.
They manufacture pallet racking systems, cantilever racking systems, and mezzanine floors. The company uses high-quality materials and state-of-the-art manufacturing techniques.
Industries served by Steelcore Australia include manufacturing, shipping, distribution, and storage. Well-known Australian businesses including Woolworths, Coca-Cola, and Bunnings Warehouse are among its clientele.
In addition to its commitment to quality and customer service, Steelcore is also dedicated to sustainability. The company uses eco-friendly manufacturing processes and materials. They have implemented sustainable practices across their operations.
When it comes to cost, Steelcore provides reasonable rates. They are customized to match the demands of each specific client. They collaborate with clients to create a solution that meets each project's unique requirements. They recognize that every project is different.
Their pallet handling systems are designed to improve productivity while reducing the risk of injury in the workplace.
The company's commitment to quality is evident in the materials they use for its products. Steelcore Australia uses only high-quality materials in the manufacture of its products. You can find out more and contact them on their website.
MACRACK Pallet Racking & Storage Solutions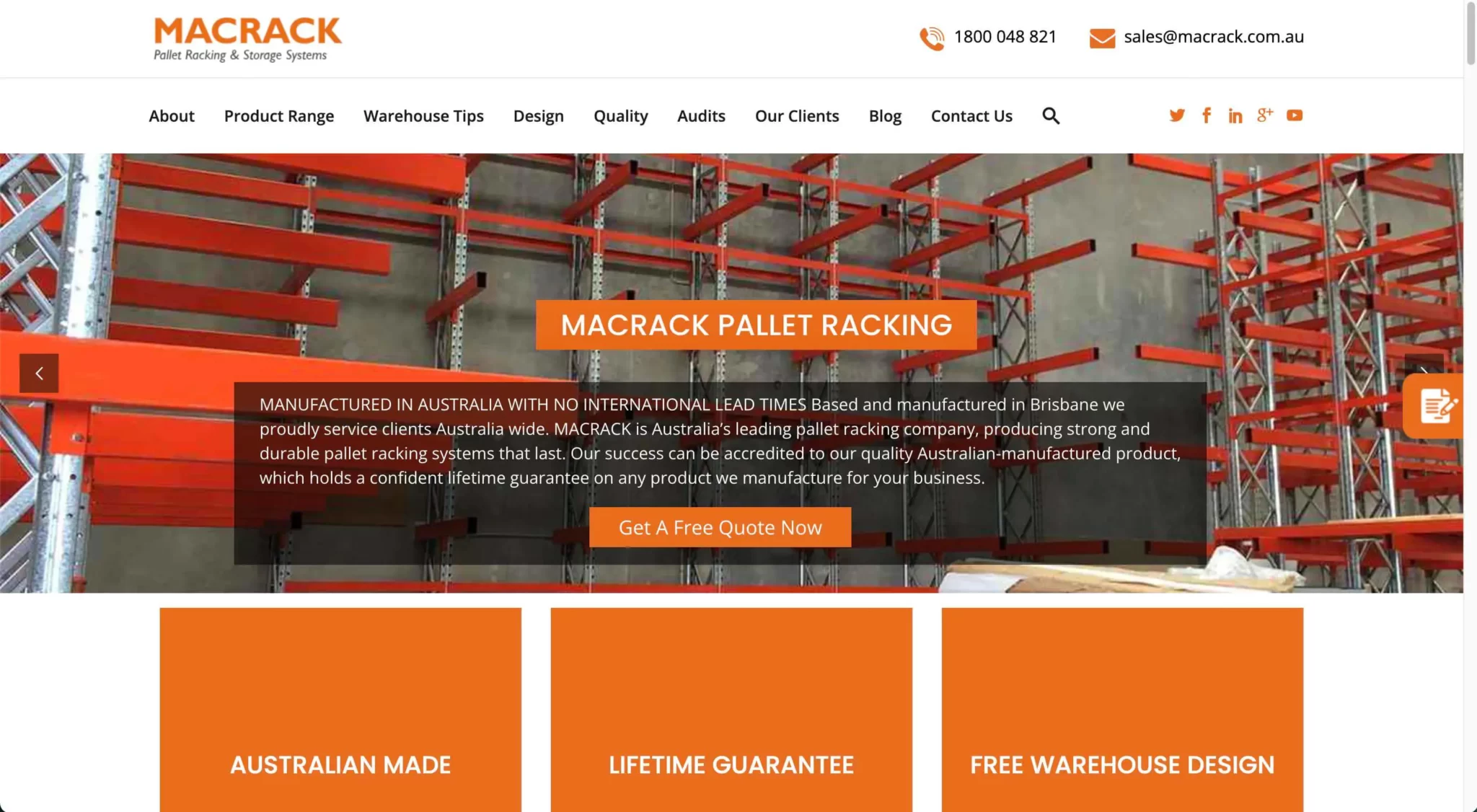 MACRACK is a company that specializes in the design, supply, and installation of pallet racking and storage solutions. With over 35 years of experience in the industry, MACRACK has become one of the leading suppliers.
The company has a team of experienced professionals based in Sydney who can provide a range of services. In addition to its product range and services, MACRACK has a strong commitment to customer satisfaction.
They positively say they can provide a lifetime guarantee of their products. They offer customized, well-fitted designs that are fully certified. Their team can work with clients to design a custom storage solution that meets their specific requirements.
MACRACK adheres to the Sydney warehouse racking systems rules and regulations. They can provide installation services to ensure that the pallet racking system is installed safely and efficiently.
Because the business manufactures its entire product line in Australia, it can provide quick service.
They provide free warehouse design assistance and give you recommendations for the finest storage options. Their Sydney team is available to answer any questions or concerns that clients may have.
The company works closely with clients to ensure that their storage solutions are tailored to their specific needs.
If you are looking for cheap pallet-racking Sydney options, then MACRACK offers competitive pricing. They provide warehouse solutions and many other different types of racking and design solutions. You can check them out on their website.
Colby Storage Solutions
Colby Storage Solutions operates in Sydney as well as other major cities in Australia. They offer a wide range of products and services. These include selective pallet racking, double-deep pallet racking, drive-in pallet racking, and pallet flow racking.
The company has a strong commitment to quality and safety. They use high-quality materials and components to ensure the durability and reliability of their products. They also offer a range of safety accessories to ensure the safety of workers and equipment in the warehouse.
The staff at Colby Storage Solutions is knowledgeable individuals too. Their staff collaborates with customers to create a unique storage solution. They also offer installation services to ensure that the pallet racking system is installed safely and efficiently
The company offers ongoing support and maintenance services to help clients keep their pallet racking systems in optimal condition.
They also provide warehouse employees with training sessions. This is to guarantee that they can successfully and safely operate the pallet racking system.
Colby Storage Solutions takes safety very seriously. They have established strict safety standards for all of their products and services. Colby pallet racking Sydney complies with Australian safety standards.
If you're interested in obtaining pricing information from Colby Storage Solutions, it's best to contact them directly. You can check out their catalog and pricing information on their website.
APC Storage Solutions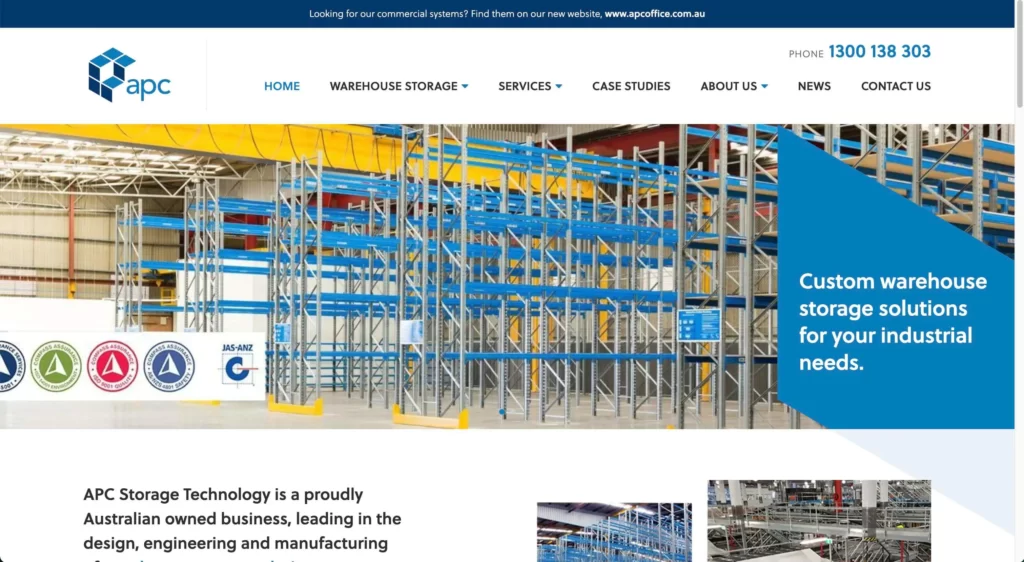 Pallet racking solutions from APC Group are made to increase warehouse productivity and space usage. The caliber of their goods and designs demonstrates the engineering and industrial roots of their organization.
Their services in Sydney include the design, installation, and maintenance of pallet racking systems.
They also handle warehouse shelving, mezzanine floors, and other storage and material-handling equipment. Their team of technicians and engineers in Sydney are highly trained and experienced
APC Storage Solutions offers a thorough approach to its customers. A consultation and site inspection are the first steps they take. A design proposal that includes a layout drawing is then offered.
They deal with companies of various sizes, from little startups to enormous corporations. From advice and design through installation and maintenance, they provide a variety of services.
They are committed to minimizing their impact on the environment and promoting sustainable practices. They work to ensure that their products and services meet environmental standards and strive to reduce waste. Their work helps minimize energy consumption and promote responsible resource management.
APC Storage Solutions provides services to a range of industries. They have designed for logistics, warehousing, manufacturing, pharmaceuticals, automotive, and retail industries. To know more about them, visit their website.
Premier Pallet Racking
Premier Racking and Shelving is a company based in Sydney. Premier Racking and Shelving offers a range of services, including site surveys, design, layout, and project management. They also handle installation, and ongoing maintenance and repair services.
They have contracts with various large corporations. The company also has worked for multi-million dollar businesses, and they have experienced staff. They help meet the specific needs of their clients on storage solutions.
The business specializes in project management carried out by qualified project managers. They promote a culture of safety throughout the company. Every applicable Australian safety standard and legislation is complied with by Premier Racking and Shelving.
Premier Racking and Shelving has grown as a reputable and reliable provider of storage solutions in Sydney. They have a focus on quality products, personalized service, competitive pricing, and safety.
The company offers competitive pricing and quick turnaround times for its services. You can contact them on their website.
Global Industrial
Global Industrial is a leading provider of storage and material handling solutions in Sydney. Global Industrial offers a wide range of storage solutions to meet the needs of any business. They take pride in their commitment to providing exceptional customer service.
Their skilled team of experts is committed to providing high-quality goods and services on schedule and within budget.
The wide variety of items offered by Global Industrial is one of the company's main benefits. Their goods are built to last and are therefore perfect for usage in a range of sectors.
Their team of professionals is committed to delivering top-notch work and customer service. They make sure that every job is finished to the highest standards.
They use only the highest-quality materials and manufacturing processes to ensure that their products are built to last.
Global Industrial is dedicated to sustainability as well. They strive to eliminate waste and its negative environmental effects because they support wise resource management.
Their goods are made with sustainability and energy efficiency in mind. This aids customers in lowering their carbon footprint.
They have extensive experience in storage system compliance and can provide advice on meeting relevant Australian standards and regulations.
Consumers may get a price by calling the company's Sydney office directly or using the online contact form. Check them out on their website.
Apex Racking
Apex Racking is a premier provider of storage solutions for businesses of all sizes in Australia. The company is known for its quality products, exceptional customer service, and competitive pricing. The company only sources its products from trusted manufacturers and suppliers
In addition to quality products, Apex Racking is also known for its exceptional customer service. Their team of experts is available to help customers every step of the way. They are with you from choosing the right storage solution to installation and ongoing maintenance.
A variety of configurations are available for the Apex Pallet Racking System. They provide choices for high-density and low-density storage needs, including selected double-deep racking, and drive-in racking.
Apex Pallet Racking System is an excellent choice for businesses looking to maximize their storage capacity. Their designs provide more accessibility. You can check them out on their website.
Sydney Pallet Racking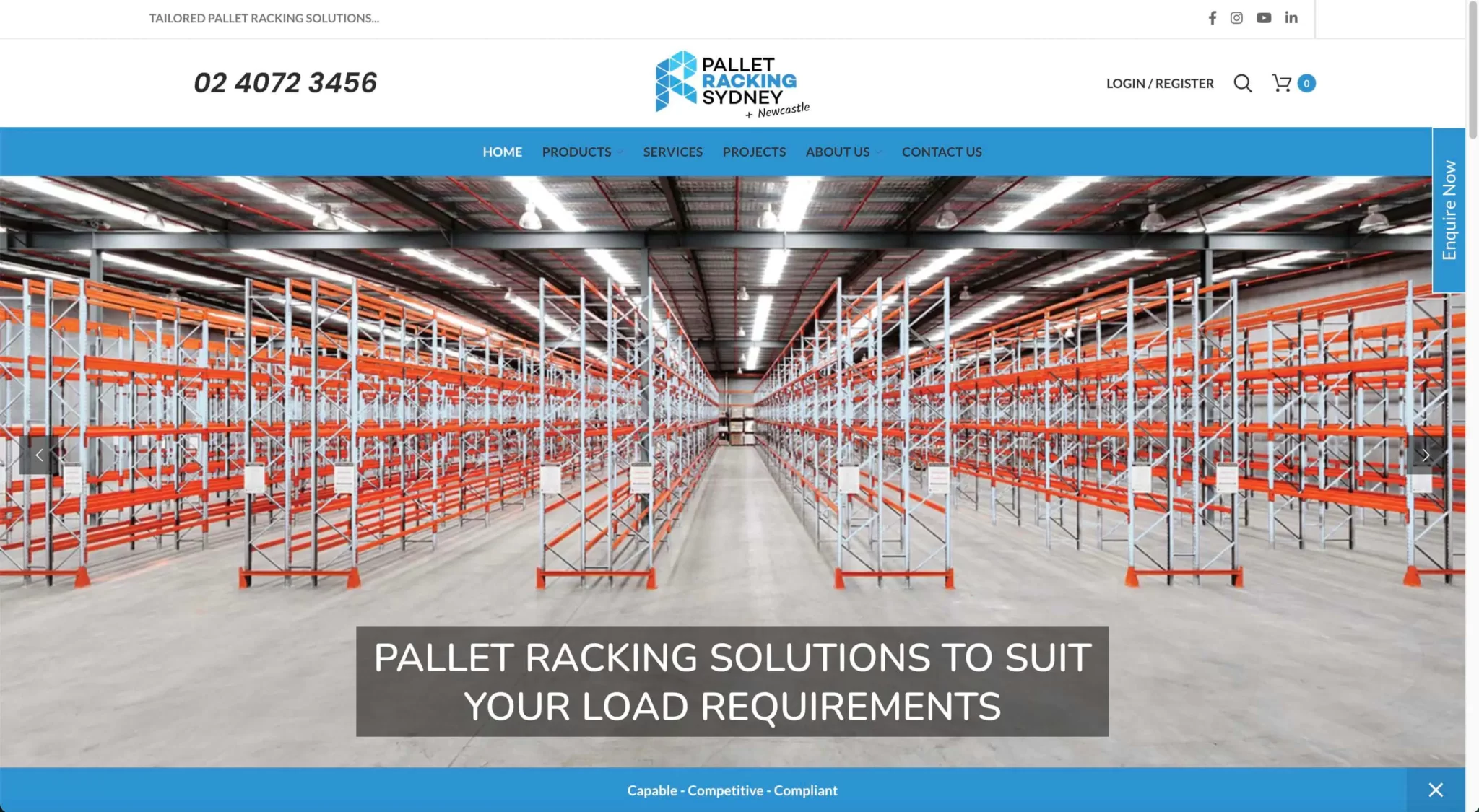 Sydney Pallet Racking offers a range of pallet racking and storage solutions for businesses in Sydney and surrounding areas. Pallet racking solutions customized to each client's specific requirements are their area of expertise.
Pallet Racking Sydney's wide choice of services is one of its main advantages. The selected pallet racking is their best-selling warehouse racking item in Sydney. The company's team of experts is highly trained and experienced in all aspects of pallet racking.
Their services include warehouse layout design, pallet racking supply and installation, and pallet racking inspection and repair.
They also offer regular safety inspections and maintenance services. One of the key features of Pallet Racking Sydney is its commitment to safety.
The company has experienced auditors to check on the efficiency of your system. They offer rack inspection services to clients all around Australia, ranging from modest firms to renowned multi-site organizations.
The company offers a range of safety products that can be used to enhance the safety of your warehouse. These include safety barriers, bollards, and safety gates.
They are a reliable and professional provider of pallet racking solutions and services. Check out Sydney Pallet Racking on their website for more information.
How To Buy Cheap Pallet Racking In Sydney.
There are several ways through which you can buy cheap warehouse racking in Sydney. Some of these ways are described below:
Buying Pallet Racking Types That Are Cheaper
We know there are several different pallet racking types available in the marketplace. For instance, if you have a limited budget, you should buy a selective pallet racking.
Because, among the different types of pallet racking costs, selective pallet racking is the cheapest. However, this idea is not suitable in many cases.
For instance, some warehouses may need FIFO OR LIFO, etc systems based on their needs. In this case, buying selective pallet racks will not effectively solve their storage needs.
Buying Used Pallet Racking
Obviously, from a newly built pallet racking system, a used pallet rack will be less expensive. However, used pallet racks may not be available all the time. So, you may not find used pallet racks when you may need them.
Also, the condition of the used pallet racks needs to be properly inquired into. Our suggestion is not to buy used pallet racks unless you have taken guidance from a pallet racking expert.
Buying Warehouse Racks From China
China has a lot of advantages over its competitors. Like it can produce large volumes of pallet racks due to its huge internal demands for pallet racks.
Additionally, the labor cost in China is also cheaper than in most other European nations. As a result, due to the huge production of pallet racks, and lower labor costs; Chinese companies can bring down the pallet racking manufacturing cost.
So, buying a pallet rack from China can save you a lot of money. Among the ways to buy cheap pallet racking in Sydney, buying from China is the smartest decision. There are lots of Chinese companies that sell pallet racks in Sydney.
Mracking is one of the most famous Chinese companies with a great reputation for building quality pallet racks. We will know more about this amazing Chinese company Mracking in the next section.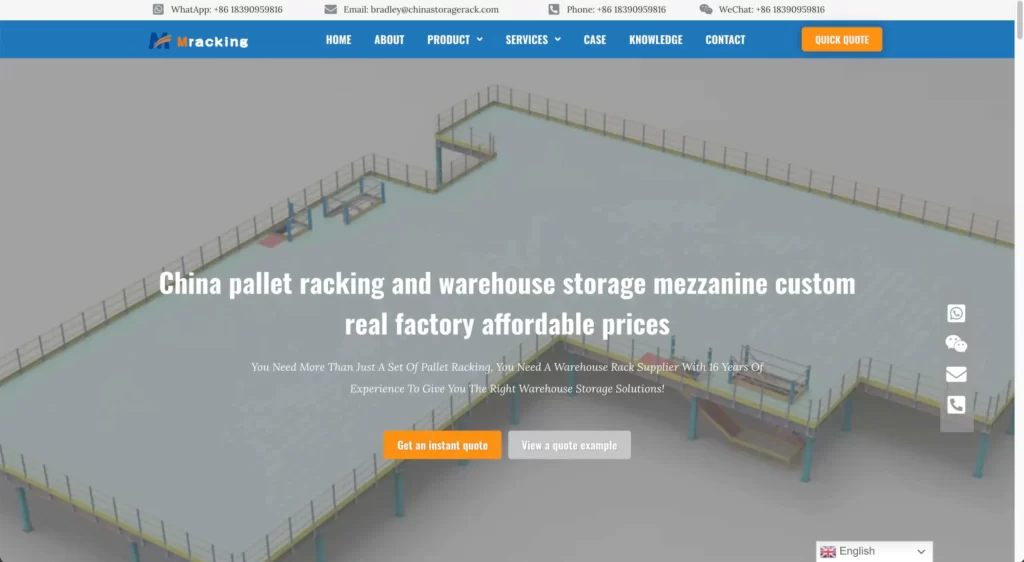 Mracking Sells Pallet Racking In Sydney.
Mracking is one of the best pallet-racking manufacturer companies in China. Their factory is located in Guandong, China that has a massive area of 20,000+ sqm.

They are well known for their robust construction of various pallet racking; which includes
Double Deep Racking System
Selective Pallet Racking System
Drive-In Racking System
Products of Mracking
Apart from that, Mracking also offers the construction of the mezzanine floor. A mezzanine floor is another famous warehouse storage solution.
You can order various types of mezzanine floors like rack-supported mezzanine floors, and structural steel mezzanine floors from Mracking.
Mracking also sells wire containers, wire mesh decking, roll containers, etc.
Shipping
No matter where your warehouse is located in Sydney or anywhere else in the world, Mracking can send you the pallet racks to your doorstep through shipping.
Mracking's Installation Service and Inspection Service
For some warehouse owners, it may be difficult to install pallet racks or mezzanine floors. Don't worry! Mracking also offers installation services.
Inspection is necessary once in a while to ensure the safety of pallet racks. Mracking also offers pallet racking inspection for the warehouse owners that ensures the safety of warehouse racks.
Mracking Warranty of 20 Years!
Mracking is super confident in the product they sell. That is why they offer a warranty of 20 years for all the products they sell. This means that if any harm happens to the pallet racks that are not caused by human error, they provide free replacement.
Mracking also offers affordable prices to customers. You can contact Mracking to get an instant quote about the pallet racking cost.
Summary of The Top 3 Warehouse Racking Companies in Sydney.
The choice depends on your business' circumstances and needs. However, based on the information, here is the ranking of the top 3 best companies:
Dexion
BHD Storage Solutions
Steelcore Australia
Pallet racking systems are one of the storage solutions that Dexion, a reputable business, specializes in. Dexion collaborates with some of the most renowned businesses in the world to offer integrated solutions. Their supply systems have been improved by this.
BHD Storage Solutions has a 20-year reputation in the storage sector for providing the best. They provide Australia's top-notch cantilever racking. Unquestionably, BHD Storage Solutions is a reputable and trustworthy pallet-racking business in Sydney.
Steelcore is up there with the top pallet racking company because of its versatility. There are several pallet racking solutions available from SteelCore. They provide exceptional customer service and more personalized items. Their assistance continues after installation; you can also get maintenance services from them.
Overall, pallet racking companies specialize in designing and installing warehouse storage racking. They have the knowledge and experience to create a layout that maximizes storage capacity.
Pallet racking companies can create a storage solution that is customized to your specific needs.
So, these are the top 10 pallet racking manufacturers in Sydney. And, if you want pallet racking at an affordable price with high quality, contact Mracking.