Melbourne is the second most populous city in Australia. It has a huge population of 4,917,750 and a total area of 9,993 sq. km. This beautiful city has lots of business activities going on every day. Today we will discuss in detail the pallet racking manufacturers in Melbourne.
Pallet racking is a crucial part of many industrial enterprises. Businesses that need warehouses, logistics, and manufacturing need systems like pallet racking to be more efficient and maximize space.
There are several benefits to a pallet racking system that helps businesses be steps ahead. Today we will discuss the following things about Pallet Racking manufacturers in Melbourne.
Top 10 Pallet Racking Companies In Melbourne.
The top businesses require the best pallet racking system. Pallet racking companies are professionals that help you install and maintain this system. Here are the top 10 pallet racking companies that work in Melbourne:
Colby Storage Solutions
Dexion
Absolute Storage Systems
Unirack
Ready Rack
Global Industrial
Erect A Rack
Storemax
BHD Storage Solutions
APC Storage Solutions
Colby Storage Solutions
One of Melbourne's biggest and most well-known pallet-racking providers is Colby Storage Solutions. Colby storage solution offers companies of all sizes high-quality, dependable, and effective pallet racking solutions.
They have been in business for more than 50 years, offering firms cutting-edge, secure commercial warehouse storage systems. Here are some of the things Colby storage solutions offers you:
They provide a variety of pallet racking systems, such as push-back pallet racking, drive-in pallet racking, double-deep pallet racking, and selective pallet racking.
They provide cutting-edge design and implementation abilities.
They have Superior quality, robust storage equipment.
They provide certification software to guarantee adherence, safety, and honesty.
In terms of shipping, installation, and backup services, they may be trusted.
In Australia, they have built an adaptable network of independent distributors. This network includes authorized dealers and distributors who provide local support and assistance to clients.
Pallet racking and shelving solutions are delivered to customers by Colby Storage Solutions in a prompt and competent way.
They are prominent in their work of delivery, installation, and maintenance of pallet racking systems. Their experienced professionals work closely with each client to tend to their unique storage solution needs.
Colby Storage Solutions also offers a wide range of complementary products. Some of these products are packing benches, pallet trucks, bins, totes, carts, and pallet or package conveyors. You can learn more about their pricing and services on their website.
Dexion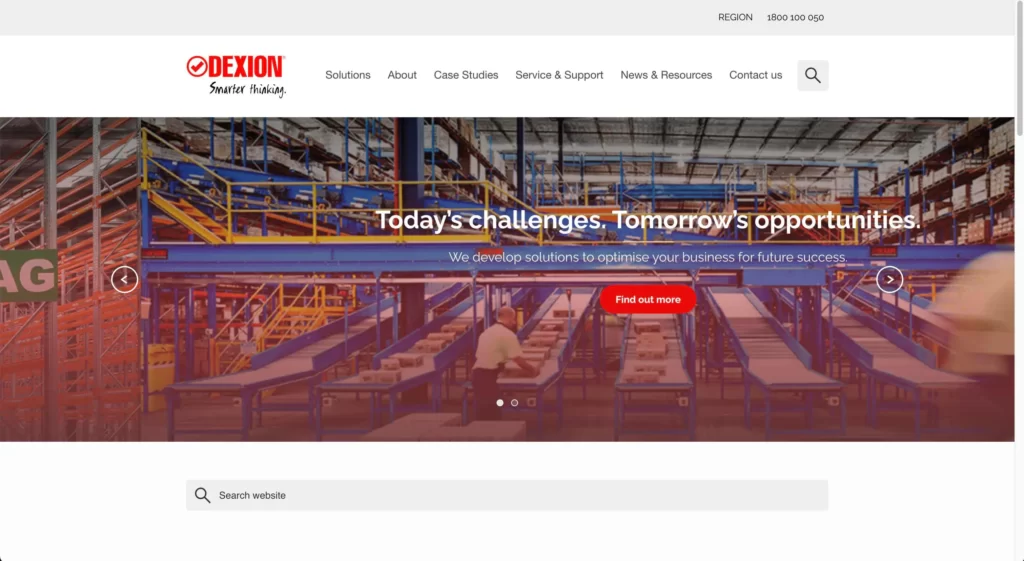 Leading businesses both locally and internationally rely on Dexion. They have more than 80 years of experience in storage and logistics. Melbourne's top supplier of industrial shelving and storage solutions is Dexion. The link to their Australian website is here.
Their engineering solutions promote better reasoning and safer procedures. The company is always looking into new materials, technologies, and procedures. They may be utilized to raise the storage system's effectiveness, effectiveness, and safety.
Some of the things you will get choosing Dexion are:
Dexion can offer specialized solutions that cater to the particular requirements of each client.
Excellent customer service is a priority for Dexion. Each customer receives careful attention from the company's staff of knowledgeable employees.
The highest quality standards are followed in the production of Dexion's goods.
Dexion offers a wide range of storage solutions. Pallet racking, shelving, mezzanine floors, and automated storage and retrieval system are in their catalog.
Dexion has helped a wide range of industries with their storage and shelving needs. They have storage solutions for e-commerce, clothing, automotive, healthcare, museum, documents, and many other industries.
Their installation process involved advanced tools. They will assess the site and provide you with the best solution.
They can install without having effects on your ongoing operations too. They also provide repair and maintenance services to ensure everything is running smoothly.
Absolute Storage Systems
Absolute Storage Systems was formed in 1991 and it had rapid growth. It quickly became one of the best outlets for storage solutions. The company is committed to quality, they only use high-end materials to make safe and quality products.
Working with Absolute Storage Solutions has several benefits, including the company's industry knowledge. The team at Absolute Storage Solutions has years of experience designing and implementing storage solutions.
They are aware of the particular difficulties that businesses have with storage. They can offer specialized solutions that are tailored to their particular requirements. Here are some of the advantages of choosing Absolute Storage Solutions:
Absolute Storage Systems aims to give the finest service possible to local industry and commerce. Their focus on customer service is prominent. They take the time to understand each client's specific needs and goals.
They offer competitive prices because of their position in the industry and their purchasing power. It results in competitive prices for their products.
Pallet racking options come in a variety at Absolute Storage Solutions. They make pallet racking that is strong, secure, and effective.
There are additional benefits this company offers. Likewise, they do free site surveys, installation, maintenance, and much more. Check them out for more information on their website.
Unirack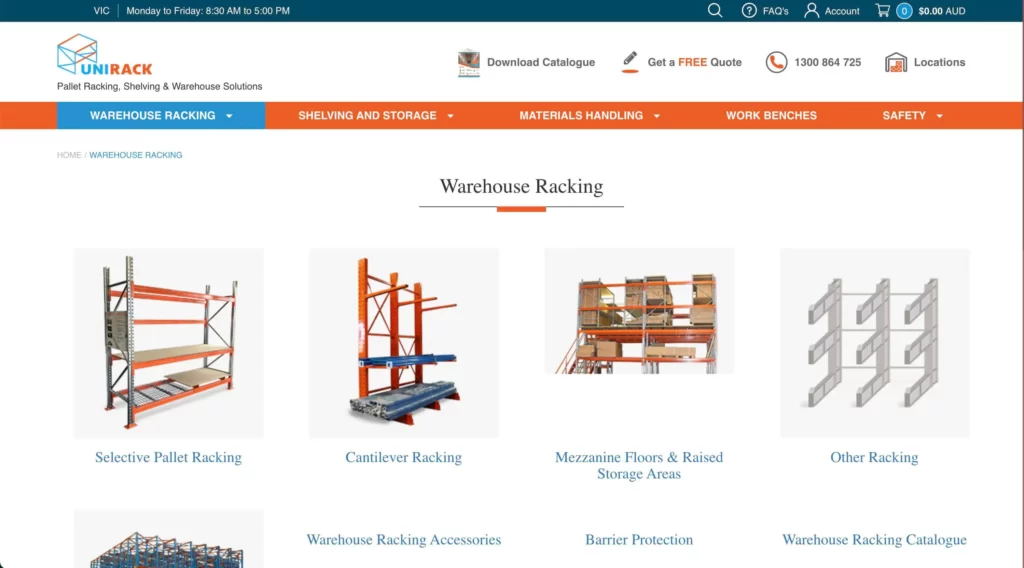 Unirack is a leading supplier of innovative and customizable pallet-racking solutions in Melbourne. With a focus on efficiency, durability, and safety, they provide a range of pallet racking. They also offer other handling materials.
Unirack Melbourne has the expertise and experience to help you achieve your goals. These are some things they offer in your business:
Their storage options may be tailored to each company's particular requirements in terms of height, depth, and load capacity.
Their pallet racking systems are designed to maximize your available storage space. This can help lower your costs, and increase your storage capacity.
Locking pins, safety clips, and beam connections are just a few of the features included in the design of Unirack's racking systems. They make sure that your products are stored safely and that your employees are safeguarded from mishaps.
With Unirack your businesses can have peace of mind. You'll know that your storage and operational needs are being met with the highest level of professionalism and excellence. Check them out on their website here.
ReadyRack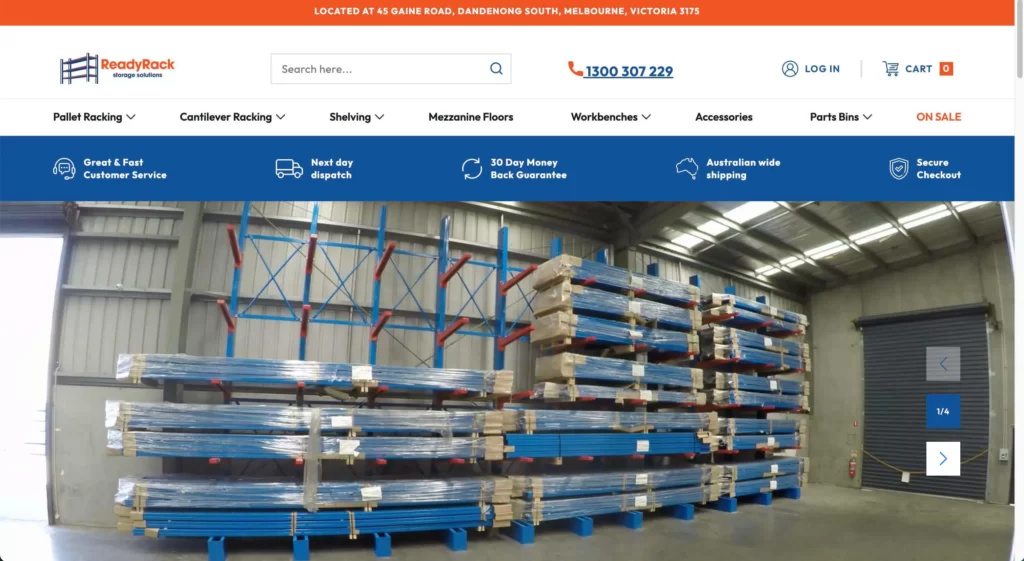 Ready Rack has a commitment to meeting the storage needs of businesses of all sizes and industries. It established itself as a reliable and trusted partner for businesses looking to optimize their storage space.
Pallet racking systems are one of Ready Rack's main products. Pallet racking solutions from Ready Rack is constructed from premium steel and are designed to support big loads. They regard the storage system's dependability and safety.
Some of the services Ready Rack offers to your business are:
They provide installation and maintenance services to ensure that their storage solutions are installed and maintained correctly.
They are committed to reducing their environmental impact and offer a range of sustainable storage solutions. This can help reduce your carbon footprint in the industry and give your business a good name.
Check them out on their official website for more information on their pricing and policies.
Global Industrial
Global Industrial has been in the industry for quite some time and with their expertise, they are a respected company. They offer a wide range of products, from pallet racking and shelving to safety equipment, tools, and machinery.
One of the standout features of Global Industrial is the workmanship of its products. They only source products from reputable manufacturers, ensuring that their customers receive products that are built to last.
Their products go through rigorous testing so that they may exceed industry standards.
The advantages your business will acquire if you choose Global Industrial are:
Global Industrial products are very customizable, which means they can be fitted into your business. This ensures that businesses can maximize their storage space and improve efficiency in their operations.
The knowledge of safety and compliance that Global Industrial possesses is another benefit of doing business with them. They have a group of qualified experts that are familiar with Melbourne's safety laws and compliance requirements.
Global Industrial also offers ongoing maintenance and repair services for its storage solutions. Clients receive excellent customer service.
By choosing Global Industrial, your business can improve its storage capabilities and increase efficiency in its operations. Check out their competitive pricing and policies on their website.
Erect A Rack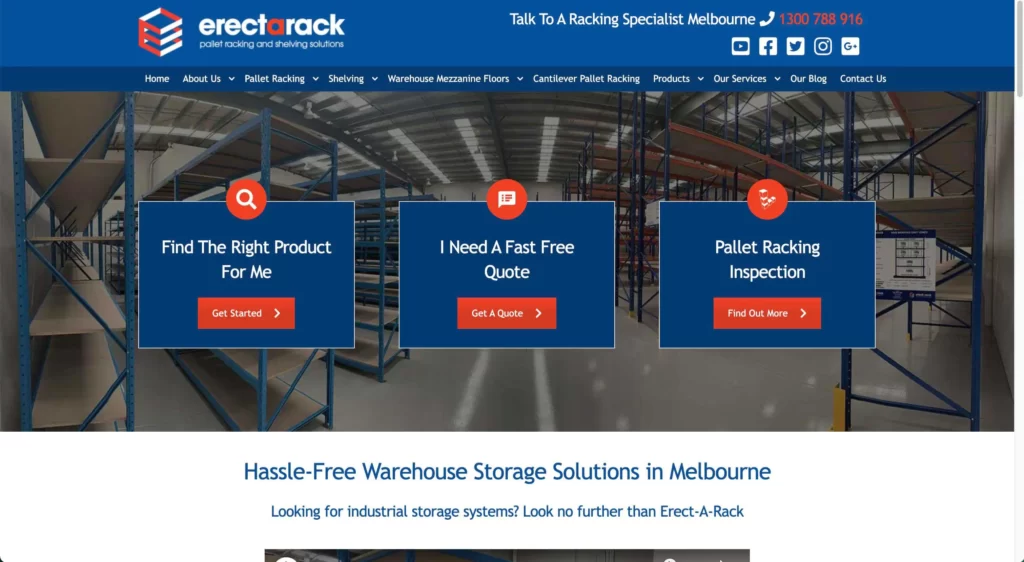 The motivation behind Erect A Rack is to assist people and businesses in finding storage solutions. Additionally, they are steadfast in their dedication to teaching individuals about the finest storage options accessible.
The organization has a track record of providing businesses in numerous sectors with high-quality storage solutions. Every form of the storage system is well-versed in by their sales and installation staff.
In addition to consulting, design, installation, and continuing maintenance and repairs, they provide a wide range of services. Additionally, they take extra effort to instruct their customers on safe system usage.
Some of the accessories they also offer to your pallet racking system to increase functionality are:
Rack protection
Pallet support bars
Mesh decking
They have worked with clients in the automotive, logistics, retail, and manufacturing sectors, among others. Their solutions are designed to meet the unique storage needs of each industry and provide long-term value to their clients.
They are a reliable and experienced provider of warehouse storage solutions in Melbourne. Erect A Rack provides a lot more to your business than storage solutions. Check their website to contact them.
Storemax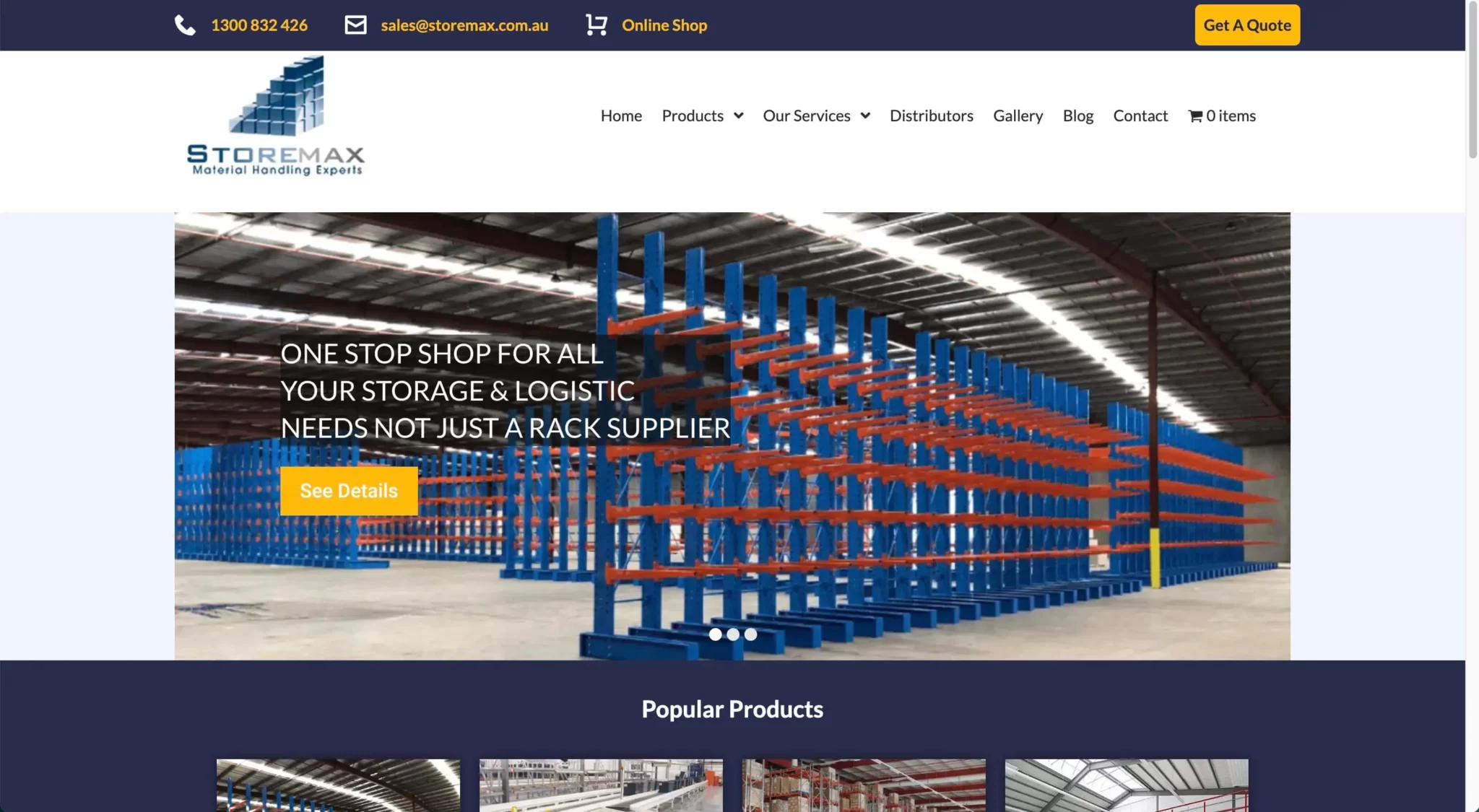 One of the top suppliers of top-notch storage solutions is Storemax. Storemax has established a solid reputation in the market by putting a strong emphasis on innovation and client satisfaction.
They have an extensive range of storage solutions. They provide items for businesses of various shapes and sizes, from little retail stores to enormous industrial warehouses. Additionally, Storemax provides custom design. Check out their catalog on their website.
Some of the unique features of the company that benefits your business are:
Customers are updated at all times, from the quote through the completion of the project.
They provide on-site consultations to help businesses determine their specific storage needs.
Storemax offers a range of safety equipment and accessories to keep employees safe while working in the warehouse.
BHD Storage Solutions
BHD Storage Solutions specializes in storage solutions for warehouses, distribution centers, and other industrial facilities. They can customize their products and design to your business needs.
BHD Storage Solutions has a reputation for providing top-quality storage solutions and exceptional customer service. Here are some advantages the company can offer you:
The company has a team of experienced and professional installers. They are able to install and maintain their storage systems with minimal disruption to the client's operations.
The installation and design of each storage system comply with all applicable Australian safety requirements and laws.
The company also offers ongoing support and maintenance services. This allows their clients' storage systems to remain safe and functional over time.
BHD storage solutions are moving on with the future as they become more reliant on high-end technology. They want to provide your business with everything that it needs in storage solutions to be one step ahead of your competition.
Check out their competitive prices and catalog on their website.
APC Storage Solutions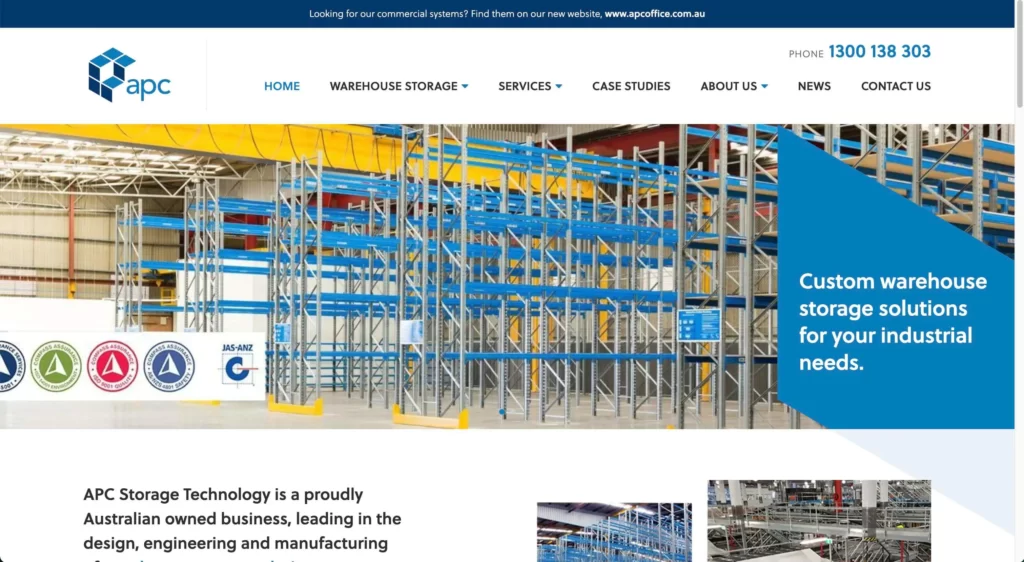 APC Storage Solutions offers a wide range of innovative and high-quality storage solutions. They have a track record for providing their service across various businesses.
Businesses have increased their storage capacity without needing to expand their physical space using their pallet racking.
Some of the traits of APC Storage Solutions that might benefit your business are:
Processes are streamlined, productivity is increased, and downtime is decreased using APC's storage solutions.
APC's products are designed to meet industry standards. They provide optimal safety for employees and equipment, reducing the risk of accidents and injuries.
Their team of experts can work with businesses to design and implement customized solutions.
APC is committed to sustainable practices and offers environmentally friendly products that can help businesses reduce their carbon footprint
You can check more about their pricing by contacting them through their website.
How To Buy Cheap Pallet Racking In Melbourne.
We know among various warehouse storage solutions, selective pallet racking is the cheapest. So, installing selective pallet racks will be a great solution for a warehouse that needs a cheap but effective warehouse storage solution.
Many businesses that are established in Melbourne need pallet racking for their warehouse storage solutions. If a business can buy cheaper but quality pallet racks, it will help them to cut down their production cost.
Pallet racking companies help set up the storage facility for the business. They are professionals who get the work done efficiently and safely. One such pallet-racking company is Mracking.
Mracking is a professional warehouse manufacturing company. They manufacture various types of pallet racks like selective pallet racking and cantilever racking.
Apart from manufacturing pallet racks, Mracking also manufactures mezzanine floors which is another type of warehouse storage solution.
Mracking offers the following services too-
Inspection service- safety checking of the pallet racks and ensuring they are fit for use.
Installation service- Mracking offers a complete pallet racking installation service. So, if you select Mracking, you don't need to worry about pallet racking installation. Their pallet racking installation service will take care of your pallet rack installation.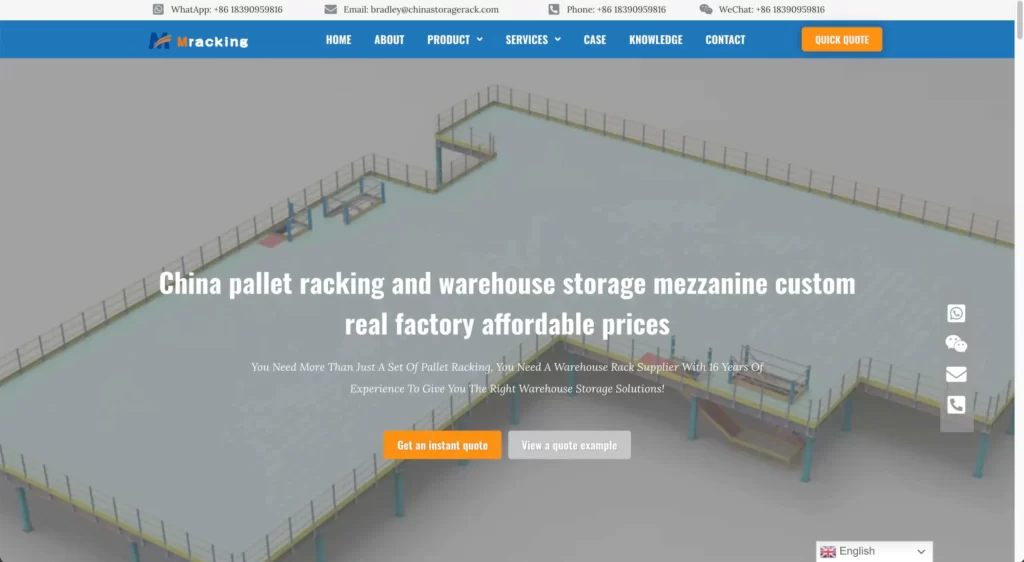 Mracking's Remarkable Warranty of 20 Years!
The most remarkable feature of Mracking is its 20 years of warranty.
During this warranty period, if the pallet racks suffer any damage without human intervention or human error, they offer repair or the changing of the pallet racks.
This remarkable warranty period of 20 years highlights the quality of Pallet racks Mracking offers. So, after buying pallet racks from Mracking, you can be ensured of lasting for at least 20 years!
Mracking Sells Pallet Racking in Melbourne.
The main factory of Mracking is based in China. However, Mracking can supply pallet racks in Melbourne through shipping.
As we know, in China, due to their huge "Demand and supply"; they can produce a huge number of pallet racks. As a result, the production cost goes down.
Additionally, the labor cost in China is very low too compared to Australia or Europe, and the USA. So, they can offer pallet racks at a much cheaper price than their competitors while ensuring their quality.
Pallet racking systems are a great storage option for companies in Melbourne. Pallet racking Melbourne is crucial for the industry to keep up with other competition. Contact Mracking to order pallet racks for your warehouse now!