A loft is a portion of a building that is close to the roof. A mezzanine is an intermediary floor between a structure's main floors. That is the fundamental distinction between a loft and a mezzanine.
Mezzanines and lofts are two different types of spaces in a home or other building. We know, in a warehouse, massive quantities of goods are stored. Using a mezzanine floor or pallet racks ensures the best utilization of the existing warehouse space.
On a mezzanine floor, you can use the upper portion as well as the lower portion to store goods.
Be it pallet racks or mezzanine floors, they are well-known as warehouse storage solutions.
However, in the warehouse and industrial settings, in general, the loft is not used at all. A loft is mostly used in houses to store little items or products.

In this article, we will discuss mezzanine vs. loft and settle the debate. We will also discuss the following topics in the article:
What Is A Mezzanine Floor?
The area that is built between the floor and the ceiling is known as a mezzanine. It may serve a number of objectives. They are frequently utilized in structures with high ceilings and offer extra storage, workspaces, or even office space.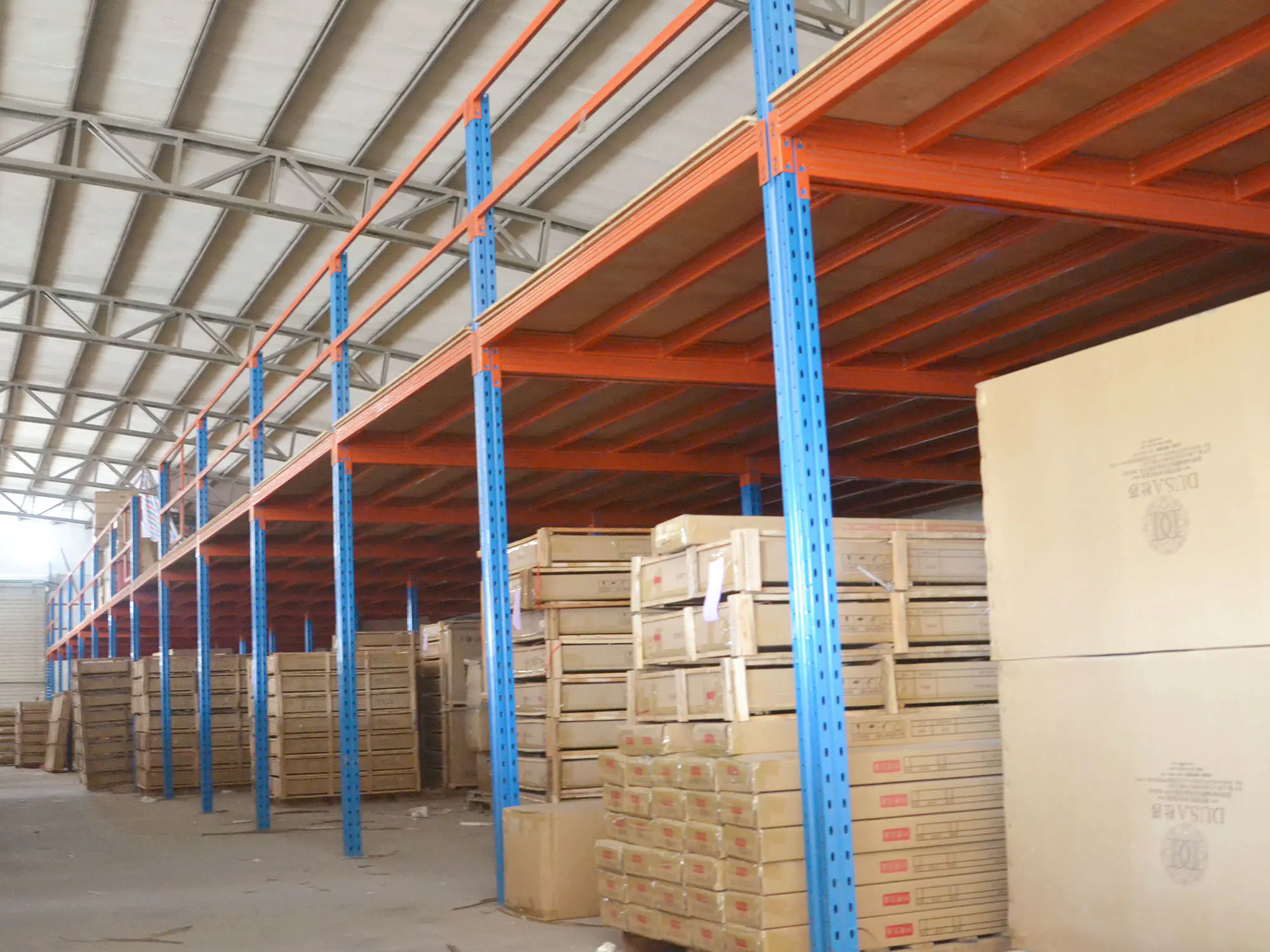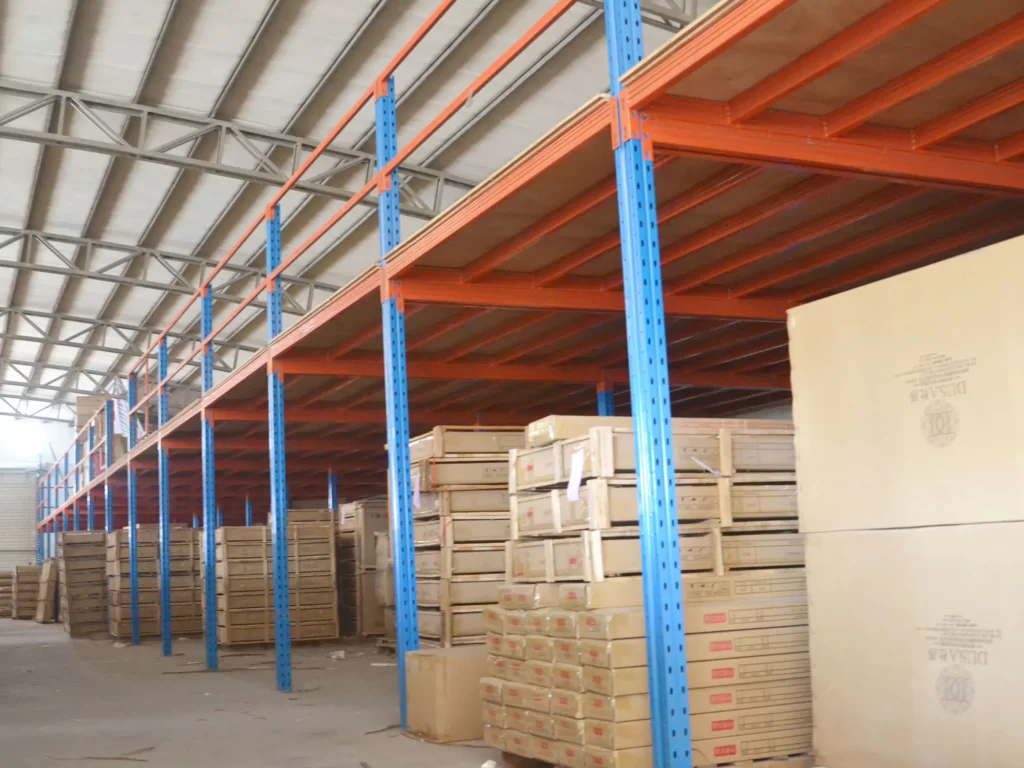 A mezzanine floor is a raised platform that is independent of the building structure. It is positioned halfway up the height of the building. They create extra space in the building by effectively doubling the floor space. The Mezzanine is considered a form of the middle floor.
Mezzanine flooring is widely used within industrial environments as an economical way to maximize space. This effectively doubles the floor space. This additional level doesn't cover the entire floor. It creates a type of gallery from which you can observe the entire area.
There are a variety of mezzanine floors to choose from. The following is a list of types of mezzanines:
Steel Mezzanine
Concrete Mezzanine
Wooden Mezzanine
Rack Supported Mezzanine
Storage Mezzanine
Work Platform Mezzanine
Portable Mezzanine
Retail Mezzanine
Mezzanine Office
Steel Mezzanine
A typical kind of mezzanine construction for warehouse storage, equipment platforms, and other industrial facilities is steel mezzanines. A strong and secure structure may be built with steel construction. Its structure offers reliable and safe resistance to foot traffic.
There are many advantages to a steel mezzanine floor. These are:
Improved strength
Superior resistance to moisture
Gainful construction
Simple to maintain
Superior toughness and sturdiness
Concrete Mezzanine
Mezzanine floor decking frequently consists of concrete. It has the highest point load and the least amount of noise transmission from other mezzanines. The best type of concrete decking is used in industrial settings where strong structural durability is required.
One of the most resilient forms of mezzanine floors is made of concrete. They are capable of lifting large weights. This is why they have found acceptance in both commercial and powerful military applications.
Concrete floors transmit very little noise through the floor deck. They are resistant to fire and dampness. Concrete floors have a large thermal mass, which reduces the energy needed for thermal comfort.
Rack Supported Mezzanine
A storage mezzanine or warehouse mezzanine level is referred to as a "rack-supported mezzanine." It is constructed, with the major structural support for the mezzanine being the storage rack system.
This kind of support system can enable cost and space savings. This is done by employing the supports in both the rack and mezzanine systems.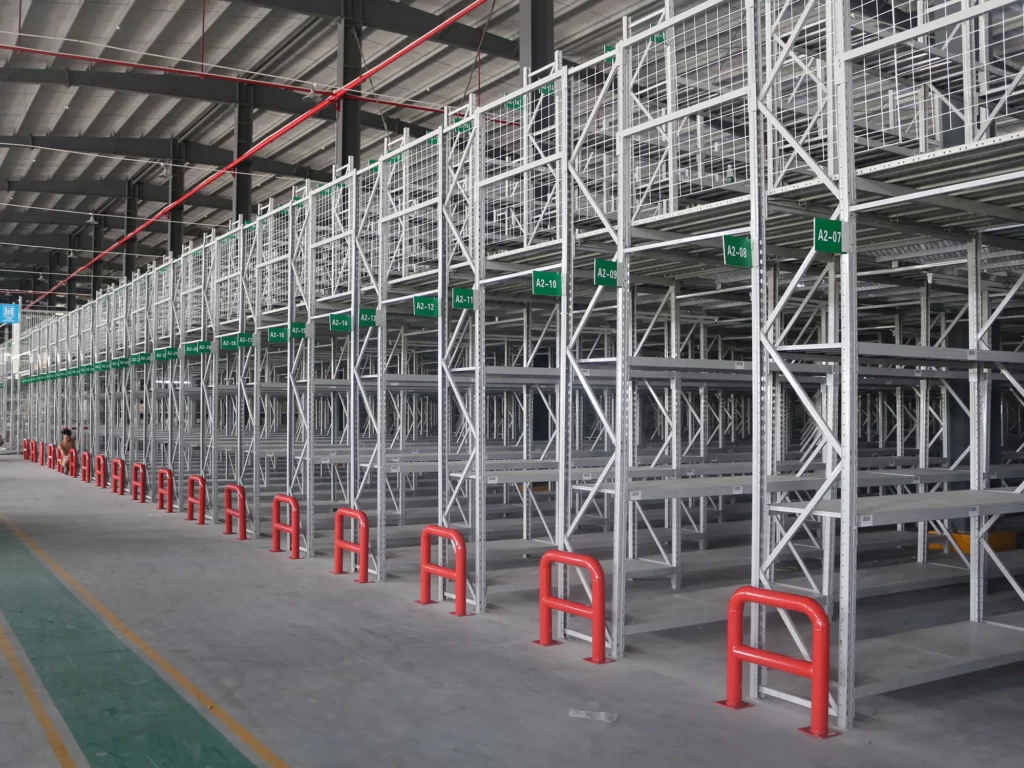 Storage Mezzanine
The most typical kind of mezzanine floor is a storage mezzanine floor. It may be utilized to store everything from inventory to supplies, furniture, hardware, and documents. In terms of usage and who has access to them, storage mezzanines might differ from equipment platforms.
Wooden Mezzanine
To give the area an upscale appearance, wooden mezzanine floors are used. They are a lovely addition to the building area and a great option for an office or retail setting.
Work Platform Mezzanine
The work platform mezzanine allows for doing duties like packing, assembly, maintenance, or quality control. Employees can operate at a higher height because of this.
Office Mezzanine
Without having to expand onto the building, mezzanine office levels are a terrific complement to any style of workspace. A mezzanine space utilized in manufacturing or other industrial areas is called an "in-plant mezzanine office."
What is a Loft?
The area just beneath a building's roof, typically on the top floor or attic, is referred to as a "loft." A loft area, frequently reached by a ladder, is used for storing things. Loft apartments are big, flexible spaces that are frequently adapted for residential usage.
A loft might be compared to an attic in terms of space. The primary distinction is that it does not encompass the full building's layout.
Loft is a phrase that is probably not frequently used in the manufacturing and industrial sectors. The issue is that it's sometimes mistaken for a "mezzanine," which is completely unrelated.
Various types of lofts and brief descriptions of these lofts are given below:
Roof light loft conversion
One type of loft conversion that is integrated into the existing roofline is the roof light loft conversion. A loft area is transformed into a useful room by installing roof lights along the roofline.
The simplest type of loft conversion is one that utilizes roof lights. They are the least expensive option. They rarely ever need planning clearance because there are no structural alterations.
Dormer Loft Conversion
Adding a box-shaped structure to your home's pitched roof is what constitutes a dormer loft conversion. Dormer's right-angle construction results in a flat roof as opposed to a slanted one. This allows you plenty of headroom and traditional room size.
A dormer loft conversion can be a good option for homes with limited head height in the loft. In addition to adding useful space, it also adds headroom to the loft.
Hip To A Gable Loft Conversion
The sloping side of the roof is transformed into a vertical gable wall. This increases space in a hip to a gable loft. Hip-to-gable loft conversions are quite common because they increase the amount of useable floor space.
L Shaped Loft Conversion
Two dormer structures that connect to one another are known as L-shaped dormer conversions. Typically, one dormer will be put on the rear outrigger roof and the other on the main roof. This gives it its instantly recognizable L-shape.
Mansard Loft Conversion
Usually, the mansard loft is constructed in the back of your property. A mansard conversion has a horizontal roof and a nearly vertical 72-degree back wall. This results in a huge quantity of loft space as well as the desired room-like dimensions.
In a mansard loft conversion, a portion of the original roof is removed, and a new flat roof is added in its place. This is usually built to a steeper pitch than the original roof. This gives the loft more headroom, allowing for usage as a living space, bedroom, or storage area.
Difference Between Mezzanine vs. Loft.
Although mezzanine and loft are both forms of intermediate flooring within a structure, they have some significant distinctions. Here are some of the differences between the mezzanine and the loft:
Mezzanine:
A mezzanine is a low-ceilinged platform that is built within a room or open space.
Mezzanines are often used in commercial buildings, such as offices or warehouses, to increase the usable floor area.
Mezzanines typically feature an open floor layout with no distinct entry or exit
The Mezzanine can be divided into several rooms or zones.
Mezzanines are typically built using steel or wood and are supported by columns or beams.
Loft
A loft is an open space that is created by converting the attic or top floor of a building.
Lofts are frequently utilized for storage or as living quarters, such as bedrooms or home offices.
Lofts often have a separate entrance or exit and are reached by a stairway.
Compared to mezzanines, lofts frequently have higher ceilings and more headroom
Mezzanine vs. Loft, Which One Is Preferable?
The mezzanine vs. loft debate has been going on for quite some time. However, the decision should be up to individual needs. The preferable option between a mezzanine and vs. loft depends on a number of factors.
A mezzanine could be a better choice if you need extra floor space within an existing room. Mezzanines are an affordable solution to expand the amount of usable floor space. It can be utilized for many things, such as storage, an office, or even a sleeping room.
A loft conversion can be the preferred option if you're searching for a separate living or storage area. For use as a bedroom, home office, or storage, lofts offer a distinct, private space.
The loft is not at all suitable for warehouses or industrial facilities. So, if you are thinking to increase the storage of your warehouse; we will prefer the mezzanine floor in the mezzanine vs loft debate.
Comparison Between The Uses Of Mezzanine Floor Vs Loft.
There are a number of differences between the mezzanine and vs. loft. Different in nature means they are also used for different purposes. Both mezzanine floors and lofts are frequently utilized to expand a building's living or storage space.
Uses Of A Mezzanine Floor
In a room or an existing building structure, a mezzanine floor is a form of intermediary floor. It often creates a raised platform by using the existing floor as support. Mezzanine levels are frequently utilized as extra living areas, bedrooms, home offices, or storage spaces in residences.
Industrial Mezzanine
Heavy-duty materials, often carbon or stainless steel, are used to construct industrial mezzanine levels. Depending on how the mezzanine is being utilized, the flooring may vary. It is often made of steel plates or plywood.
Industrial mezzanines may be used for a variety of things besides storage. One example of this is that it allows for additional manufacturing and assembly facilities.
Warehouse Mezzanine
Workshops are created particularly to produce goods or objects for sale. Mezzanine utilization becomes crucial for adding more workspace and storage space. The inclusion of a mezzanine can enhance supply chain management, manufacturing, and communication.
Observation Deck
Mezzanines can be used as an observation platform to see a facility's activities and swiftly assess procedures and performances. Operational procedure analysis at the ground level is time intensive and prone to mistakes. This usually happens when they are not checked in real time.
Automated Mezzanine Floor
Having enough space to handle the improvements is one of the issues with implementing an automated system. Installing steel mezzanines that can support automated operations is the solution for many businesses. This leaves the ground floor free for more activities.
How To Set Up A Mezzanine Floor?
The purpose of the mezzanine will determine how the mezzanine floor is built. Design, engineering, and manufacturing know-how are necessary to construct a mezzanine. When opting to create a mezzanine, follow these easy recommendations:
Consult a knowledgeable manufacturer and designer of mezzanines about your demands for the structure.
Recognize the particular specifications for your mezzanine use, such as the weights of the things to be stored there.
Look into whether the mezzanine will be exposed to chemicals or water.
When planning the arrangement of your mezzanine, be sure to take the mezzanine stairs into mind.
Consider your budget and insurance requirements before investing in the materials
In a nutshell, building a mezzanine floor requires a lot of expertise. Consider reading this article to know in great detail how to build a mezzanine floor.
Uses Of Loft
These are the top five applications for loft conversions:
Bedroom
Home Office
Games Room
Creative Studio
Gym
Health space
Bedroom
A loft may be converted into a bedroom space, offering a special and comfortable place to relax. It may also serve as a cozy, private reading nook. For families with children, a loft can be converted into a play area.
Games Room
A loft in a games room provides an area where children can play safely and bring friends. This allows loud music, movies, and games to be played without disturbing other people. You can also participate in indoor activities like pool or table tennis.
Home Office
For several reasons, lofts provide fantastic locations to set up a home office. They provide an additional workplace and give you space to separate work from home. You can work from home in the natural light with the quiet and privacy it offers.
Lofts often have unique design elements, such as exposed brick walls, high ceilings, and large open spaces. These can give your home office a stylish and inspiring atmosphere.
Gym
Lofts may be used in a variety of ways in gyms. This mostly depends on the architecture. Lofts may be utilized as extra storage space for gym supplies and equipment. This maximizes the utilization of your gym's floor area.
Lofts may be transformed into studios for yoga or group exercise. Those who own or run gyms can turn a loft into an office or administrative space.
Creative Studio
A private workstation for painters, authors, or graphic designers may be created in the loft. It may be utilized as a photographic studio. You can store materials and equipment which are not frequently used from the additional space gained in the loft.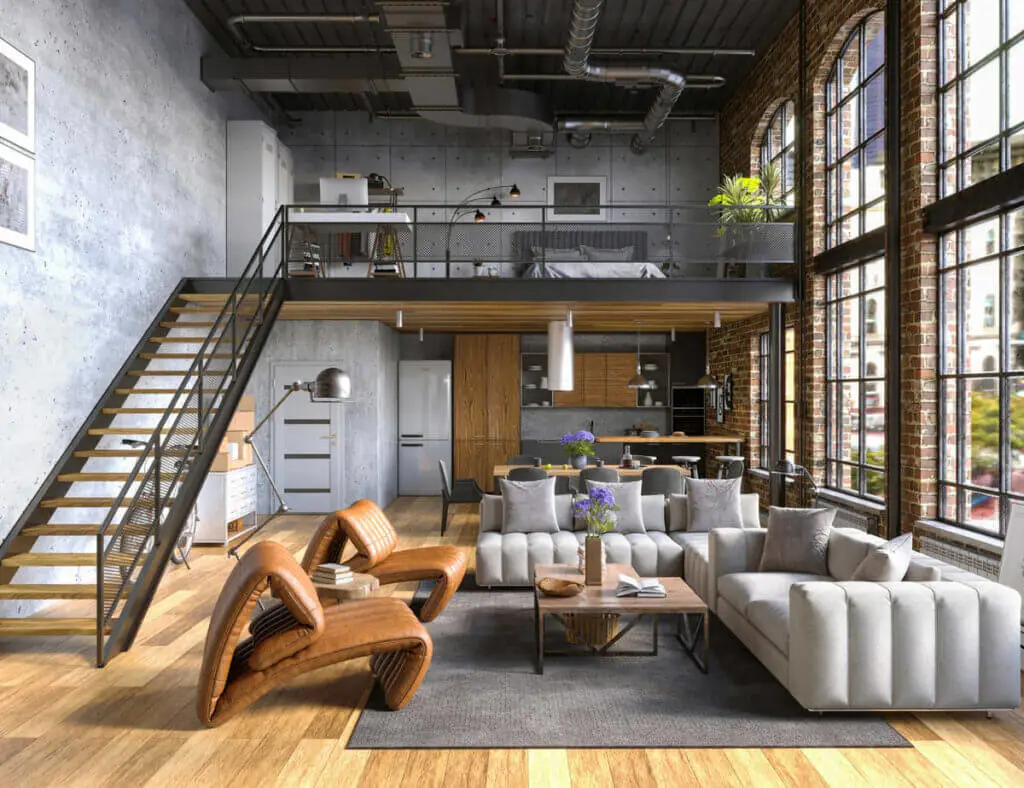 How To Install A Loft?
A loft may be a terrific way to add more living space or storage to your house. Here are the fundamental stages of installing a loft;
Choose the ideal site for the loft in your house. Take any structural constraints and utility access into consideration.
You will require timber for the structure, plywood for the floor, insulation, and drywall. You'll also need finishing supplies like paint or wallpaper.
Use the lumber to build a strong structure for the loft. Support beams, posts, and joists should all be part of the structure.
Cut pieces of plywood to size and attach them to the joists to create the floor of the loft.
To keep the loft warm and cozy, install insulation on the walls.
The drywall over the insulated walls should be finished with paint or wallpaper.
Fixtures for lighting should be added to the loft.
Install a set of stairs or a ladder to provide access to the loft.
Advantages Of Mezzanine Floor.
There are lots of advantages to having a mezzanine floor in the warehouse. Now, we will discuss some of the greatest advantages of having a mezzanine floor in the warehouse:
Increases The Space Of The Warehouse
Installing a mezzanine floor definitely increases the space of the warehouse. For instance, if a warehouse were able to store 2000 cartoons before installing a mezzanine floor; after installing a mezzanine floor, it may be able to store 4000 cartoons on a mezzanine floor.
Additionally, it creates extra space in the warehouse.
Cost Effective Solution
Many people may get surprised when we indicate the mezzanine floor to be cost-effective. Because it takes a good amount of money to install a mezzanine floor in the warehouse.
However, if we consider the amount of money it takes to build a new warehouse; the mezzanine floor is an excellent cost-effective solution. Building a mezzanine floor requires much less money compared to building a new warehouse facility.
For more information on the cost of a mezzanine floor, you can read about mezzanine floor costs.
Use For Multiple Purposes
A mezzanine floor can be used for multiple purposes in the warehouse. For instance, a Mezzanine floor can also be used as an observation desk. It can also be used as a workspace in the warehouse.
Also, access to mezzanine floors is very easy too as there is a stair to climb the floors of the mezzanine floor.
Possible Expansion Of Mezzanine Floor
If the warehouse ceiling height is very high, then there can be multiple levels of mezzanine floors in the warehouse.
No Pre-existing Building Plan Needed To Construct A Mezzanine Floor
To construct a mezzanine floor, no pre-existing building plan is required. This is one of the greatest advantages of mezzanine floors because it keeps you away from the hassle of design approval.
The reason for not requiring any pre-existing building plan is simple. Because the mezzanine floor is constructed on the warehouse floor. It doesn't require any kind of drilling on the ground. And, a design by an experienced mezzanine floor designer is enough to construct a mezzanine floor.
Mezzanine Floor Ads To The Beauty Of The Warehouse
Having a beautifully designed mezzanine floor also adds to the beauty of the warehouse.
So, these are some of the advantages of a mezzanine floor in the warehouse.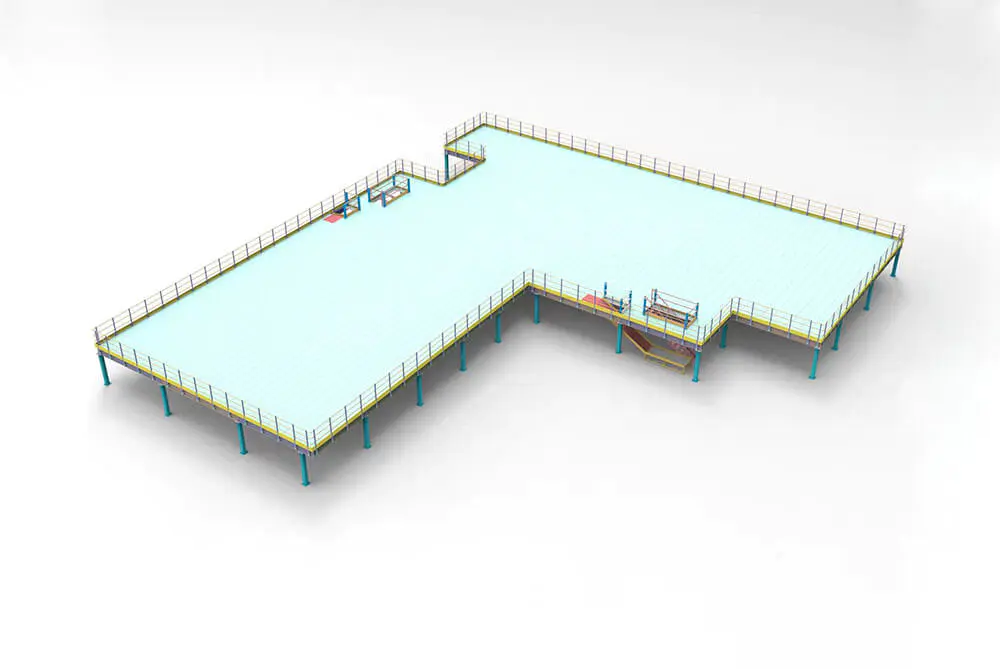 Advantages And Disadvantages Of Loft.
Loft has some advantages and disadvantages. First, we will discuss the advantages of the loft:
Creates More Space
Lofts have the apparent advantage of having spacious interiors and no ceilings. This allows for lots of areas for furniture adjustment. Lofts are perfect for those who are sick of living in cramped apartments.
Lofts are larger than life thanks to the 10 to 15-foot ceilings. Also, their flexibility provides additional space for both work and pleasure.
Natural Light
With massive windows and vaulted ceilings, lofts make it possible to enter the natural light into your apartment.
Stylish
Installing a loft makes your interior stylish. The Lofts provide your home with a modern appearance with exposed brickwork and a rustic design. You would adore how these lofty roofs' interiors felt with their industrial-style construction.
Added Flexibility
Family residences often have fixed areas with well-defined limits. Flex walls, drapes, etc allow you to customize your living environment. Additionally, since there are no walls, you may show off your design aesthetic to the neighbors.
Lofts provide tenants with a great deal of leeway to decorate the space any way they choose.
Along with all these advantages, the loft also has disadvantages too. Let's discuss some of the common disadvantages of installing a loft:
Not Suitable For Warehouses And Industrial Spaces At All
If you are a warehouse owner or manager, know that lofts are not suitable for warehouses at all. Lofts can be used in places such as apartments, art studios, etc.
So, if you are a warehouse owner or manager, you just can't install lofts in your warehouse.
Increased Utility Costs
In the loft, more heat and coldness are brought on by large windows and upper stories. Therefore, the costs of heating and cooling increase in the loft. You need to spend a lot of money if you wish to replace the old windows or make the residence energy efficient.
It Doesn't Add Spaces Like Mezzanine Floor
Compared to the spacious mezzanine floor creates in a warehouse, a loft adds very little space.
So, these are some of the advantages and disadvantages of lofts.
Mezzanine Vs Second Floor.
There are many differences between a mezzanine floor and a second floor of a warehouse. Let's discuss the differences between the mezzanine floor and vs the second floor one by one:
Cost
In terms of cost, constructing a second floor is costlier. On the other hand, constructing a mezzanine floor is much less costly compared to building a second floor.
Space
A mezzanine floor is constructed over only part of the ground floor of the warehouse. On the contrary, a second floor is constructed over the entire space of the ground floor.
Also, it is obvious that a mezzanine floor adds up to more space in the warehouse compared to the second floor.
Permission
To build a mezzanine floor, you don't need the permission of the government authorities. However, to construct a second floor, you must have permission from the local government authorities who oversee the local building code requirements.
Building A Mezzanine Vs Second Floor
Construction of the mezzanine floor is much easier than the construction of the second floor. To construct a second floor of the warehouse, you need an architect, a designer, a civil engineer, and workers.
On the other hand, you just need a mezzanine architecture expert and expert workers to construct a mezzanine floor.
So, these are the differences between mezzanine vs second floor.
FAQs
Which Is Better, the Mezzanine vs. Loft?
Mezzanine vs. loft which is better depends on the specific needs and goals of the individual or organization. A mezzanine could be a preferable solution if the objective is to increase the available storage space.
A loft can be a better option if the objective is to create an open living or working area. In a nutshell, using a loft is better most of the time in apartments or small spaces. And, on warehouse and industrial space, mezzanine floor is the best option.
What Is The Difference Between A Mezzanine And a Floor?
A mezzanine and a floor are both levels in a building. They are different in terms of their height, function, and construction.
What Is The Best Material For Mezzanine Flooring?
Steel: Steel is a durable and strong material that can support heavy loads. It is also fire-resistant and can be easily customized. However, steel can be expensive and may require professional installation.
To learn more about mezzanine floor materials please read about mezzanine floor materials.
What Is The Cheapest Loft Conversion?
The least expensive alternative is typically a roof light loft conversion. The mid-range choice would be a dormer conversion.
Is Loft Conversion Safe?
You add a new floor to your house when you convert your loft. As a result, fire safety regulations are stricter since your loft conversion's windows are too high for an exit.
Mezzanine vs. Loft, Which is Cheaper?
In the topic of mezzanine vs. loft, both have different costs to install. The cost of a mezzanine versus a loft can vary depending on several factors. This includes the size of the area, the building's construction materials, and its location.
So, this is everything you should know about the mezzanine vs loft debate. Comment down below if you are planning to install any of them. Feel free to ask any questions related to the topic of mezzanine floor vs loft.
If you are thinking to install a mezzanine floor in the warehouse, check out our exclusive offers for mezzanine floors. We offer customized mezzanine floors based on the specific needs of your warehouse.