With a high utilization rate of adjustable shelves, flexible and convenient access, and computerized management or control, adjustable storage racks can basically meet the requirements of modern logistics systems. Equipment racks are widely used in manufacturing, third-party logistics and distribution centers, etc. It is suitable for both multi-species and small-lot items, as well as for small-species and high-volume items. Industrial rack is most commonly used in high and ultra-high warehouses and is divided into drive-in pallet racking and gravity pallet racking. The following article mainly introduces the differences between China and the United States pallet racking and the top ten racking brands in the United States.
The most important differences between the U.S. pallet racking and Chinese racking.
1. High degree of standardization
In the United States and Canada, almost all of the rack hole type is generic (teardrop type), which greatly facilitates the use of customers and the purchase of accessories, which means that almost all of the accessories can be common. In China's current rack companies, there are many companies with different hole types, that can not be matched, even in the rack production base in Nanjing, it seems that everyone's hole type is almost the same, but the subtle differences still exist, the performance of matching still needs to be improved.
2. Structural design is different
In the United States, the rack column piece overall welding more, although this will lead to an increase in transport costs, but on the other hand, the column piece does not need to be assembled on-site but also save a lot of labor costs.
Another difference in the design of the column piece is that the Americans are mainly practical and do not consider aesthetics too much. When the rack column bearing is relatively large, the American rack designers will add a column or rectangular tube to the bottom 2~3 meters of the column bearing the largest load to increase the column bearing capacity. In China, such a situation is generally not easy for customers to accept, because it is very unattractive, we all like the whole column up and down consistent. The result of the pursuit of aesthetics is a lot of wasted steel, the top of the rack does not need such a large cross-section because the top column bearing type is very small.
3. Differences in the surface treatment of racks
In China, almost all the racks surface is used electrostatic spraying, while in the United States, some companies, use the baking paint surface treatment.
Top ten racking brand manufacturers in the United States:
Company Headquarters Employees Annual Est. Revenue
Steel King Industries, Inc. Wisconsin 350 $500 Million
Frazier Industrial New Jersey 750 $336.8 Million
Unarco Material Handling Tennessee 750 $300 Million
Murata Machinery USA North Carolina 896 $243 Million
Hannibal Industries California 500 $135 Million
Ridg-U-Rak Pennsylvania 251 $69.5 Million
Advance Storage Products California 330 $66 Million
Elite Storage Solutions Georgia 250 $64.6 Million
Speedrack Products Michigan 200 $32.8 Million
Rack Builders Illinois 119 $23 Million
1. Steel King Industries, Inc.
Steel King Industries, Inc., they are a leading manufacturer and integrator of material handling products and systems that improve operational efficiency in a variety of environments including manufacturing, assembly, distribution centers, storage facilities and warehouses. As the only international single-source manufacturer of pallet racking, drive-in racking, flow-through racking, push-back racking, pick modules, mezzanine/work platforms, cantilever racking, portable racking, industrial containers, custom shipping racks and industrial security barriers, they are uniquely qualified to assist you in the planning and implementation of your material handling system.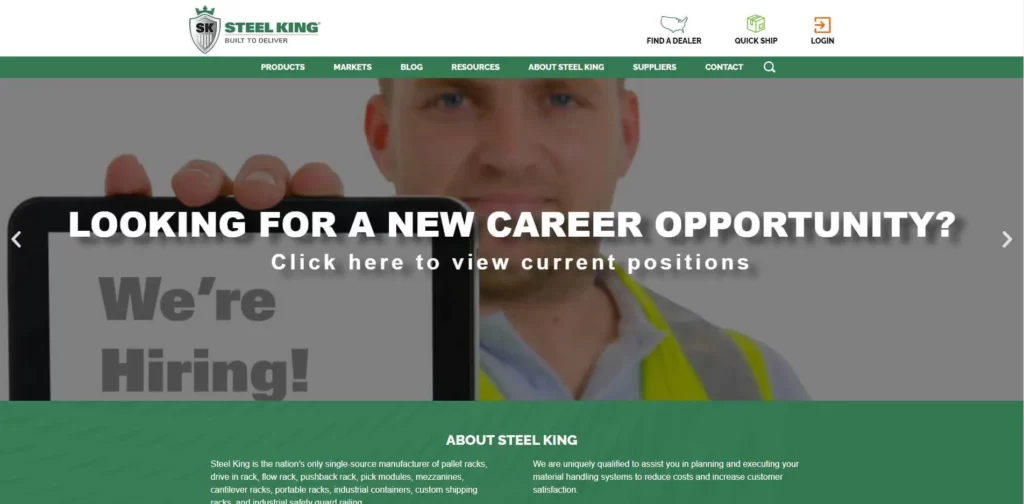 They understand the importance of using quality materials and skilled labor to produce quality products with structural integrity and pleasing aesthetics. Their dedication to product innovation is evident in the improvement of existing products and processes, as well as the development of uniquely engineered material handling systems. Their product capacity tables are RMI certified to ensure product and worker safety. Their facilities and processes are also tested and they hold fabricator's licenses from the City of Los Angeles and the City of Phoenix. Their welders are trained to meet American Welding Society (AWS) D1.1 and D1.3 standards, and they have an in-house Certified Welding Inspector (CWI).
2. Frazier Industrial
FRAZIER's blue and orange pallet racking is quickly becoming recognized for its durability and custom engineering. From standard pallet racking systems to complex pick to belt towers, AS/RS installations or rack-supported buildings, FRAZIER's team of expert engineers helps each customer design the best, most economical storage solution.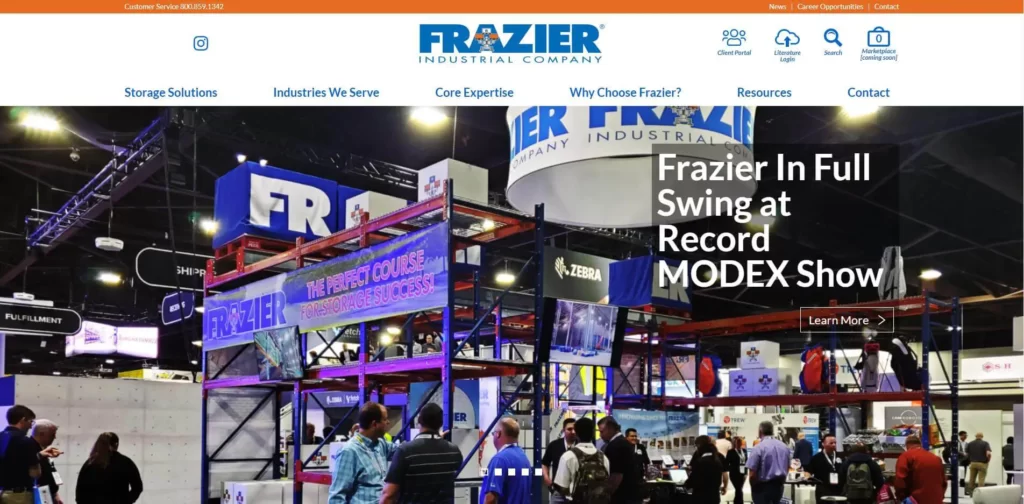 FRAZIER is a recognized leader in the steel construction industry. When developing their manufacturing capabilities in 1949, they made the fundamental decision to use structural steel rather than inferior rolled steel in all of their products. Since that time, FRAZIER has become a leading manufacturer of structural steel pallet racking systems, with the largest production capacity in the industry.
FRAZIER customers receive an immediate two-year warranty on their racking purchases. They will repair or replace, free of charge, any part or portion of the storage rack that is damaged while being used for the purpose for which said rack was designed and sold, when returned to FRAZIER within two years of the date the customer received the rack.
3. Unarco Material Handling
UNARCO Material Handling, Inc. manufactures structural and rotomolded pallet racking and has designed warehouse storage systems for distribution centers, e-commerce fulfillment and retail stores. As a pioneer in the pallet racking industry, they offer the widest variety of industrial racking products, including carton flow, pallet flow, push-back racking, drive-in racking, pick modules, and cantilever racking, mezzanine and pallet rack repair.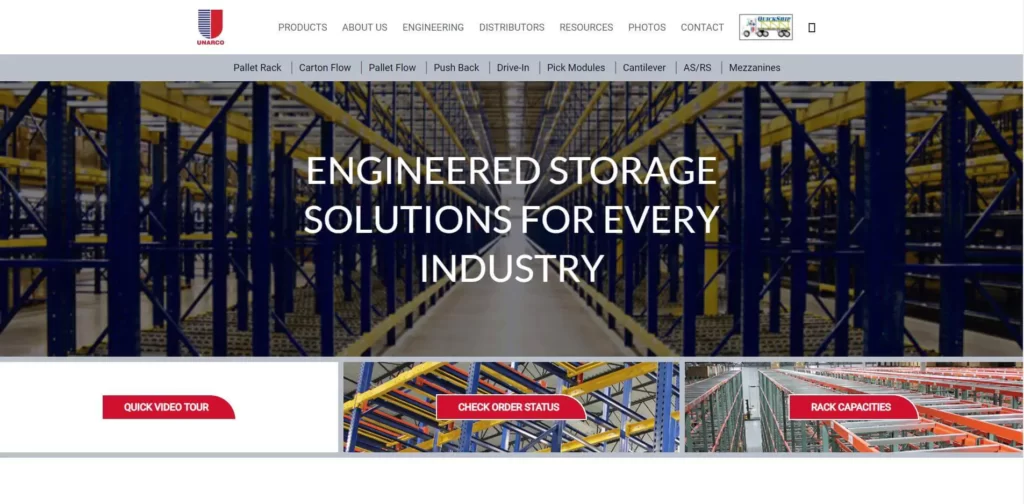 Their customer list covers all levels of the supply chain and all racking is produced in strict compliance with all current RMI standards. From project engineering and design to on-site project management and installation, they can utilize storage space in any distribution center or warehouse to add a pallet racking solution for more efficient product flow.
The UNARCO team has worked with Fortune 500 companies from a variety of industries for decades, building lasting relationships. Thousands of satisfied customers rely on their years of project engineering and experience. Whether your project is a simple, selective pallet racking job or a complex, highly engineered picking module, trust the experience of the UNARCO staff.
4. Murata Machinery USA
Murata Machinery America, Inc. is a subsidiary of Murata Machinery Corporation, a world leader in machine tool technology, automated material handling systems, cleanroom automation and textile machinery. Founded in 1935. Murata Machinery America provides globally advanced solutions tailored to the needs of North American manufacturers. Each of their solutions uses time-tested technology and is customized in their Charlotte, North Carolina office to provide their customers with turnkey solutions to meet their exact needs.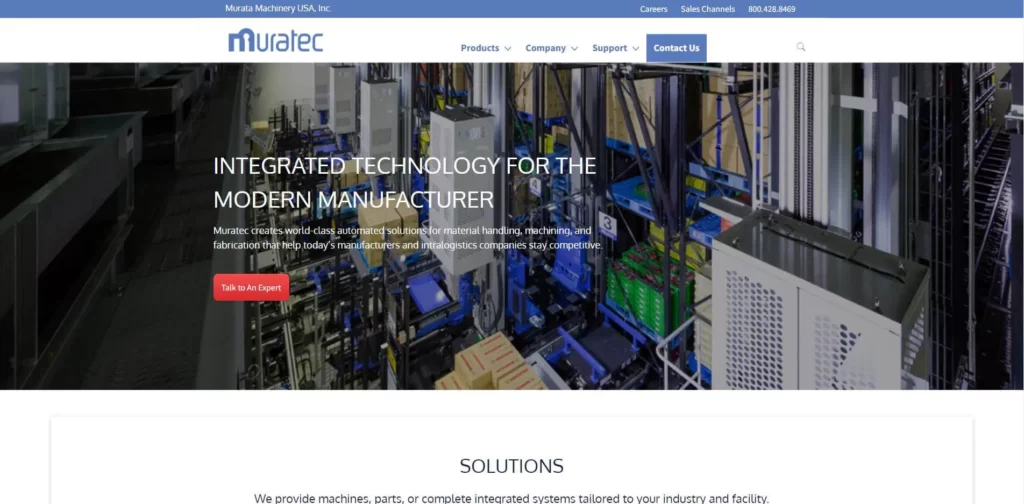 Since 1967, their fully integrated line of automated storage and retrieval systems has helped companies produce, assemble and store materials, resulting in lower costs and higher productivity. With over 10,000 installations worldwide, Murata Machinery's material handling systems support companies in the aerospace, automotive, electronics, food and beverage, pharmaceutical, and semiconductor industries.
As a turnkey supplier of material handling systems, Murata Machinery designs manufactures, installs, commissions and services all products under the Muratec brand. known for its quality and reliability, Muratec systems focus on creating products with precise design and installation, and providing superior service. Their solutions include automated storage and retrieval systems (AS/RS), picking and sorting systems, shipping systems and warehouse management software. From concept to start-up, their material handling experts strive to help you transition from labor-intensive plant and warehouse operations to industry-leading automated material handling and information control systems.
5. Hannibal Industries
With an eye on the future, Hannibal is a company with a rich history of growth, boldness and expertise. After nearly four decades of exceptional service providing warehouse storage solutions and services to its customers, Hannibal was acquired by Nucor Corporation, a leading North American steel manufacturer. This merger not only rapidly expanded Hannibal's already vast support capabilities but also ensured that Hannibal's legacy would continue for generations to come.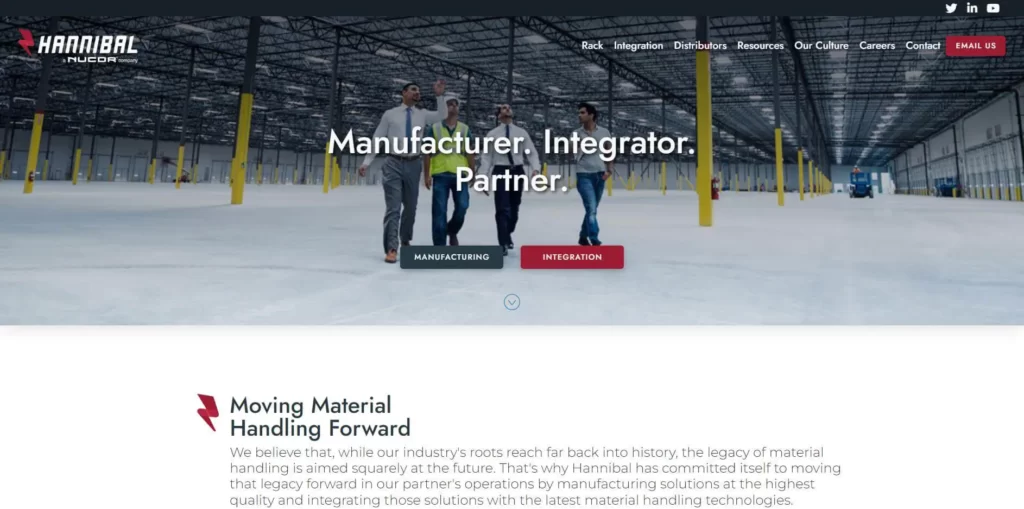 Hannibal takes safety in the production and installation of shelving and its use very seriously, and the importance of job site safety cannot be overstated. That's why at Hannibal, they have incorporated safety into their company culture through training, safety communications, daily team meetings, and positive safety protocols on the job sites they are involved in.
Their employees and their customers are always their two highest priorities. Ensuring their safety is not only smart business, it's the right thing to do.
6. Ridg-U-Rak
Ridg-U-Rak is one of the largest pallet storage rack manufacturers in North America, producing over 100 million pounds of pallet racking, high-density storage racking and specialized racking systems annually. As a customer-focused, full-service pallet racking manufacturer with over 400,000 square feet of manufacturing and storage space, Ridg-U-Rak offers engineering, design, project management and installation services to meet your pallet racking needs on time and on budget. They are a private company that has been in the industry for 80 years. The company currently specializes in the Logistics and Supply Chain area. The position of CEO is occupied by John B. Pellegrino. Its headquarters is located at North East, Pennsylvania, USA. The number of employees ranges from 25 to 100. The annual revenue of Ridg-U-Rak, Inc. varies between 5.0M and 25M. Total funding of the company – $2M.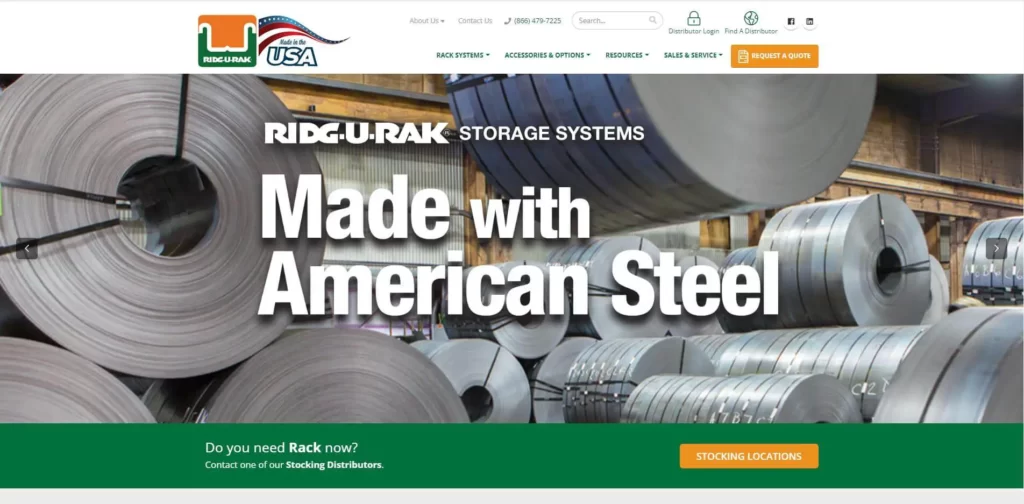 Ridg-U-Rak designs and manufactures selective and high-density storage racks, multi-level picking modules and specialized tool storage systems for the manufacturing, warehousing, logistics and distribution industries. They are a full-service, customer-focused organization that provides project management, engineering, design and installation services.
7. Advance Storage Products
Advance Storage Products is the international's leading manufacturer of pushback racking systems, producing nearly half of the pushback racking systems sold in the U.S. Advance's LoPro Pushback racking solution is recognized as the "gold standard" because of its ease of installation, ease of operation, quality and durability. Their warehouse pallet racking solutions are used in major installations for many Fortune 500 companies.
Advance also offers large structural pallet racking solutions in all product configurations including single-level selective, push back, double level deep selective, drive-in, pick tunnels, pick modules, pallet flow and carton flow systems. advance has over 100,000,000 pounds of steel production capacity annually and regularly delivers over $5 million in projects on time and on budget.
Advance Storage Products manufactures engineered to order structural pallet rack systems. Started in 1958 in Southern California and still family-owned today, Advance has become a leading structural rack system producer, serving customers in the US and abroad. With a long history of innovation, Advance offers turnkey systems from purchase through installation:
8. Elite Storage Solutions
Elite Storage Solutions understands the science of warehouse storage management and its importance to the supply chain. As a pallet rack manufacturer, they offer a full range of services from design to installation of storage solutions for many industries and materials. They manufacture pallet racking in-house to ensure superior quality and complete customer satisfaction. Their experienced team of manufacturing experts, designers, engineers and project managers will work closely with your staff to ensure you get the best solution for your needs. Elite also offers a full range of installation and warehouse design services in North, Central and South America and the Caribbean.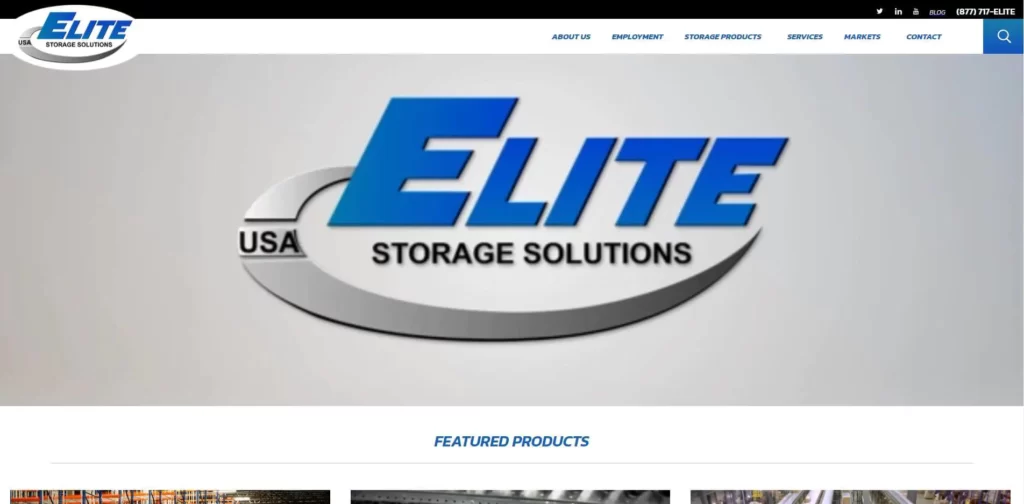 Elite Storage Solutions services industries from food and beverage, cold storage, and pharmaceutical, to retail, and e-commerce, providing storage racks and systems, including automation solutions like multi-level pick systems, and robotic palletizers. Elite Storage Solutions has a team of experienced implementation and project-management professionals to oversee the entire installation process from initial permit through installation for unmatched service.
9. Speedrack Products
Speedrack is a leading supplier of pallet racking and storage systems that have been at the forefront of the storage products industry for 66 years. Speedrack's business approach emphasizes building lasting partnerships with select customers and distributors. They focus on long-term relationships with customers and distributors.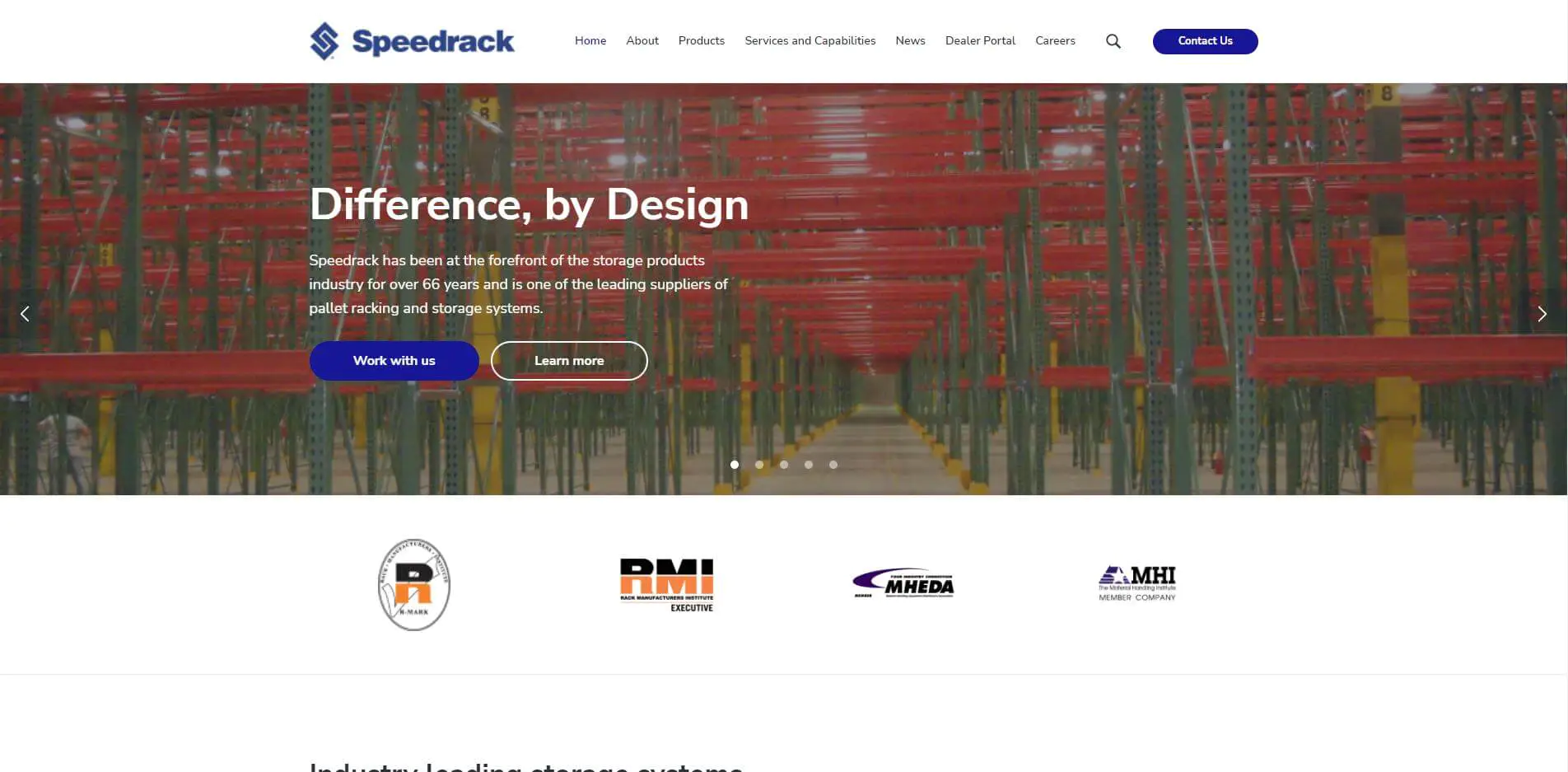 Innovation is in their DNA. in 1971, Speedrack created the first fully tubular racking design with greater strength per pound of steel and greater resistance to damage than traditional open profiles. in 2012, Speedrack introduced innovative hybrid shelving and lightweight cantilever storage solutions, the first storage optimized for e-commerce storage and distribution Speedrack is pioneering the development and distribution of additional racking innovations.
10. Rack Builders
Rack Builders is a product manufacturer and warehouse application provider in Quincy, IL, supplying selective, drive-through, double-deep, and push-back pallet racks, as well as design, engineering, and welding services.
Rack Builders, Inc. – Designs and manufactures Structural pallet racking solutions to suit the wide scope of needs and distributors, product manufacturers and warehousing professionals. Utilizing its damage-resistant cornerstone base, robust anchoring and bolting solutions, and unique connection types, RBI has the solution to any warehousing difficulties. Rack Builders has an industry exclusive seven deep push racking system that can increase productivity and reduce damage to a large percentage of racking, ensuring that their pallet racking systems will withstand the test of time while not sacrificing pallet positions.
Rack Builders Inc. designs and manufactures high-quality, customer-focused structural rack systems. All RBI structural rack is designed to RMI specifications by licensed structural engineers. Ingenuity, Quality, Integrity – these fundamental principles are the foundation of their company and their focus as they strive to be the premier provider of structural storage rack systems. They continually improve their people, their procedures and their products to ensure that RBI is the new standard for the structural rack.