With the increasing rent of warehouses, the warehousing costs of enterprises are also soaring. How to effectively use warehouse space and improve warehouse space utilization and operational efficiency has become an important link in enterprise warehousing operation management. A kind of intensive racking system – drive in racks quietly attract our attention.
Drive-in racks, also known as drive-through racks, are generally designed for the needs of large storage capacity and fewer types of goods. They adopt a high-density three-dimensional storage structure in the roadway, and cooperate with forklifts to drive the goods directly into the roadway for storage. In each lane of the in-rack, the forklift drives the palletized goods directly in the depth direction, and stores them in the top and bottom three-dimensional order to achieve the overall storage effect and the high utilization rate of the warehouse. Compared with pallet racks, the utilization rate of warehouses can reach about 80%, and the utilization rate of warehouse space can be increased by more than 30%. It is widely used in wholesale, cold storage and food, the tobacco industry, etc.
This storage rack has been adopted by many large enterprises. It can be seen that it has brought high economic benefits to enterprises. So how to choose the right manufacturer? Next, the editor will take you to know about the top 6 suppliers!
List of the Best 6 Wholesale Suppliers for drive in racks:
1. Guangdong Xinmiao Storage Equipment Co.,Ltd.
Location: Dongguan
Company Type: Manufacturer, Wholesaler, Exporter
Established:2006
Number of employees: 93
Main products: Boltless racks, pallet racks, mezzanine racks, AS/RS, cantilever racks, steel structure platforms, drive-in racking systems, mold racks, etc.
Other products: workbenches, mobile cabinets, wire mesh containers, etc.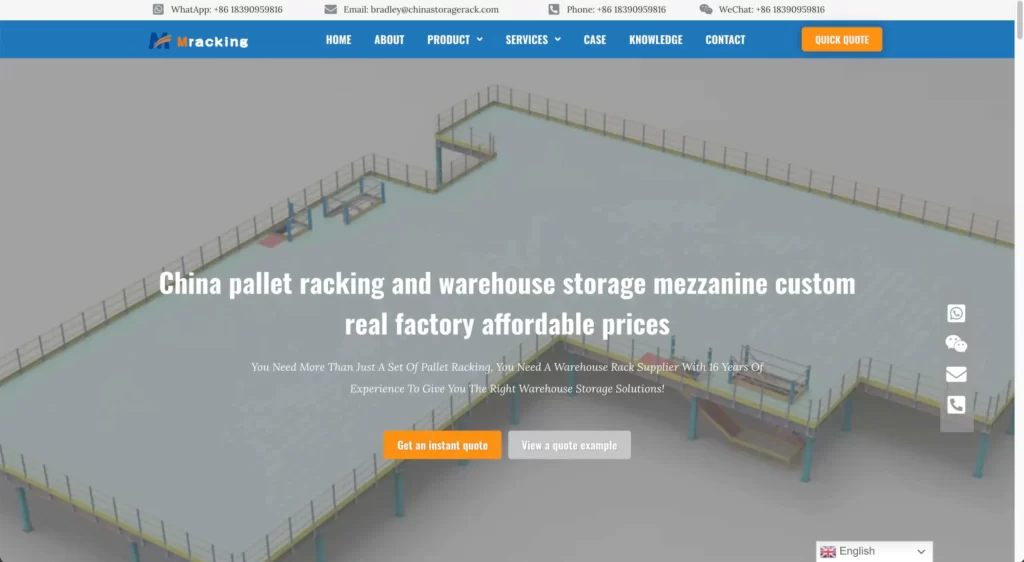 Founded in 2006, Dongguan Xinmiao Storage Equipment Co., Ltd is a professional racking system manufacturer in China. They specialize in providing various storage systems, including warehouse racking, bolt-less racks, mezzanine floors, mold racks, wire mesh containers and more. Each of their products features sensible structure, stylish design, reliable quality, and high stability. They are widely used for storing or handling goods in logistics centers, warehouses, offices, libraries, medicine, etc.
enables us to serve our customers in any market. To better serve their customers, they have established a complete pre-sale and after-sale customer service system. They can offer samples of racking to you for free. You simply pay to ship. If you have placed an order, they will provide you with spare wearing parts for your storage systems. Moreover, all of their products come with a 3 year warranty, so you can feel secure in having any problem solved that you may encounter while using our products.
Mracking pallet racking, boltless racking, warehouse mezzanines, and stacking racks are well received in more than 20 countries, such as USA, French, Indonesia, Japan, Austria, New Zealand, Italy, and South Africa. They are located in Dongguan city, which they are close to Shenzhen port and Guangzhou port. Convenient transportation helps to reduce their production costs, as well as your product shipment cost.
2. Guangxi Guichang Shelf Manufacturing Co. Ltd.
Location: Guangxi
Company Type: Manufacturer, Wholesaler
Established:2015
Number of employees: 40
Main products: Heavy duty pallet racks, Cantilever racks, Supermarket shelves, display racks, etc.
Other products: mold racking, mobile cabinets, etc.
Guangxi Guichang Shelf Manufacturing Co. Ltd. is a branch of Guichang group that was built in 2015, it is a professional rack system manufacturer integrating R & D, production and sales. The factory is located in Nanning–the beautiful provincial capital of Guangxi in South China.
Their main product line includes Warehouse storage shelves( such as Heavy Duty Storage Rack, Medium Duty Storage Rack & Light Duty Storage Racks… etc.) and Supermarket shelves, mezzanine racks, file cabinets, display cases and so on. They have over 10,000 square meters of factory area and more than 150 skillful staff members.
Guichang has introduced 4 automatic + 12 half- automatic production lines of welding, 10 rolling lines and 2 powder coating lines. With the concepts of "advanced technology, professional design, practical function, high quality, sincere communication, mutual benefit ", they always provide excellent service for our current and new clients at the lowest price. Guichang has a professional engineering team for the design department, and also can give an effective proposal for your special request quickly.
3. Changchun Walter storage equipment Co., Ltd.
Location: Changchun
Company Type: Manufacturing
Established:2012
Number of employees: 50
Main products: Storage racks, mezzanine floors, wire mesh containers, light duty rack systems, etc.
Other products: supermarket shelves, mobile racking, etc.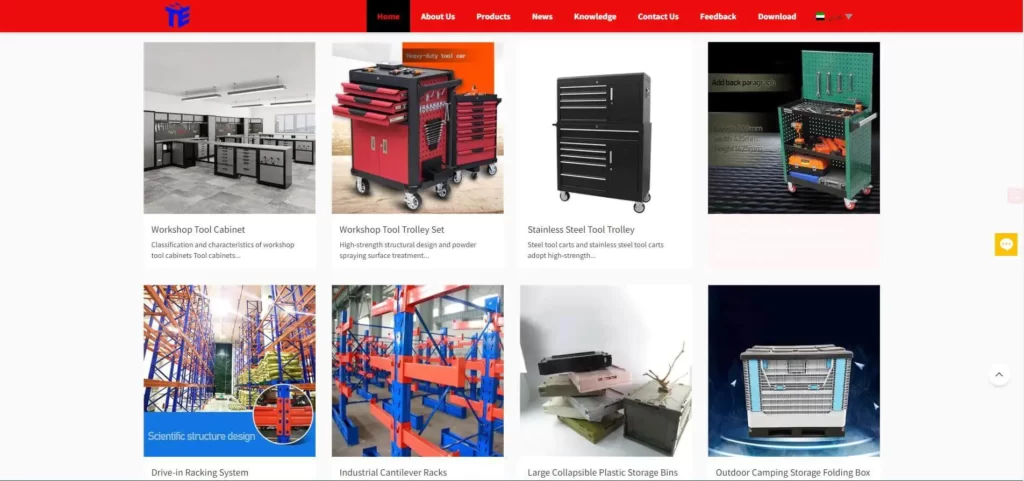 Established in 2012, Changchun Walter storage equipment Co., Ltd. has been committed to the design, R & D, production and sales of storage shelves and supporting logistics facilities. The company is located in Changchun, the capital of Jilin Province.
As one of the most professional manufacturers of warehousing and logistics equipment in China, the company has a strong technical force and product development ability. Based on advanced production equipment, mature production technology, and a perfect quality assurance system, with professional on-site installation and a fast after-sales service team as a guarantee, the products sell well in all major industries in China and are highly praised by the majority of enterprise users.
Over the years, they have always been guided by the needs of their customers, absorbed advanced international and domestic warehousing logistics planning and management concepts, helped our customers improve production efficiency, reduce operating costs, and relied on advanced production equipment to provide a large number of high-quality products and services for many modern enterprises.
4. Viet Mechanical Co., Ltd.
Location: Vietnam
Company Type: Manufacturer, Wholesaler
Established:2008
Number of employees: 70
Main products: Warehouse racking systems, mezzanine racks, mold racks, wire mesh cages, etc.
Other products: Mezzanine floor system, mobile cabinets, etc.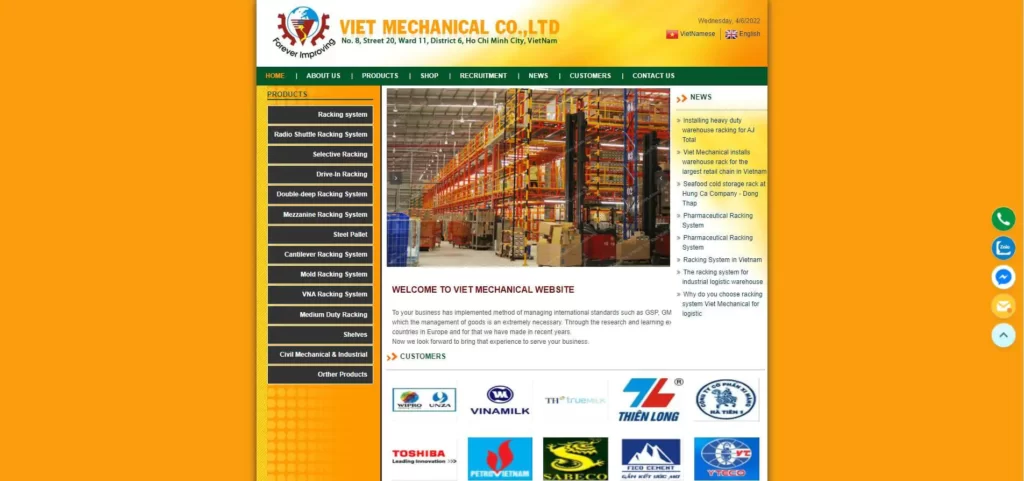 Viet Mechanical Co., Ltd specialized in providing Storage Solutions for Industrial and Civil Warehouses. – In 2017, it has completed the factory covers an area of over 10,000 m2 in Duc Hoa 1 Industrial Zone, Long An province with modern production lines, production technology and automatic process, which meet the highest standards set by customers- With the product development as key strategy and development of strategic human resource management, Viet Mechanical always strives tirelessly to providing customers with international standard products and best quality service.
After 10 years of construction and development, Viet Mechanical is proud of being a reputable and professional business, and a firm in the trust of partners in Vietnam and abroad. Areas of activity:- Manufacturing shelves ( Selective, Double reach, Drive-in, Medium, etc, …)- Mezzanine systems (for production and storage)- Display shelves ( library shelves, profile shelves, supermarket shelves, equipment shelves, …)- All kinds of pallet ( powder coated or hot dip galvanized appropriate in cold storage environment of >30 degrees, and storage of chemicals have the high corrosion)- Table, chair, trolley, vehicle ladder, etc, …- Industrial mechanical and civil ( door system with steel core and powder coating, office, mobile home, …
5. Guangdong Lijin Storage Equipment Co. Ltd.
Location: Dongguan
Company Type: Manufacturer, Wholesaler
Established:2010
Number of employees: 65
Main products: Steel racking systems, mezzanine racks, mold racks, cantilever racks, etc.
Other products: Wire mesh decking, mobile cabinets, supermarket shelves, etc.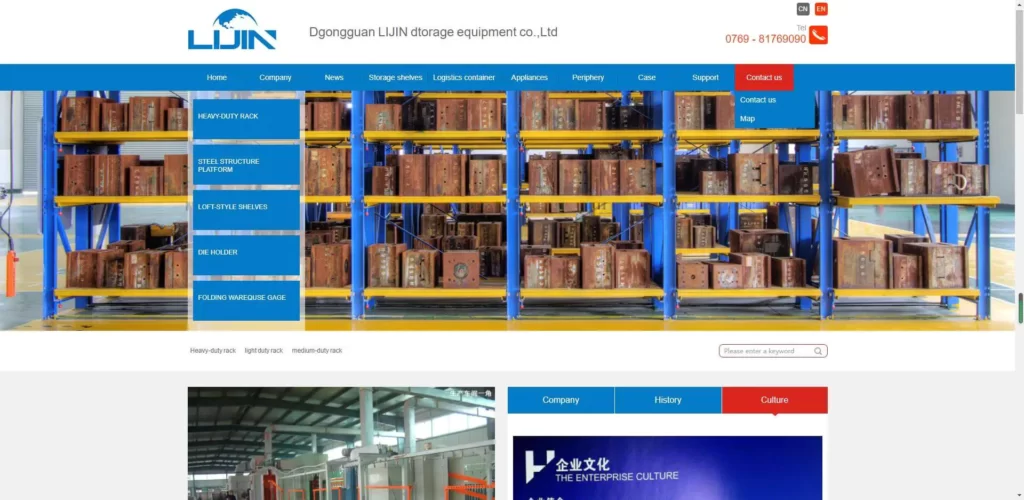 They design and install storage solutions for customers in many industries, including retail, manufacturing, distribution, and engineering services. As a full service provider of storage solutions, they can assist with the design, selection and implementation of storage layouts.
All of the products they sell meet internationally recognized safety standards. We understand the importance of providing good quality products at competitive prices, and we pride ourselves on giving our customers the best products available.
6. RETA MUHENDISLIK DEPO RAF SISTEMLERI BOYA SANAYI VE TICARET LIMITED SIRKETI
Location: Turkey
Company Type: Manufacturer, Wholesaler
Established:2012
Number of employees: 55
Main products: Heavy duty racking, light duty racking, medium duty racking, mezzanine racks, mold racks, etc.
Other products: Heavy duty drive-in racks, mobile cabinets, supermarket shelves, roll containers, etc.
Since it was founded; RETA has producing warehouse racking systems for over 10 years with its specialist staff in Izmir TURKEY.RETA offers the best solution for your warehousing problems. Research and Development studies are held by RETA engineers and technicians for offering you the latest technology solutions with safe and functional systems according to your needs.
RETA produces back to back system racks, medium duty racks, cantilever systems, mezzanine systems, carton flow racks, narrow aisle racks, racking systems for the automotive industry, rack clad buildings, pallets and baskets.