Are you here to find the best warehouse storage racks companies in China? You've come to the right place! Based on my experience, China is the best pallet rack market in the world. One of the reasons is that they have a full industry production system. Their industry has flourished after their entry into the WTO in 2001. Let us share with you our list of the top manufacturers and suppliers of warehouse storage equipment in the region!
It is not easy to filter reputable suppliers of bulk metal racks for sale even with the help of modern technology – the internet. This is the reason why many rack manufacturer lists are being published every now and then. But how can you make sure that they are reliable?
Here, we searched for recent racking system market trends worldwide and chose only the leading manufacturers and suppliers based in China. Of course, it's reasonable to also choose companies that are preferred by many. So here's our list of the key players in the industry today!
List of the Best warehouse rack Suppliers in China
In a hurry? Check out our best picks of wholesale industry rack suppliers in China yourself below:
1. Guangdong Xinmiao Storage Equipment Co., Ltd
2. Guangzhou Kimsuk Shelves Co., Ltd.
3. Nanjing A-Plus Metal Products Co., Ltd.
4. Nanjing Liyuan Storage Equipment Co., Ltd.
5. Shenzhen Ali Intelligent Equipment Technology Co., Ltd.
6. Qingdao Yishitong Logistics Equipment Co., Ltd.
7. Foshan Liangda Shangchao Shelf Manufacturing Co., Ltd.
Top material handling equipment Exporters and Manufacturers in China
1. Guangdong Xinmiao Storage Equipment Co.,Ltd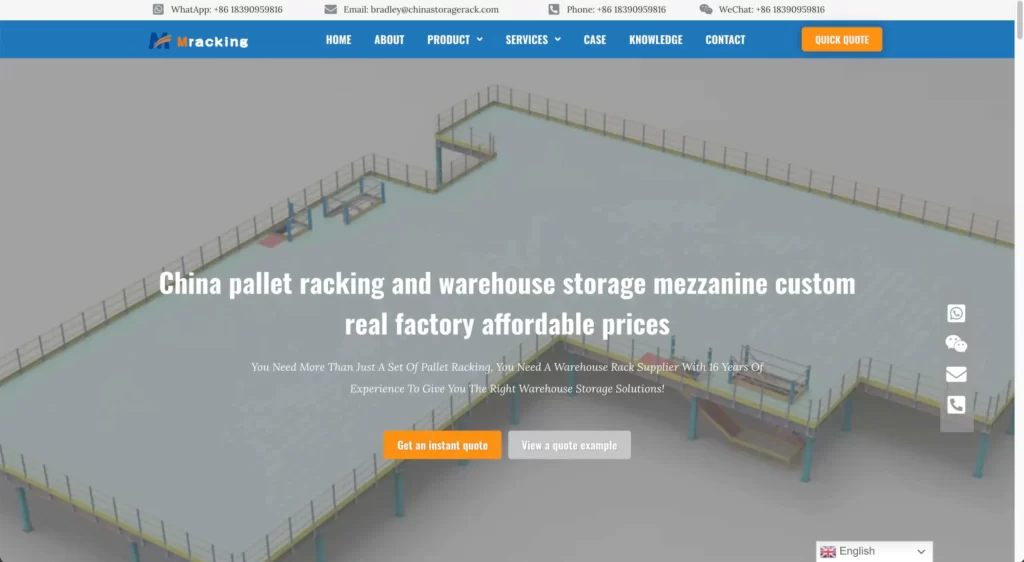 Location: Dongguan
Company Type: Manufacturing, Wholesale
Established:2006
Number of employees: 93
Mracking is one of the first companies to pass the ISO9001 quality management system certification in China, and also one of the 3A credit enterprises in China. As one of the first racking manufacturing plants established in China, Xinmiao racking has a place in the freight storage industry.
Mracking and the world's top 500 famous electrical appliance manufacturer "Changhong" cooperated an H steel mezzanine project of more than 50,000+ square meters. This cooperation shows xinmiao's strong ability in production and also reflects xinmiao's strong ability in handling large orders. I am happy to say that we have built a great reputation and customer base that has led us to success. With my experience, we have managed to increase our sales.
2. Guangzhou Kimsuk Shelves Co., Ltd.
Location: Guangzhou
Company Type: Manufacturing
Established:2009
Number of employees: 105
KIMSUK — founded in 2001, is an innovative private enterprise. They have two factories in Foshan City, Guangdong Province. The total registered capital is over RMB25.5 million, with more than 150 employees. And the annual output value is over RMB100 million.
In 2009, after reorganization, the company changed to a series of comprehensive enterprises which specialized in R&D, design, production, sales, and other services of logistics equipment. Products from light/medium to warehouse rack&shelf, owing to the introduction of foreign advanced technology and equipment, now have been well-known in the industry.
For quality, they also strictly follow the IOS9001 standard. Both of these are making KIMSUK grow stronger and stronger, famous at home and abroad. They have a lot of influencers supporting their brand but also they are a wholesaler. This means that you can use your own brand on their products. Another benefit is that they offer worldwide shipping which many similar companies don't.
3. Nanjing A-Plus Metal Products Co., Ltd.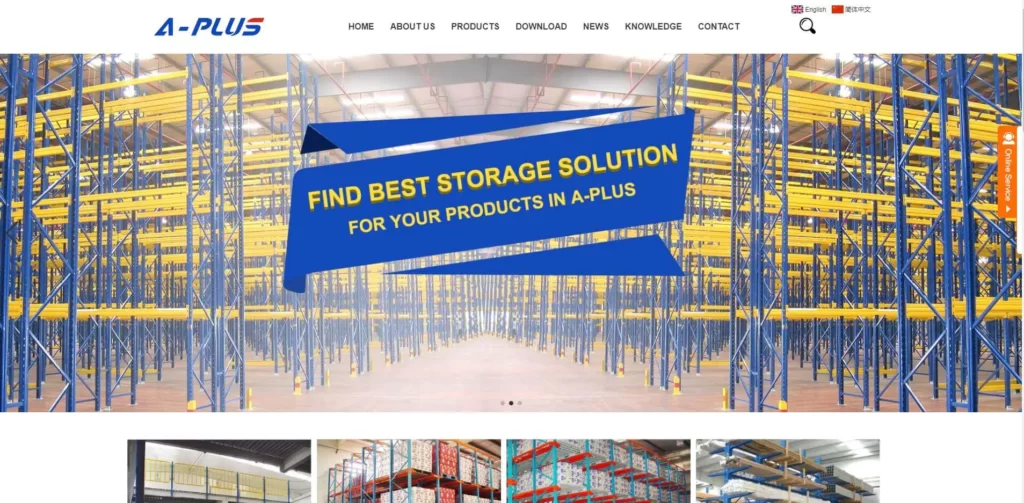 Location: Nanjing
Company Type: Manufacturing, Wholesale
Established:1993
Number of employees: 102
Nanjing A-Plus Storage Equipment Co., Ltd., which was started in 1993, is the earliest supplier specializing in the layout, design, manufacturing, and installation of storage systems. They have been more known in the racking business for their solid engineering and custom-made capabilities.
In many cases, choosing them means quality and guarantee. They focus on every detail of the process, incoming materials are tensile tested in-house, machining is handled by sophisticated equipment and skilled operators, QC&QA control both online and offline, product & quality traceability, designed packaging for specific cases, and reliable racking products. When it comes to the product ranges, they should be the one who provides the most full variety thanks to their customized facilities and big trained teams. A Plus is very serious about the quality of the product and no compromise is allowed. Before flowing into the mark, all new concepts shall be verified through a full set of strict processes, which includes CAD&3D engineering, structural analysis, prototype, mockup, and physical load tests.
Production, Engineering, and what's more, around 100 laborers get things started, working behind you, your strong wealth. Worldwide presence By meeting or exceeding customers' expectations, their racking systems are well accepted and installed in more than 35 countries and areas. The number keeps growing. Approx. Their facility is well equipped for palletized, solid, secure packaging and container loading. The people from Logistics Department are quite experienced in handling their jobs.
4. Nanjing Liyuan Storage Equipment Co., Ltd.
Location: Nanjing
Company Type: Manufacturing, Wholesale
Established:2020
Number of employees: 110
Nanjing Liyuan Storage Equipment is a manufacturer specializing in the design, production, and installation of warehouse racking systems. They have a professional technician team, skilled workforce, great sales group, and 24-hour online after-sales service.
They have an advanced product line, including punching machines, CNC shearing machines, CNC bending machines, etc. They have more than 110 workers and 10 senior technicians working on a land of 30 acres. Their main products include light-duty shelves, medium-duty shelves, adjustable pallet racks, storage cages, all types of stack racks, drive-in racking systems, shuttle racking systems, ASRA racking systems, and so on. Their products are widely used in every industry, such as supermarkets, the food industry, fabric, tires, etc.
With the principle of " professional, efficient and customer-first", Nanjing Liyuan offers customers the best service, the best plan, the best price, and the best products. They have owned the trust of customers all over the world.
5. Shenzhen Ali Intelligent Equipment Technology Co., Ltd.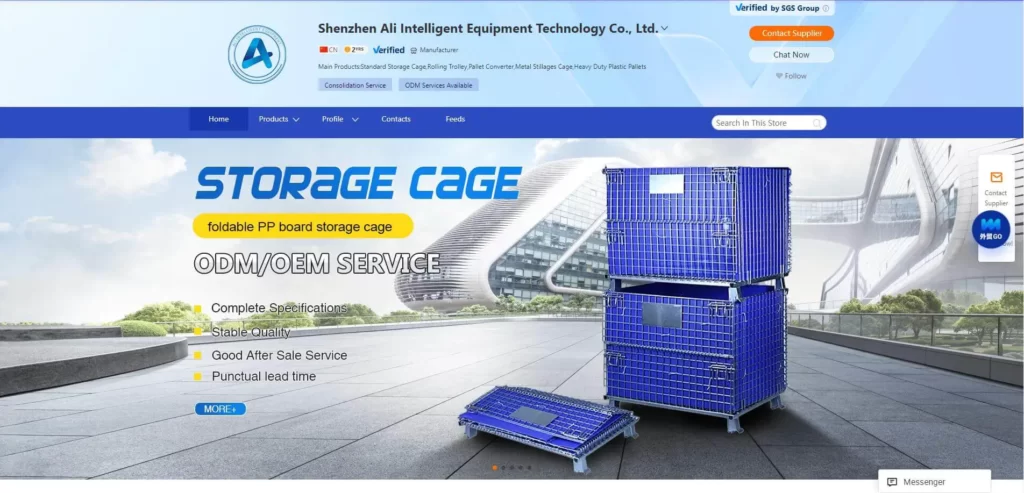 Location: Shenzhen
Company Type: Manufacturing
Established:2016
Number of employees: 25
Shenzhen Ali Intelligent Equipment Technology Co., Ltd. is a logistics warehousing and handling products and welded wire Mesh products production and marketing intelligent integrated enterprise. Their products are basically manufactured using automated equipment, the main products are pallet racks, folding wire containers, Metal Net boxes, logistics trolleys, car parts turnover trolleys, stacking frames, smart fixing frames, Wire Mesh Pallet, Wire Mesh Pallet Bases (Shelf Mesh) isolation protective net, Mold Rack, workbench, metal pallet, storage rack, plastic pallet and plastic box and packaging accessories and anti-static products and labor safety protection supplies.
At the same time, they have an automatic powder coating production line and the fifth generation of domestic technology galvanizing production line can provide customers with production processing and surface treatment of one-stop service. In 2018, they fully adopted Japan's 5s production management, and introduced the use of an automatic wire mesh welding machine, CO2 welding robot, and 200T high-precision punch, to meet customer requirements for high-quality products. The company has an automatic plating production line, and a high-frequency welded pipe production line. The basic realization of all products of the "one-stop" production, for customers to achieve "cost savings" under the pursuit of high-quality products.
6. Qingdao Yishitong Logistics Equipment Co., Ltd.
Location: Qingdao
Company Type: Manufacturing
Established:2013
Number of employees: 32
Qingdao Yishitong Logistics Equipment Co., Ltd. is located in Wangtai Town, Qingdao West Coast Economic New Zone. The company has two factories with annual sales of 100 million yuan. Founded in 2013, the company is mainly engaged in the production, development and manufacturing of logistics turnover equipment.
It has more than ten years of production experience and is mainly exported to foreign countries. The export countries include Britain, Germany, Finland, France, Sweden, Turkey, Denmark, Russia, and Saudi Arabia, Papua New Guinea, Australia, Singapore, Japan, South Korea, the United States, Canada, Brazil, Mexico, South America and other countries around the world traders and demanders.
Products for foreign domestic factories, supermarkets, farms, postal services, national greening, Transportation, food industry, laundry industry, automobile industry and other industries, the surface treatment of the product has electroplating, hot-dip, spraying methods; the company has a production area of 5,000 square meters, more than 60 sets of various equipment, and more than 300 employees, including advanced technology 10 talents.
7. Foshan Liangda Shangchao Shelf Manufacturing Co., Ltd.
Location: Foshan
Company Type: Manufacturing, Trading
Established:2004
Number of employees: 93
They have over 13 Years of Experience in the Industry, one-stop shelves Solution Suppliers, and a professional and enthusiastic consultant team. Their price is competitive and they have strict quality control systems and eco-friendly raw materials and production processes.
They specialize in designing, manufacturing, and selling industrial and commercial shelving and racking products. Established in 2008, the company has developed from a small factory into a medium-sized private enterprise, they have facilities of 18,000 square meters of high-tech equipped workshop and 1,000 square meters of displaying hall. During these years, they have been insisting on the concept of "Perfect products, sincere service and great reputation. With high technology power, advanced equipment and excellent skills, they have earned the confidence of customers all over the world.
Conclusion
Choosing the wrong supplier of warehouse rack can be very costly. Thus, a background check is always recommended before choosing a manufacturer or supplier. Our list only consists of companies that we think are the best ones in China and that can provide you with large adjustable pallet racks orders.